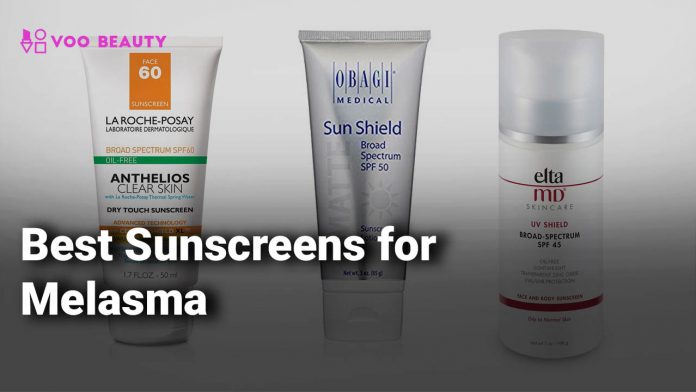 We are supported by readers. When you purchase through links on our site, we may earn an affiliate commission.
Exposure to the Sun has its own pros and cons, while the sun is extremely good for our body and skin, but if not careful, it can cause skin conditions that can either be mild or extreme.  Melasma is one such condition that causes deep acne scars on the skin. The spots can also be a result of acne, eczema flare or hormonal changes.
Melasma is a form of hyperpigmentation, where hormonal factors are involved. During pregnancy, this is a common condition because of hormonal changes and it may be difficult to cure as well. No matter what the cause is, it is advisable to always get a sunscreen that has a broad-spectrum SPF factor of 30 or above.
Protection from UV rays saves the skin's condition from exacerbating. Some ingredients of sunscreens also help in brightening and lightening the skin tone and save you from that sunburn. If choosing the right product is a challenge then we have the solution here with our list of best sunscreens for melasma.
Best Sunscreens for Melasma – Reviews
This Dermatologist recommended sunscreen comes with SPF 60 and has a broad spectrum. Winning many awards, this sunscreen is meant for those with oily skin as it helps in absorbing pore-clogging oil.
Works great on sensitive skin and formulated with Cell-Ox technology.
The formula is oxybenzone free and protects the skin from UVA/UVB rays and antioxidants protect from free radicals.
It gives a matte finish and is water-resistant for close to 80 minutes.
Dry-touch lotion, 100% oil-free, paraben-free, allergy-free, fragrance-free and is non-comedogenic.
The best sunblock for melasma or oily skin.
EltaMD Skin Care has been making products for protecting skin for 25 years with the aid of physicians. This UV Shield sunscreen is oil-free and is meant for your full body and not just limited for facial. The best thing that we must add about it is that the sunscreen is recommended by dermatologists for skin types.
Formulated with zinc oxide, it protects from harmful UVA/UVB rays for a long time.
This sunscreen is broad-spectrum SPF 45 that is oil-free and hydrates your skin.
The lotion gets absorbed quickly and can be worn under makeup.
It is a non-comedogenic product that is free of paraben, fragrance, and sensitivity.
Recommended by The Skin Cancer Foundation as an effective broad-spectrum sunscreen.
Get a sheer, matte finish look that gives an elegant skin with Obagi Sun Shield Sunscreen. To reduce the risk of skin cancer and aging due to sun exposure, this best physical sunscreen for melasma as a daily cream is a must.
It protects skin against UVB, UVA and infrared rays with its formula.
The formula is enriched with minerals and chemicals that absorb UV radiation and diffuse it as heat.
A broad-spectrum sunscreen with SPF 50 that is non-greasy, PABA-free, Fragrance-free.
Has been recommended for daily use by The Skin Cancer Foundation and is dermatologist-tested.
A cream that is suitable for all skin types is always such an easy pick. Heliocare cream is one such cream that can be used daily and is suitable for all skin types. If you have undergone Laser Hair Reduction or Microdermabrasion, then this is a great product for preventing skin damage.
It is a broad spectrum SPF 50+ sunscreen that protects the skin from UVA/UVB rays.
It has an extremely high photo immunoprotection.
The formula is free of all comedogenic lipids which is why it suits all skin types.
Reduces the effects of medication-induced photosensitivity and prevents melasma in oily skin.
Another the best sunblock for face melasma.
Reduce sun damage and keep your skin healthy with MyChelle Dermaceuticals sheer tinted SPF 50 formula that provides broad-spectrum protection from sun and UV rays. If you are using makeup daily, then it is best to apply and let the skin absorb before wearing makeup.
The Formula is oil-free and lightweight that helps in blending seamlessly matching with your skin tone
Can be worn alone or as a primer under makeup to get a smooth matte finish
Bentonite clay present absorbs pore-clogging oil and other impurities
Proudly vegan, biodegradable, reef safe and free of SLS, parabens, GMO, gluten, petroleum, artificial fragrances and colors
This SPF 50+ tinted sunscreen is an antioxidant sunscreen that is a favorite with physicians and is a must in any anti-photoaging regimen. It can be worn alone or also as a makeup primer to protect the skin and control the oil of the skin. Overall, the best sunscreen for melasma prevention out there in the market.
Blends with skin easily because of Universal Pigment Technology and reduces the appearance of wrinkles, pore size, and wrinkles.
Great for sensitive skin and melasma as ceramides and phospholipids provide hydration 
Formulated with zinc oxide, it is lightweight, oil-controlling, and antioxidants protect skin against free radicals.
Non-comedogenic and is free of parabens, chemicals, and fragrances.
This is a dermatologist-favorite product as EltaMD UV Clear Facial Sunscreen calms down sensitive skin or skin with conditions such as rosacea, acne, and discoloration. This one of the best sunscreens for melasma helps in promoting healthy-looking skin with its effective ingredients.
It contains 9% zinc oxide, niacinamide, hyaluronic acid and lactic acid making it a lightweight, breathable and silky sunscreen.
Antioxidants present in the formula protects skin and removes free radicals that come from UV and infrared radiation.
Recommended by The Skin Cancer Foundation as an operative broad-spectrum sunscreen
No residue is left and is free of oil, fragrance or parabens.
Neutrogena has been the number 1 dermatologist suncare brand for a long time now and this sunscreen just shows you why. With broad-spectrum SPF 70, this sunscreen prevents sunburn and protects the skin from UV rays.
An easily absorbing sunscreen that can be used daily giving a weightless, shine-free finish under makeup or alone.
A sunscreen technology known as Helioplex makes the formula sweatproof and water-resistant.
The possibility of skincare and early skin aging caused by skin reduces with daily use of this sunscreen.
The formula is oil-free, PABA-free and is non-comedogenic, thus suitable for sensitive skin as well.
This revolutionary, eco-friendly sunscreen with SPF 30+, strong broad-spectrum formula protects the skin from harmful UVA/UVB rays, DNA damage, and sunburn. It is PA+++ and is a reef-safe sunscreen, which means it is waterproof for up to 80 minutes. It's the best sunscreen for hyperpigmentation.
Formulated with (non-nano)  Zinc Oxide, this sunscreen is 100% Oxybenzone, Octinoxate and chemical-free.
The sunscreen is non-whitening, oil-free, non-sticky, biodegradable and does not cause excess sweating.
Moisturizes your skin and protects the skin from premature aging, DNA damage, and wrinkles.
Bonus ingredients such as coconut oil and red raspberry seed oil provide extra protection and sun care.
If you want to clean your hair without losing its natural balance, this is one of the best shampoos which serves this purpose. It has the right natural plant proteins which nourishes every strand of your hair. It is suitable for all hair types and can be used on a daily basis.
It is 100% pure shampoo
Contains natural oils
Ideal for daily use
Suggested Read: Biotique Bio Sandalwood UVA/UVB Sunscreen Review
Best Sunscreen For Melasma – The Buyer's Guide
Almost every product out there promises to be the best and work against melasma and yes, the list is long to choose from. If the options overwhelm you, then here is our guide to help you choose from the list of the sunscreens for melasma that you find:
1. Ingredients To Choose And Avoid
Staying away from harsh chemicals such as Oxybenzone will help. Mineral-based sunscreens or sunscreens with natural ingredients are safer for the skin. Zinc oxide and Titanium oxide are two common ingredients you will find in a sunscreen. Zinc Oxide has a better capability to absorb UV wavelengths.
2. Protection
Choose a sunscreen that provides broad-spectrum with both UVA and UVB protection. This will block both the UV rays thus helping in reducing your melasma. PA+++ protection is also known to be more powerful.
3. Water-resistance
Usually, the most water-resistant sunscreen will last you for 80 minutes. Water-resistant sunscreens also resist sweat for some period of time. Some of the sunscreens do instruct you to reapply every 2-3 hours if you are swimming or sweating.
4. Mineral Sunscreen Vs Chemical Sunscreen
Mineral sunscreens use zinc or titanium oxide and protect the skin by forming a layer that deflects off UV rays. Chemical sunscreens contain Oxybenzone or Octinoxate that penetrates your skin and dissipates UV rays in the form of heat. Mineral sunscreens are generally safer.
Also Check: Best BB Creams for Acne-Prone Skin
Frequently Asked Questions Related To Best Sunscreens For Melasma
1. What is Melasma?
Melasma is a form of hyperpigmentation that shows on skin as dark spots and is quite common and harmless.
2. What causes Melasma?
There are several factors that can cause melasma such as- hormonal changes, sun exposure or acne breakouts.
3. Why should I look for broad-spectrum sunscreen?
Broad-spectrum sunscreen provides protection against both UVA and UVB rays by blocking it and thus reducing melasma.
4. What are UVA and UVB rays and why do I need to protect my skin from it?
Ultraviolet radiation from the sun, particularly UVA (associated with skin aging) and UVB (associated with skin burning) can cause skin cancer and other skin damages.
5. Which ingredient should I look for in my sunscreen?
Most mineral-based sunscreens contain Zinc Oxide and Titanium Oxide that protects the skin. Try avoiding oxybenzone in your sunscreen.
6. Which is better: Mineral-based sunscreen or Chemical-based sunscreen?
Chemical sunscreens contain chemicals like oxybenzone that can cause skin irritations, acne, redness, etc, which is why mineral sunscreens are safer. However, some mineral sunscreens leave a white residue giving a chalky appearance while chemical sunscreens blend in easily.
Also Read: Best Korean Moisturizer for Oily Skin
Conclusion
Just using sunscreen may not be enough for curing melasma. The first option should always be a dermatologist for any skin condition, then you can always protect your skin from sun exposure by wearing sunscreen as well as a hat, full-sleeved or covered clothes. You will have to be picky with the right skincare products by researching well on the ingredients and avoiding harsh chemicals. These temporary colors can be taken care of easily, which is why it should be a reason for you to be worried or lose self-confidence. If you are careful, use the right products, choose one of the best sunscreens for melasma that suits you and reduce your sun exposure, then no spots will let you down.