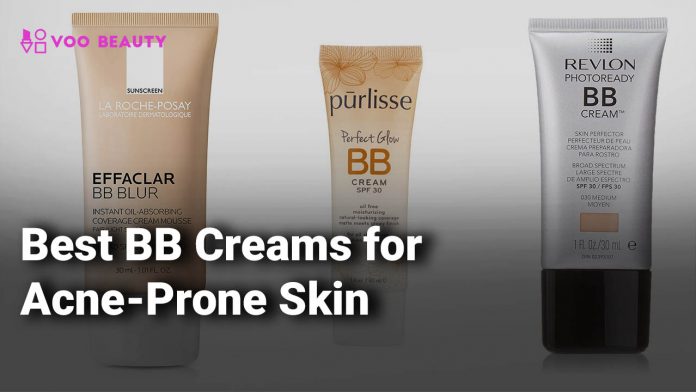 We are supported by readers. When you purchase through links on our site, we may earn an affiliate commission.
Not every skin problem can be managed and controlled, acne being one of them is indeed an annoying skin issue for anyone to handle. Sometimes, acne and pimples could be due to hormonal changes while sometimes it can be due to heavy stress. Acne and oily skin come in one plus one offer and honestly, you can't deny it! Itching, inflammation and acne marks are complimentary discounts from your skin to you. Nourishing your skin effectively is the key for your skin to shower love upon you.
Did you know the poor quality or unsuitable skin products can cause acne and breakouts on your smooth surface?
Wearing less make-up can cause fewer pimples, wherein enough make up can cause more if you have sensitive skin. Relax! K-Beauty has got you covered to help you in the dilemma with some organic BB creams suitable for all types of complexion. Initially, BB creams were developed to treat and pamper patients who have been through laser procedures.
BB creams are three in one skin treatment that contains moisturizer, sunscreen and face cream making it a perfect blend of love showering product for your skin. Picking up the most righteous BB cream could be confusion, to assist you better, we have listed a few handpicked and best BB creams for acne-prone skin from the Korean yet organic basket.
Best BB Creams for Acne-Prone Skin in 2020
To even out skin tone with the perfect blend of organic ingredients that can work wonders on all types of surfaces, especially acne-prone skin. Purlisse BB cream offers a flawless touch to your skin with a natural glow that covers acne, pores, scars and blemishes. Nicely formulated with SPF 30 to protect your beauty under the sun.
Contains organic essentials to nourish acne, pores and spots
Works as the sunblock and protects from further damage to the skin
Suits all skin types including acne-prone sensitive skin
Chamomile helps to prevent different skin conditions and moisturizes skin
With all the active ingredients such as Titanium dioxide, water, propanediol, coconut alkanes, glycerin, silica, squalene, trehalose, and other natural components that matches even the sensitive skin. Totally hydrating, super light and comes to the rescue of every complexion. If you want a no make-up look, then this product would be one of the best BB creams for acne prone skin.
Gives a healthy-looking skin with ultimate glow
Contains no harmful or harsh chemicals
Get a radiant and glowing complexion within weeks
Smooth, touchy and soft skin for your regime
Looking for an all-in-one face cream? Supergoop, does not only correct acne and scars, but it also protects you from different aging signs and symptoms. With varied skin shades, it covers blemishes, spots, and even acne marks. Gives clarity to the skin along with even skin tone and hyperpigmentation treating ingredients. If you're finding the best bb cream for acne scars , go for this one.
Apple extract aids in giving a clear skin-toned well
Instantly softens the fine lines, pores and other aging signs
Blends easily with your make-up too
It is a chemical-free BB cream for all skin types
Garnier Pure Active is efficiently best BB cream for combination acne prone skin that helps the skin to glow naturally with all the organic agents in this best drugstore BB cream for acne. If your skin is vulnerable to acne, redness and black spots then Garnier pure active BB cream. The salicylic acid hydrates the skin and keeps all the skin imperfections away.
All rounding imperfection corrector for the skin
Tones out skin and hydrates the skin all throughout the day
Covers blemishes, remove blackheads, and inflammation
Eliminates blackheads, pores and acne instantly
From the latest technology of make-up and skincare, BB creams work effectively on breakouts and acne. It also helps with the instant changes and transformation from pure glowing complexion and surface. With the concealing effect in the cream, it also corrects acne, tones out skin, and perfects the texture causing no other effects to the skin.
Stays on the skin throughout your daily routine
Smoothens skin with essential oil and sweat absorbent substances
Contains no harmful chemicals and is fragrance-free
Dermatologically tested and suitable for all skin types
Craving for a gorgeous skin day every day? Maybelline Dream Fresh BB 8-in-1 beauty balm for glowing and fresh skin. Combined and made of natural essentials, this BB cream for acne-prone skin gives a sheer coverage along with evident SPF 30 to protect your skin from harmful rays.
Available in five different shades as per the skin tones
Hydrates and moisturizes the skin scaring away dullness and dryness
Enhances the skin with 8 in 1 water gel substances and formula
Contains SPF 30 battles with harmful UV rays from the sun
Tired of acne and pores? Kiehl s skin tone correcting and beautifying BB cream does aid with organic ingredients required for any skin type. Indeed, it's the best BB cream for oily acne-prone skin that also blocks harmful sun rays with sunscreen of SPF 50 which is evidently suitable for almost skin types from normal skin type to sensitive skin.
Treats any skin without eliminating the natural oils and moisture
Softens the skin adding up natural essentials to nourish the skin
Removes the common signs of aging such as fine lines, wrinkles, and sunspots
Dermatologist tested and approved suitable for all types of deep tones
Completely light-weight on every skin leaving no side effects on your skin. With all the natural ingredients and skincare properties, Revlon Photo Ready BB skin cream does not demand any sort of frequent touch-ups and sustains the nourishment with a one-time application throughout the day. It certainly, protects your skin from pollutants and UV rays all day.
Comes with no heavy substances in the cream and keeps you light like air
No further make-up required after BB cream application
Pampers and nourishes your skin with vitamins
Suits all skin types and is tested and approved by expert dermatologists
One of the versatile beauty balm for all skin types made with excess love and care to nourish your skin with all the vitamins and minerals essential for the skin. From hydrating the skin to treating the skin posture, Dr. Jart+ works wonders on acne-prone skin and protects the skin from heavy sun rays and sunspots.
Corrects sun spots and provides optimum hydration to the skin
Works as a primer, moisturizer, and face cream all in one
Suitable effectively for sensitive skin type too
Protects the skin with SPF 45 and enhances collagen in the skin
With the natural and purest form of ingredients in this best tinted BB cream for acne prone skin, Tarte Amazonian Clay helps your skin to improve in a few weeks. The organic process from the K-beauty tub, Tarte brings a whole new level of BB cream that is suitable for all the skin types throughout the year, eliminating dark spots, sun spots and acne leaving scars.
The components in the BB cream are completely organic
Does not involve any kind of cruelty in the making of the product
Adds dewiness and keeps you young and fresh all-day
Fights aging signs and protect from UV rays
Buyer's Guide to The Best BB Cream for Acne-Prone Skin
Being aware of the factors and key pointers that help in choosing the best bb cream for acne oily skin. Elaborating the detail, here we have a set of guidelines that can lead you to the right BB cream for your skin.
1. Know Your Skin Type
This is severely essential and is one of the notable pointers to keep in mind before choosing a face cream or any skin product. Hence, you must know your skin type and then go up for a suitable skincare routine.
2. Suitability
Check if the cream can serve your skin type as using unsuitable skin products can worsen the condition and can cause more skin problems with your current skin troubles. Ensure to check the suitable skin type before buying the product.
3. Ingredients
Not all products are made of essential oils and natural ingredients, therefore it's a considerable point to note down the ingredients before picking up a skin product especially if it's for your face. Harmful ingredients can make the condition worse, hence choose organic ones.
4. Reviews
It is always better to keep an eye on the feedback and reviews the product has received. It would be majorly helpful and beneficial if you choose the most popular and best-rated skin care product as it can be effective.
FAQs Related to BB Creams for Acne-Prone Skin
1. Are BB creams essential?
The answer can be both yes and no, as it depends on your skin requirements and conditions. However, BB cream is all in one and does not require further makeup.
2. Are BB creams unsuitable for sensitive skin?
Agreed that sensitive skin demands special attention and care but not with BB creams. However, it is better to consult with your dermatologist once before you start using it.
3. Does it contain oil?
Absolutely not! Generally, BB creams do not contain oil but if you are seeking oil-based BB creams then they are available too.
4. Which shade should I try?
There are different types of shades for each skin tone and texture and is available on all the BB creams mostly. Hence, you have to choose the right shade as per your skin tone.
Also Check: Best Korean Moisturizers for Acne-Prone Skin
Conclusion
In the end, everything that is significant is your gorgeous skin and your beauty. Evidently, we all are worried about our appearance regardless of men or women, we all want to look good! Pampering our skin with our hectic schedule and routine might seem difficult for the majority of us and there comes BB creams from the Korean skincare regime. With dozens of creams available in the beauty sector, it could be difficult to pick the best BB cream for acne-prone skin. It is suggested that you choose from the ones listed above to keep your soft, healthy, pampered and obviously loving.