We are supported by readers. When you purchase through links on our site, we may earn an affiliate commission.
Wats up Beauties, I am back with yet another sunscreen review. I can't stress enough about the importance of using sunscreen. Google up the reasons and I bet you will fret at the idea of not having used it enough. As you all know my obsession with organic and Ayurveda products, I was on the lookout for something which had lesser chemicals and my frequent usage also meant I had to search for an economical option. As a result, I tempted to buy biotique sunscreen lotion. Tadaaa….keep reading to know more on my discovery "Biotique Bio Sandalwood Ultra Soothing Face Lotion"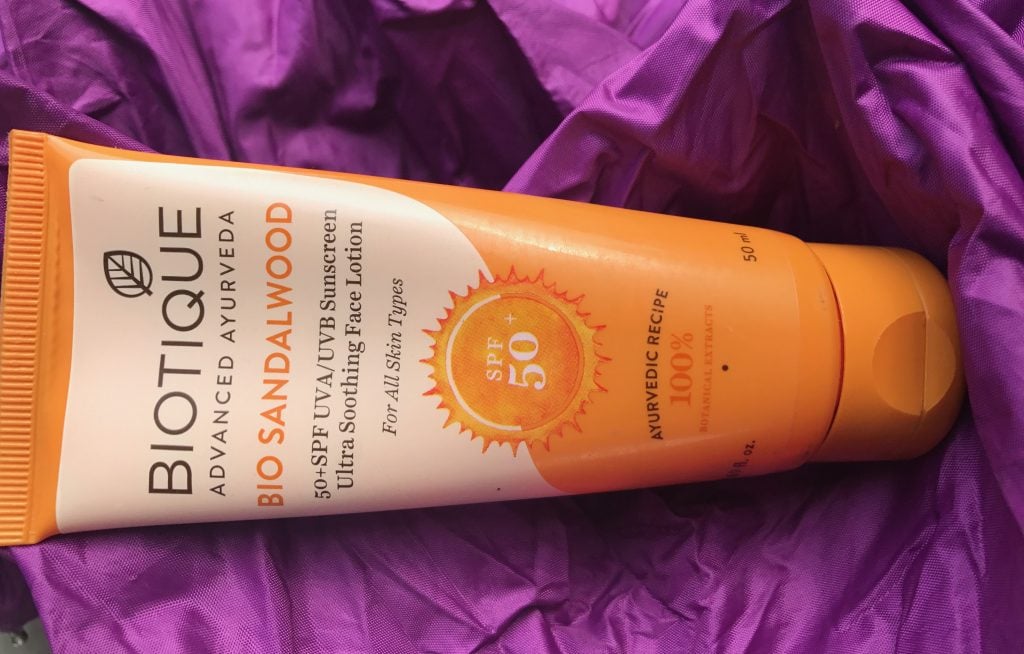 Product Description :
Price: Rs 200/-
Content- 50ml
Ingredients:( Refer attached picture)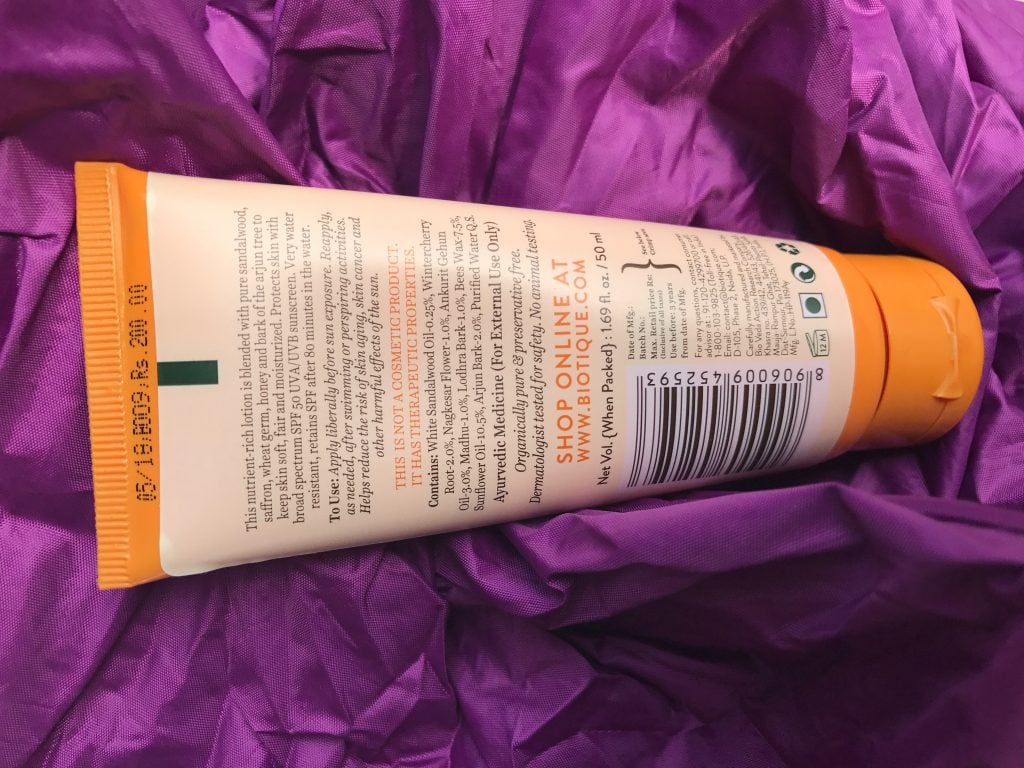 What Biotique Bio Sandalwood Face Lotion claims:
– Nutrient-rich Lotion
– Protects skin with SPF 50+
– Water-resistant
– Therapeutic properties
– Keeps skin soft, fair & moisturized
– Preservative-free
– Organically pure
How to use it?
Apply liberally before sun exposure. Reapply, as needed, after swimming or perspiring activities. As it helps reduce the risk of skin aging, skin cancer and other harmful effects of the sun.
The Packaging of Biotique Bio Sandalwood 50+ SPF UVA/UVB Sunscreen Ultra Soothing Face Lotion:
I had exhausted my sunscreen lotion and was looking to try something new. As my previous Lotion didn't cater to the organic/Ayurvedic category, my hunt continued. I checked on Nykaa (My savior) and zeroed in on Biotique. This brand is known for its affordable advanced Ayurveda products. Therefore, looking at the sincerity with which I use my sunscreen every day, I knew I had to look for an economical solution. Let's start with the packaging. Biotique Bio Sandalwood 50+ SPF UVA/UVB Sunscreen Ultra Soothing Face Lotion comes in a travel-friendly tube with a cap on the bottle. It is a convenient packaging with all the necessary details mentioned clearly. In addition, the color pallets used to give a hint of the ingredient mix. Woody orange color is the theme that gives an insight into the prominent aroma of sandalwood.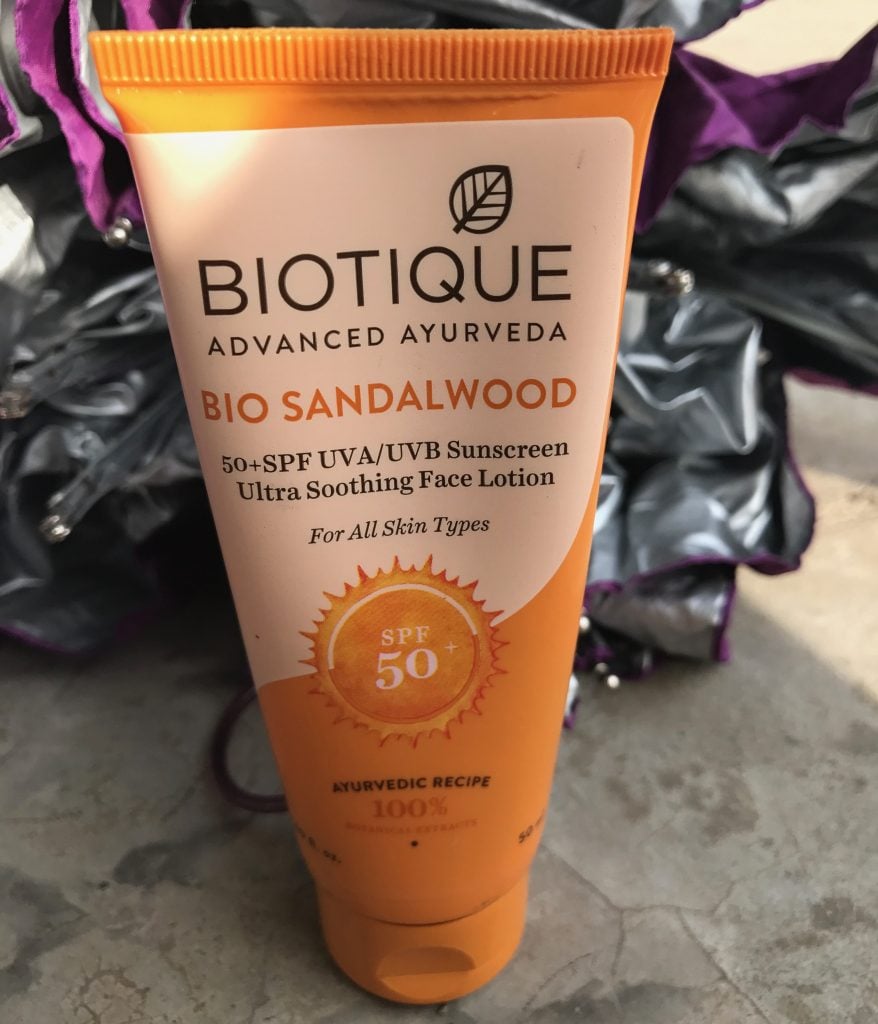 My experience with Biotique Bio Sandalwood 50+ SPF UVA/UVB Sunscreen Ultra Soothing Face Lotion says,
Biotique Sunscreen lotion boasts of rich ingredient list comprising of sandalwood, saffron, honey, wheat germ and bark of Arjun tree. In addition, each of these does wonders for your skin. They seemed to have developed a unique formula that helps in sun protection. Coming to the texture, this one is a creamy lotion in an off-white cream color. It smells divine with all the ingredient list. For instance, a major portion of its aroma is dominated by Sandalwood. Therefore, All ladies who love the smell of sandalwood will love this one.
I have been using this for the past 2 weeks now. This one definitely gives strong protection. As it is water-resistant, it helps to be sweatproof. Because of being a dry skinned beauty, this one also helps in adding the extra touch of moisture. However, sunscreens run the risk of getting wiped away by sweat. This one seems to pass the sweat test in my case. With the monsoon arriving this month, I am quite proud of my choice of product. Above all, It looks like Biotique Bio Sandalwood Face Lotion will hold on to my vanity pouch for a longer duration.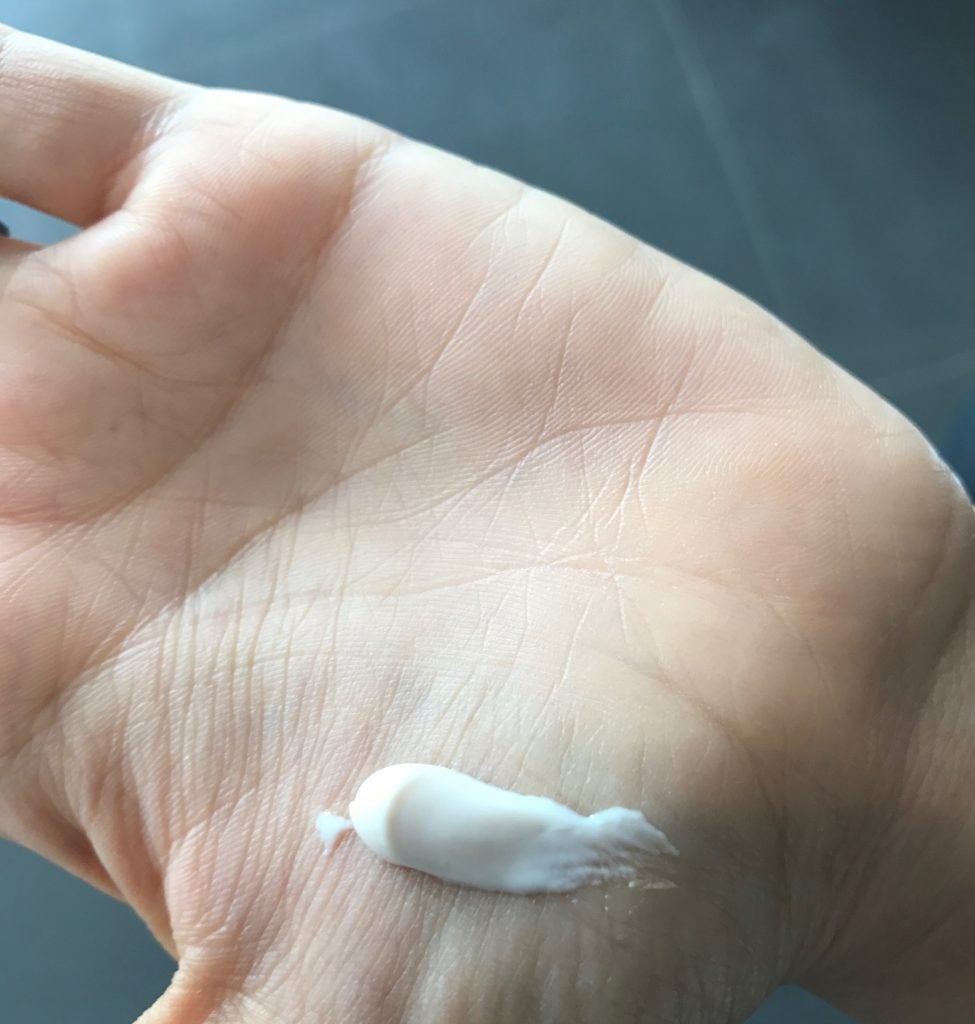 Pros:
– Organic and safe
– Moisturises without leaving an oily residue
– Soothing fragrance
– Sweatproof
– Budget-friendly
Cons:
– Availability
– Might not work for oily skinned Beauties
Frequently Asked Questions Related to Sunscreen :
1. Why Sunscreen is used?

Sunscreens are used to protect your skin from harmful sunrays. and they can prevent you from aging and wrinkles on regular use.
2. Is it bad to wear sunscreen every day?

You should wear sunscreen daily to avoid premature ageing and wrinkles on your skin.
3. How long do you have to sit in the sun to get enough vitamin D?

Regular sun exposure is the most natural way to get vitamin D.
4. Is it good to use sunscreen?

Yes, dermatologists recommend using sunscreen every day.
VooBeauy Rating: 4/5
Will you repurchase/ recommend?
This one is working perfectly fine for me.👍👍👍👍 I am strongly recommending this to dry skinned Beauties. You can buy Biotique Bio Sandalwood 75+ SPF UVA/UVB Sunscreen Ultra Soothing Face Lotion .