We are supported by readers. When you purchase through links on our site, we may earn an affiliate commission.
Heya Peeps, Hope you all doing well. I have been not so experimenting with the facewash, as my skin is combinational. Before jumping into the review of my facewash, let me share something about my skin. My face is kind of oily at the cheeks and nose and dry at other parts. So, I can not use too moisturizing or too drying facewash. Tea tree face wash always works well on my skin. I just love the soothing effect of tea tree after coming home. Being a tea tree lover, I was tempted to buy this facewash, The Body Shop Tea Tree Skin Clearing Facial Wash!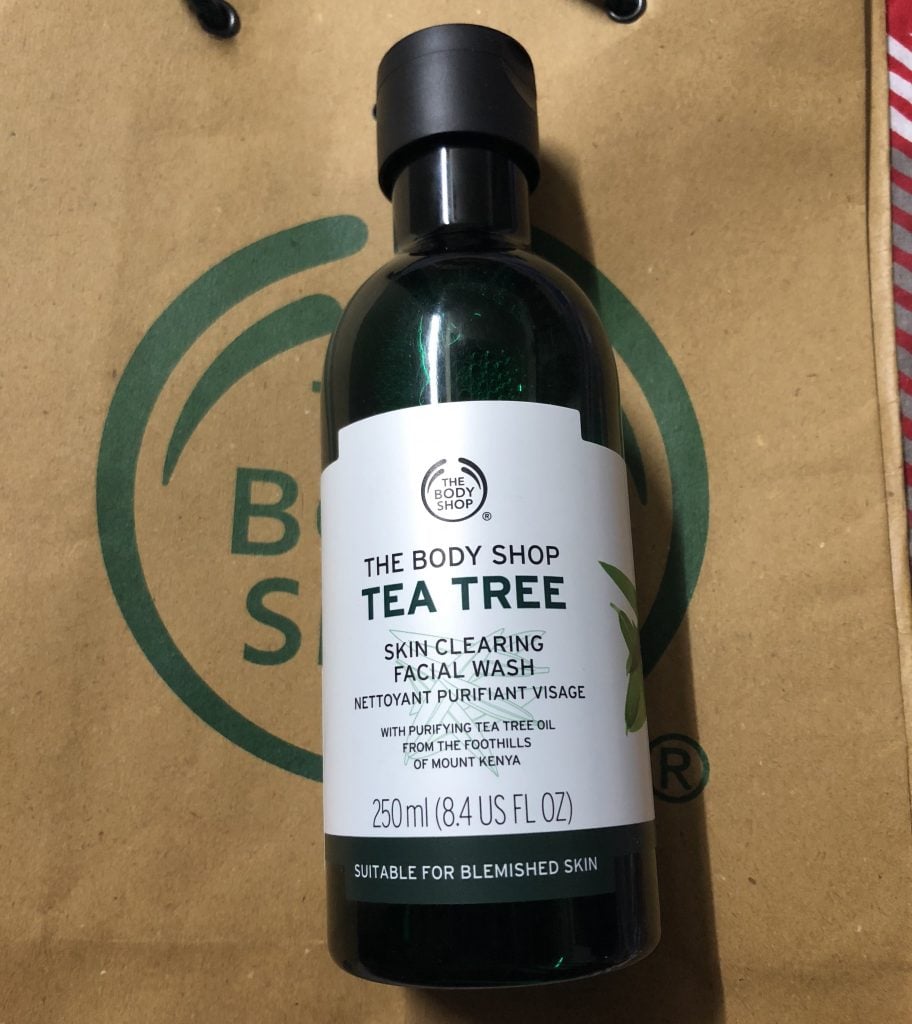 Product Description :
Price: 645 (I got it for 590 after member discount)
Content: 250 ml
Shelf Life: 24 months
What Bodyshop Claims about Tea Tree Facial Wash?
Our Tea Tree Skin Clearing Facial Wash infused with potent tea tree oil, cleanses blemished skin with each use. A cooling lather removes impurities and excess oil, leaving skin feeling refreshed and purified. Use daily for shine-free, visibly clearer results.
Ingredients : (Refer to attached picture)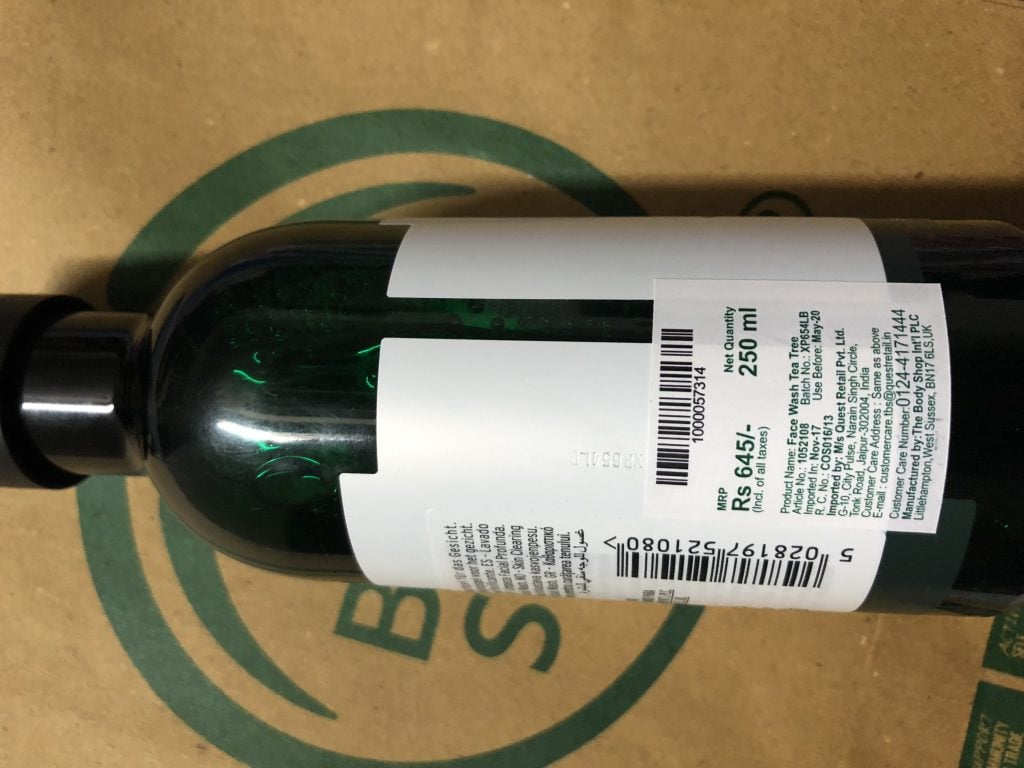 How to use?
– Wet your face and take pee amount of face wash in your palm
– Apply it on your face and gently massage into upward circular motion
– Rinse with water
My Experience with The Body Shop Tea Tree Facial Wash says,
The Bodyshop Tea Tree Facial Wash comes in a see-through dark green tinged plastic bottle with black flip top cap. It's a classic and sturdy packaging of the body shop. The product has a light green color with liquidy texture. The consistency is slightly on a running side so be careful while you are dispensing a product. You need only half a coin-sized amount for your entire face and neck area. The odor of a facewash is of tea tree oil with some added freshness.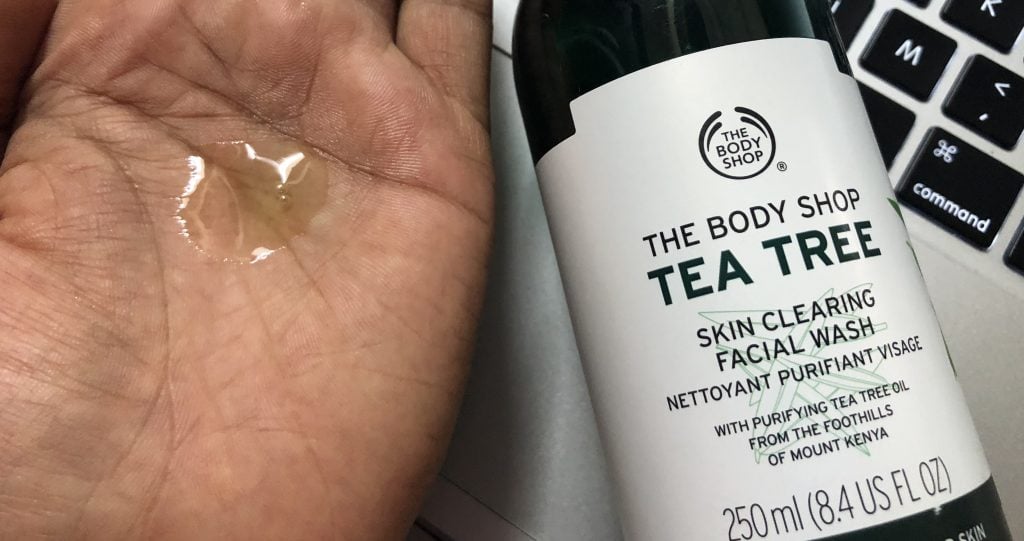 The Body Shop Tea Tree Facial Wash leaves my skin soft, clean and super fresh. It gives a cooling effect like a menthol on your face after using. It neither dry out my skin nor adds any moisture, but however, you won't feel your skin stretchy or dry. TBS Tea Tree Skin Clearing Facial Wash removes the tiniest bit of oils and dirt from the face and gives me a clean and fresh face. Tea tree oil has antibacterial properties so it works great on acne or blemishes.
Pros of The Body Shop Tea Tree Facial Wash :
– Made with purifying tea tree oil from the foothills of Mount Kenya
– Cooling and refreshing on the skin
– Deeply cleanses blemished skin
– Reduces oiliness and shine
– Enriched with organic Community Trade tea tree oil
– Skin appears visibly clearer
– Daily facial wash
– Not very expensive
– No animal testing
– feels mild on skin
– Convenient packaging
Cons of The Body Shop Tea Tree Facial Wash :
– Contains alcohol and Sodium Laureth Sulfate
VooBeauty Rating: 4.5/5
Will you repurchase/ recommend?
Yup, I have used TBS Seaweed face wash which was the costlier and lesser quantity and this one is totally paisa vasool product! This bottle will last almost 3-4 months, so I would love to experiment with another tea tree based facewash from genuine brands.
I will surely recommend The Body Shop Tea Tree Skin Clearing Facial Wash to the beauties who are having a combinational skin, this is kinda bliss for us girls.
Happy Summer!