We are supported by readers. When you purchase through links on our site, we may earn an affiliate commission.
Hello Ladies, "Don't go to sleep with your makeup on!!" I'm sure most of us have come across this statement a lot of times. Honestly, I follow this religiously. Well, hence I need to keep lapping up on my makeup remover regularly. Admit it ladies, not all of you follow it religiously. I can't stress enough on the importance of allowing your skin to breathe. The Bioderma Sensibio H2O Micellar Water Cleansing and Makeup Removing Solution is been quite popular globally. Makeup removing solution is one of my regular buys every quarter. This is because I fret even the tiniest bit of makeup on my face. Keep reading to see whether it can be a staple in my vanity shelf.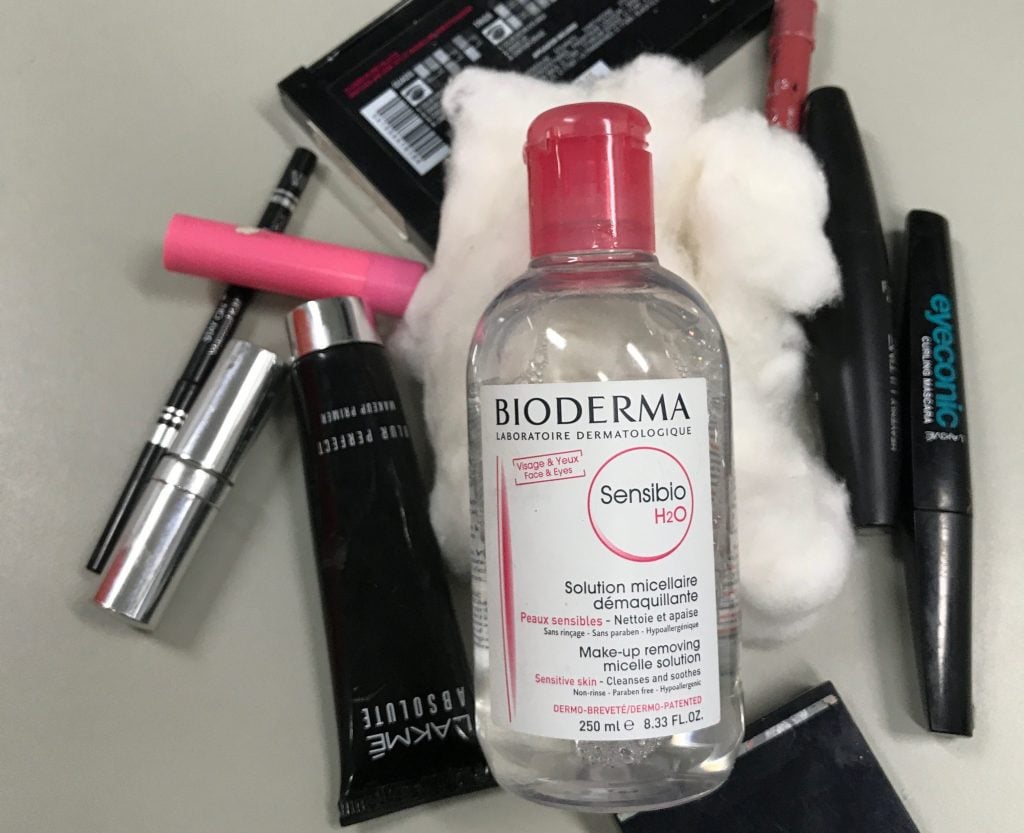 Product Description :
Price: Rs 1015/- (12.40 Euro to be precise)
Content- 250ml
Ingredients:( Refer attached picture)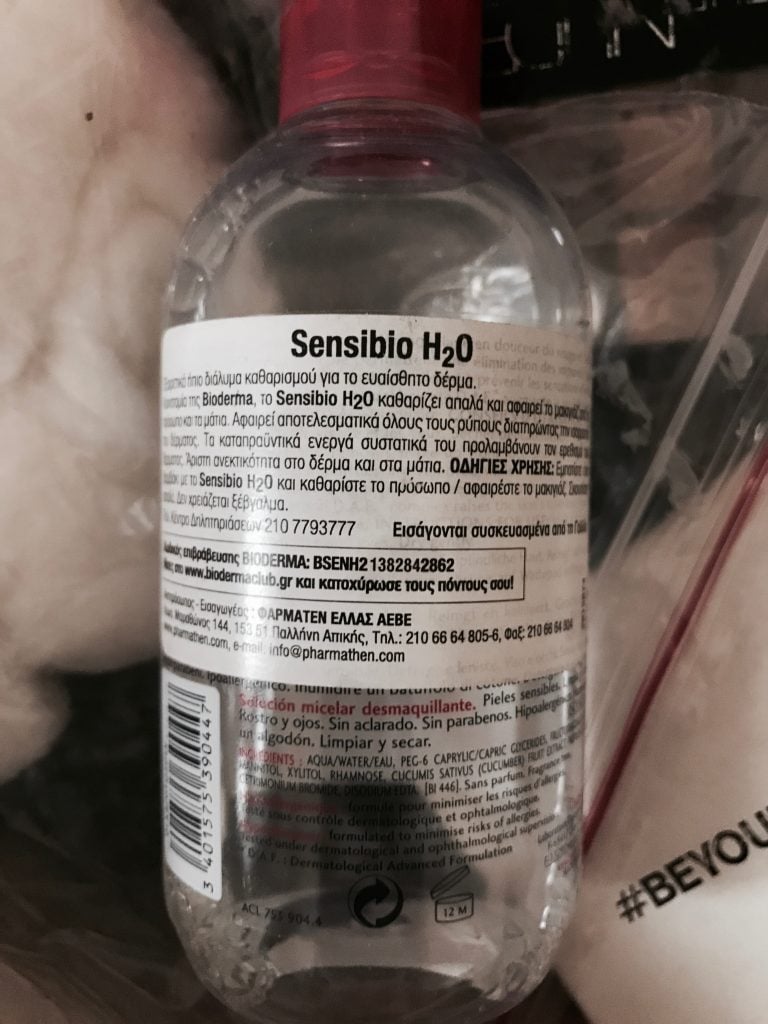 What Bioderma Makeup Removing Michelle Solution claims:
– Removes eyes and face makeup
– No parabens
– Hypoallergenic
– No Rinse
– Gentle on skin
How to use?
Pour the solution on a cotton pad. Gently wipe your makeup away. For waterproof makeup, I suggest holding the cotton pad for 3 more seconds before swiping it away. Ensure you use, upwards strokes even when it comes to removing makeup to prevent sagging.
The Packaging of Bioderma Makeup Removing Michelle Solution :
I had bought this bottle on my trip to Europe last month. After going through a lot of skincare videos, I noticed this one seems to be quite popular. Looking at the popularity, I had to get my hands on Bioderma Sensibio H2O Micellar Water, Cleansing and Makeup Removing Solution. It comes in a bottle with a pink cap on it. The packaging is very basic with product details mentioned clearly. Well, my bottle has content in the Greek language with😜 few English lines thrown here and there. It looks more like a doctor prescribed liquid to me. The content is clear as water. It also reads sensible H2O. I was a little put off by the smell or rather taste. This one accidentally went into my mouth while removing my lipstick. It was a bitter acidic taste to me. Otherwise, it has no distinguishing smell to it.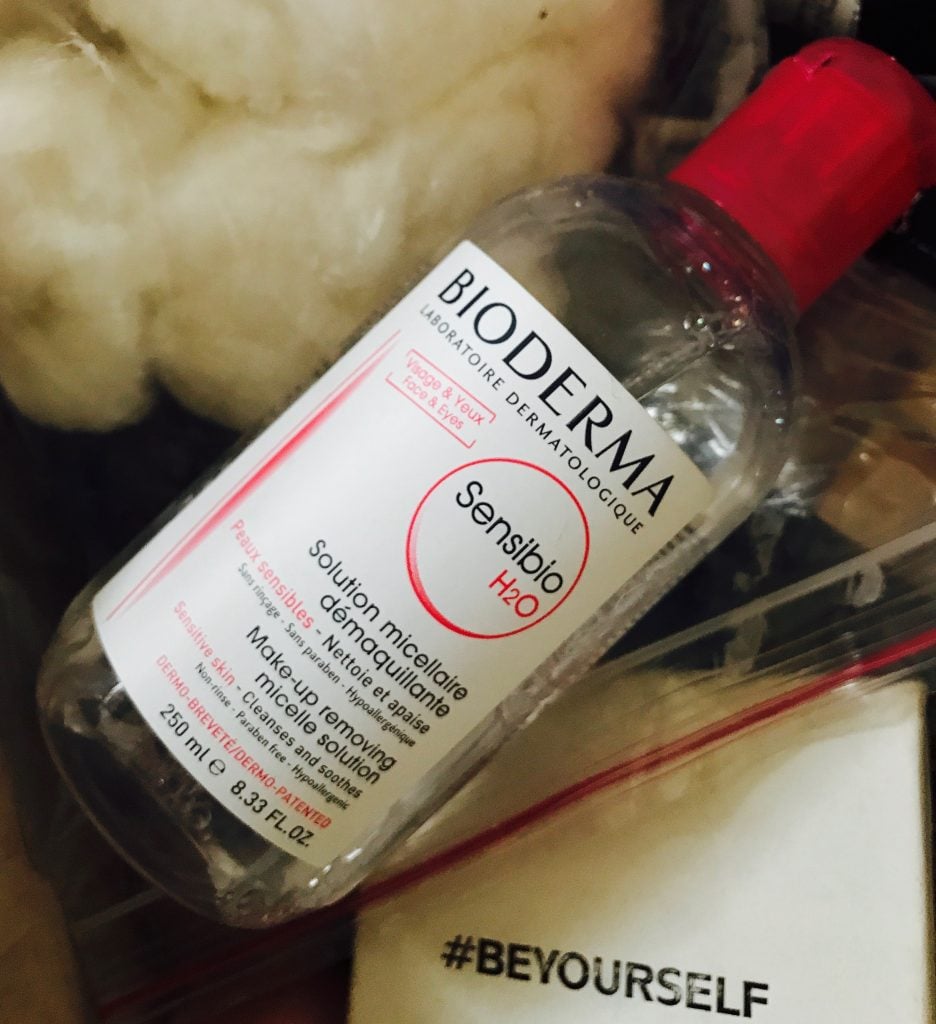 My experience with Bioderma Sensibio H2O Micellar Water, Cleansing and Makeup Removing Solution says,
Now comes the real test, I could ignore the packaging at times if the performance is excellent. When it comes to the removal of makeup it does a pretty good job. Since its Gentle on the skin, I don't feel it stripping my skin from its moisture. For heavy waterproof makeup, multiple swipes are required or you can hold on to your cotton pad. On days when you use your waterproof mascara, this might not work for you. My skin feels neutral after usage. I can skip my moisturizer at times. This is because the solution practically maintains the ph balance of your skin. Overall, it does an excellent job if you aren't someone who prefers heavy-duty makeup.
Pros of Bioderma Makeup Removing Michelle Solution:
– Gently removes makeup
– Maintains pH balance
– Odorless
– Hypoallergic
– Suitable for sensitive skin
Cons of Bioderma Makeup Removing Michelle Solution:
– Expensive
– Didn't work for heavy/ waterproof makeup
VooBeauy Rating: 3.5/5
Will you repurchase/ recommend?
Recommend-Yes👍 Repurchase ( Maybe no)!!!