We are supported by readers. When you purchase through links on our site, we may earn an affiliate commission.
Hey Candies,
Unveil the 90's kid in you with a beautiful pop of a Lip Pout Matte Masaba Lips. If you're 90's kid then you can mesmerize those beautiful candies, hard-toffees, Mango-bite, Melody, Pink bubblegum, Phantom Cigarettes etc. Lakme's latest launch brings back the nostalgia for us 90's kids. The shades of the new launch from Lakme literally takes us to the Candyland. Yes, you heard it right. I was mesmerized when I found these shades on the Lakme store at a mall. The girl at the counter have tried few shades on me and finally, I decided to buy deep brown shade named Hot Chocolate. Girls, I have bought it at a discount from Nykaa. Let's just get into this melody toffee like shade Lakme Absolute Lip Pouts Matte Masaba Lip Color- Hot Chocolate.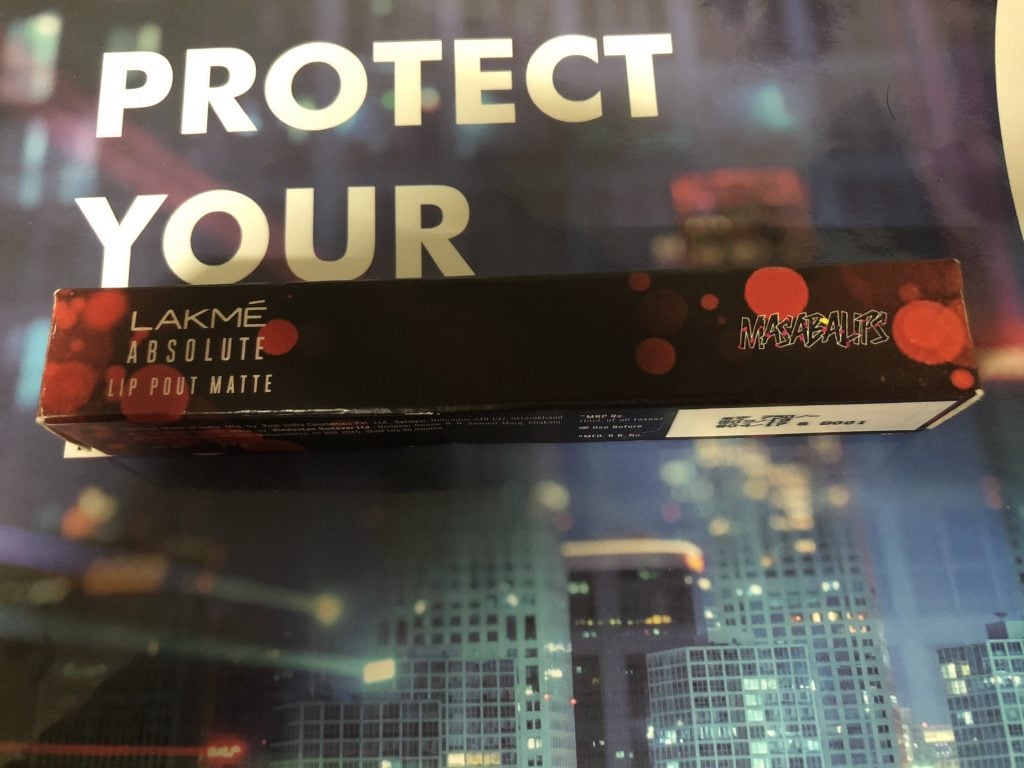 Product Description :
Price: 750/- (Got it for 600 only at Nykaa)
Content: 3.7 g
Shelf-life: 3 years
What Lakme Absolute Claims About Masaba Lip Color – Hot Chocolate?
Curated by the very talented designer – Masaba, each lip crayon has a quirky print exclusively designed by her, that spells 90's nostalgia. This is a limited-edition collection of matte lip colors from the Lip Pout range that you cannot resist! It's time to have some fun and indulge in these 10 vibrant shades inspired by the candies of the '90s.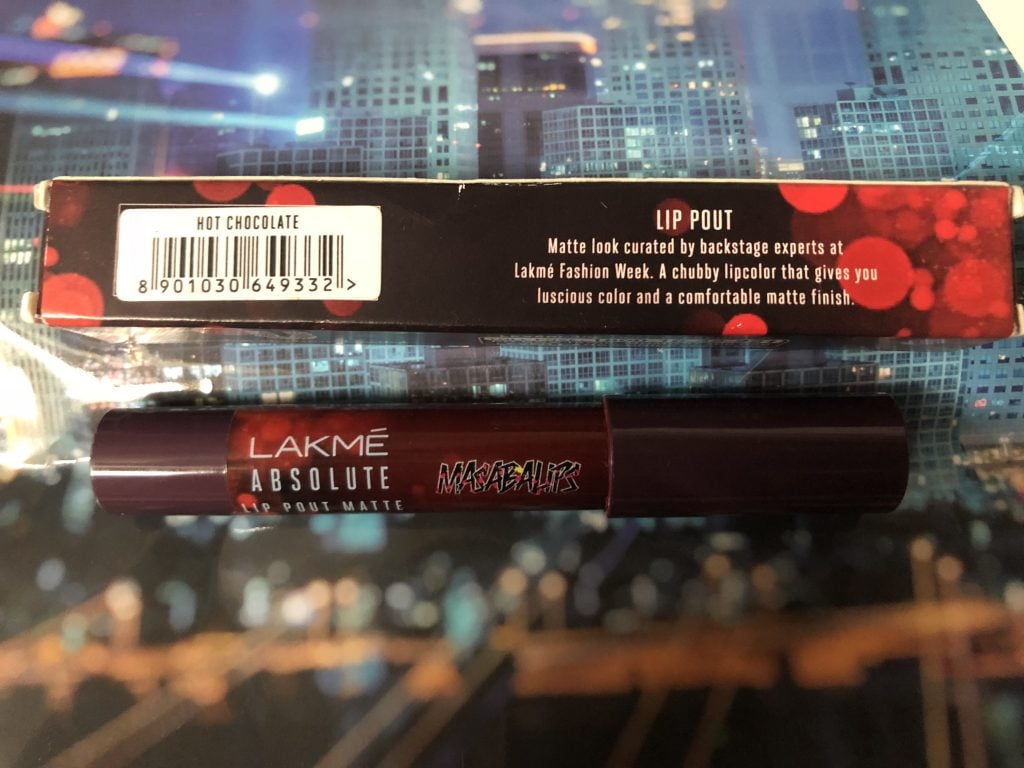 How to use it?
– Uncap the crayon and start applying from the center of your upper lip
– Work from the center towards the outer edges of your lip, following the contours of your mouth
– Glide across the entire bottom lip
The Packaging of Lakme Absolute Lip Pouts Matte Masaba Lip Color Hot Chocolate :
The lipstick comes in a jumbo retractable chubby crayon. It has quirky, funny and colorful packaging. It comes in an identical packaging of Role-a-cola in violet and brown body with a brown tight cap in the same printed cardboard box like a crayon. These lipsticks are handy to use and travel-friendly too. You can not resist yourself from buying the colorful and lively shades from Lakme X Masaba.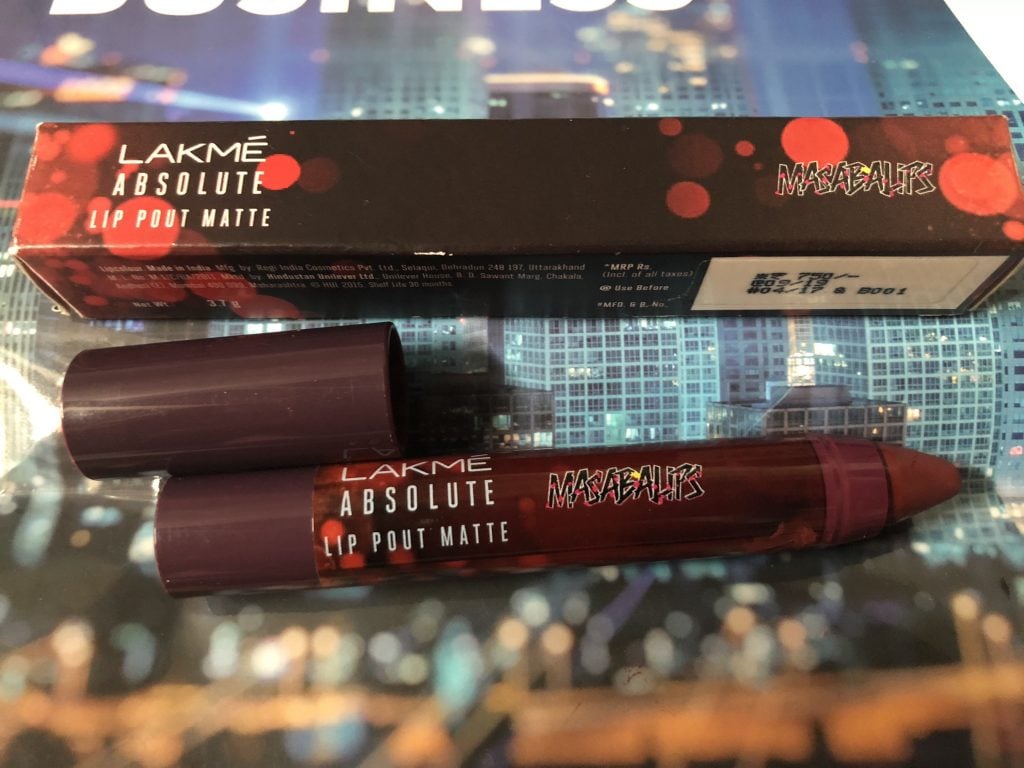 My Experience with Lakme Absolute Lip Pouts Matte Masaba Lip Color Hot Chocolate says,
When you apply the lipstick, you might feel a bit heavy and waxy but it settles into a demi-matte finish after a while. They do transfer but a little. The texture is smooth and easy to apply on lips without pulling or tugging it. Though you need 2-3 swipes for even look. The pigmentation is good. This shade hot chocolate is a beautiful warm brown and generally, I don't like brown shades of lipsticks much, but surprisingly I loved this hot delicious brown lipstick for a change. This color suits all the skin tones but It looks beautiful on medium to dusky skin tone. I am a bit impressed by the staying power of these crayons as they stay until 5-6 hours without eating. Even Lakme Absolute Lip Pouts Matte Masaba Lip Color Hot Chocolate does not dry out my lips.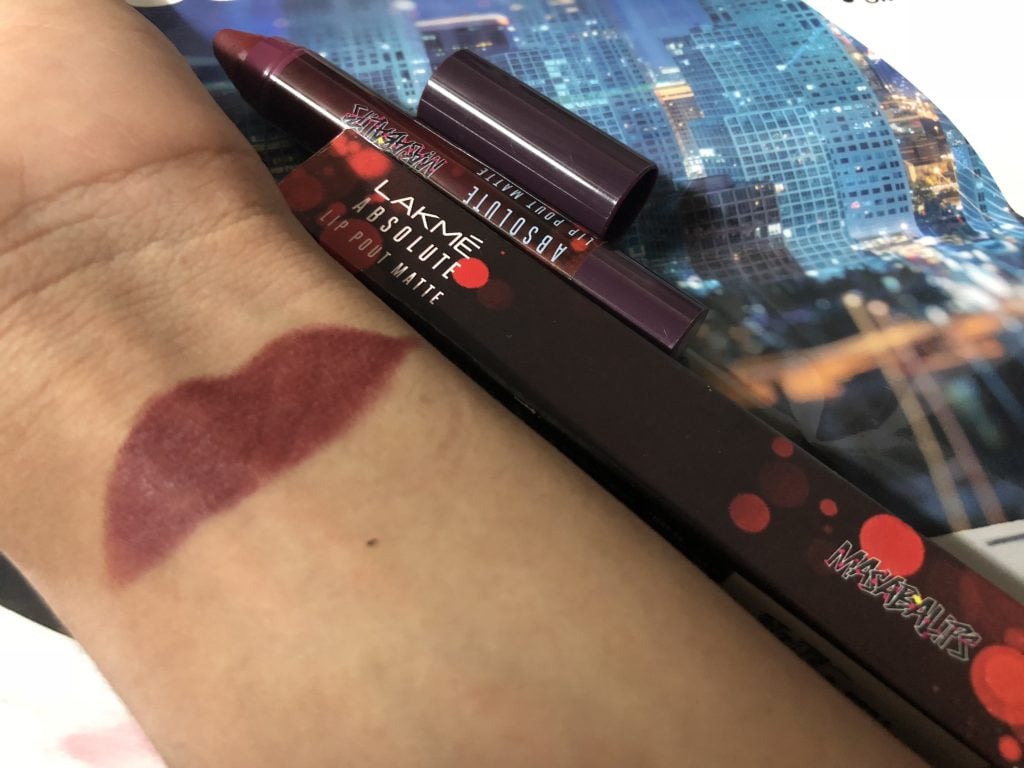 Pros of Lakme Absolute Lip Pouts Matte Masaba Lip Color Hot Chocolate :
– Colorful and Candy print packaging
– Smooth Texture
– Good Pigmentation
– Vibrant 10 shades
– Easy to apply and take off
– Long-lasting
– Did not dry out lips like other matte lipsticks
– Yummy subtle fragrance
Cons of Lakme Absolute Lip Pouts Matte Masaba Lip Color Hot Chocolate :
– The tip won't last long and you can not even sharpen it.
– Transfers a bit
Frequently Asked Questions Related to Lakme Lipsticks:
1. Which lipstick color is best for fair skin?

Orange, Peach, Red with a purple undertone, Coral Pink, these shades will look best for fair skin.
2. How do you make lipsticks at home?

1 tsp of beeswax, 1 tsp of shea butter, 1 tsp of oil into a bowl. Put the bowl into the microwave for 30 seconds and the whole lipstick liquid is ready, now you can add beetroot powder for red lipstick, or cocoa powder for chocolate or brown lip shade. then refrigerate it, your lipstick is ready.
3. Is Lakme a good brand?

Lakme brand is owned by Hindustan Unilever, the renowned brand of India.
4. How can I lighten my lips naturally?

You can apply crushed rose petal juice directly on your lips and keep it for 5-10 mins and you can rinse it off. Even coconut oil is also good to lighten the lips.
VooBeauty Rating: 4.5/5
Will you repurchase/ recommend?
Yes, if you can spare cons :P. Lakme Absolute Lip Pouts Matte Masaba Lip Color Hot Chocolate is a delicious warm brown shade in a reddish tone. It looks gorgeous in every Indian skin tone. I am gonna surely wear this in the coming colder months <3 Recommended if you can spare the cons! XOXO