We are supported by readers. When you purchase through links on our site, we may earn an affiliate commission.
Namaste Deviyon, Sorry for not being much active with blogs these days. Here I am back with the review on one of the amazing face mask sheets from the much-renowned brand 'The Face Shop', The Face Shop Real Nature Lotus Mask. We are literally drained and squeezed with stress on the weekends and being a skin junkie, I love to nourish and pamper my skin with some amazing beauty products. The sheet masks are one of them. We have a review of Green tea face mask and Blueberry face mask. The best part of this mask is, it is super easy to put on and remove. Keep reading girls for the review of The Face Shop Real Nature Lotus Face Mask! As I told before, I bought a bunch of sheet masks from Nykaa in a good deal. 😉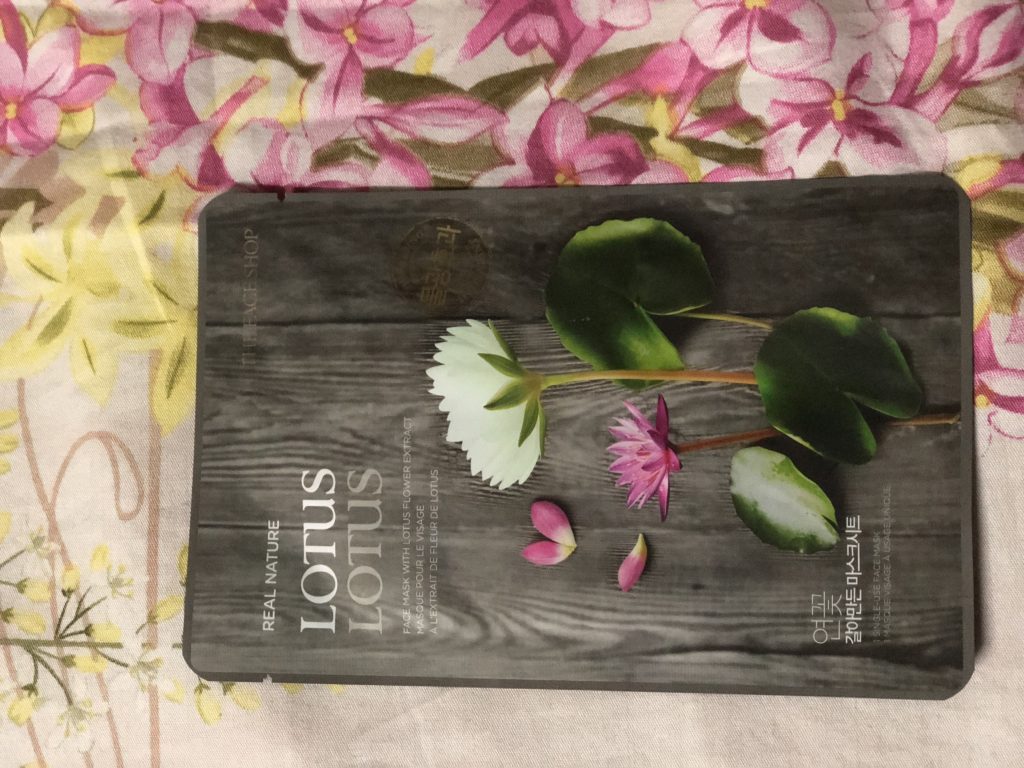 The Face Shop Lotus Face Mask
With excessive essence extracted from fresh natural plants.Cucumber essence relieves dull and dry skin, restoring hydration.Extracted from natural plant, The Face Shop Cucumber Mask offers you special hydration and pure essence.Air pocket pulp sheet: With plenty of air pockets in the mask sheet, these help retaining essence, provide you experience moisturizing effect and rich nutrients from nature.
Product Description:
Price: Rs 100/-INR ( I have got it for 50/- from Nykaa)
Content: 1 sheet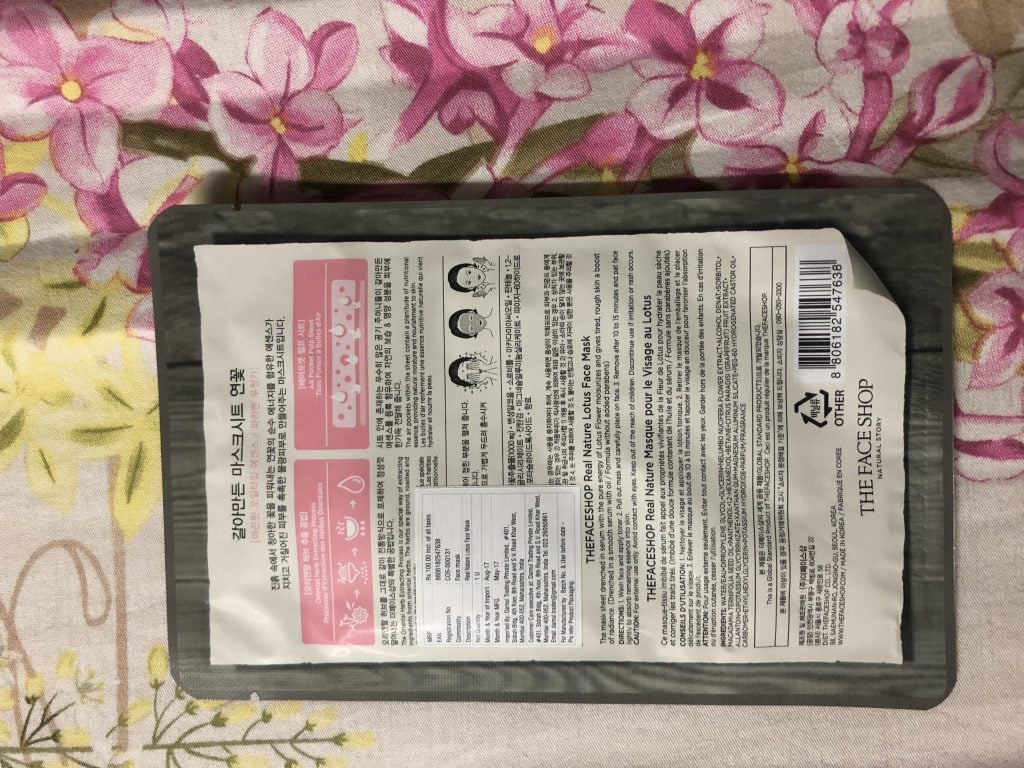 Ingredients:( Refer attached picture)
Water, Dipriopylene Glycol, Glycerin, Nelumbo Nucifera Flower Extract. Alcohol Denat Sorbitol, Macadamia Ternifolia Seed Oil, Panthenol, 1,2-Hexanediol, Betaine, Citrus Paradisi (Grapefruit) Fruit Extract, Allantoin, Dipotassium Glycyrrihizate, Xanthan Gum, Magnesium Aluminum Silicate, PEG-60 Hydrogenated Castor Oil, Carbomer, Ethylhexylglycerin, Potassium Hydroxide, Fragrance.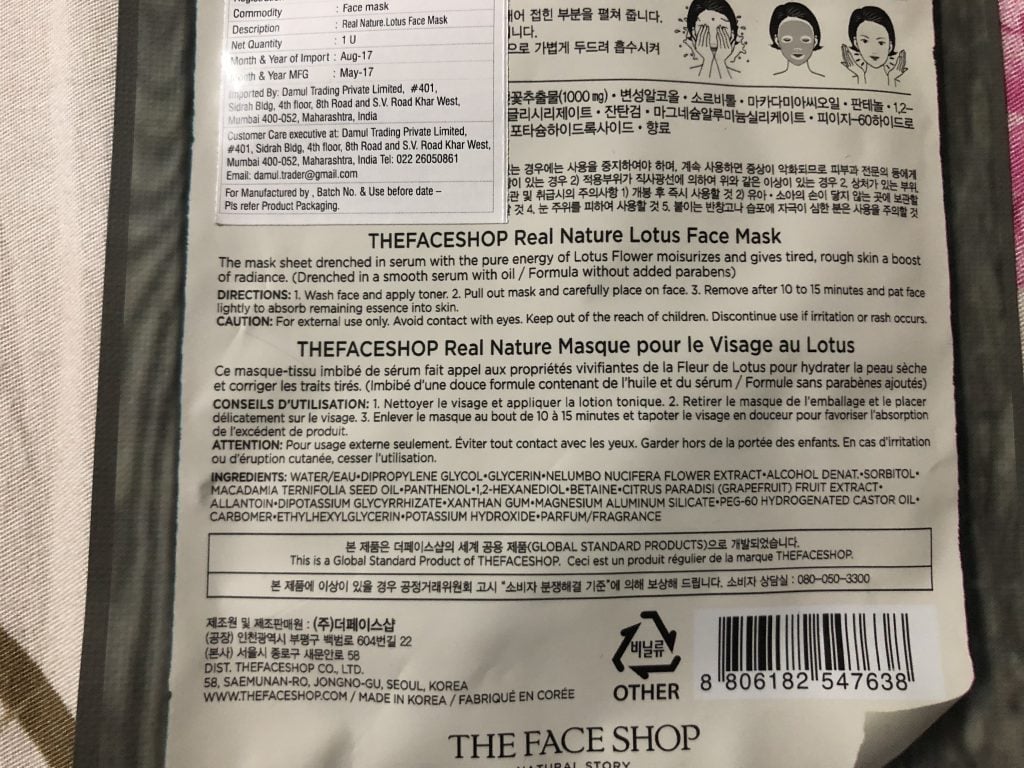 What The Face Shop Real Nature Green Tea Face Mask Claims:
This black sheet mask is drenched in serum-containing Lotus Flower extract that helps moisturize tired, rough skin and gives your complexion a boost of vitality and radiance!
– Provides smooth, radiant and moisturized skin
– Enriched with lotus flower extract known for its hydrating properties
– Natural squeeze-and-extraction process
– Contains one single-use face mask
– Has smooth oil-type essence and natural ingredients
How to use The Face Shop Lotus Face Mask?
Apply to face after cleansing and toning the skin. Leave in place for 10 to 15 minutes. After removing, dab remaining essence into skin.
The Packaging of The Face Shop Real Nature Lotus Face Mask :
Before telling you my experience, I would share with you why I love to use Face masks ,The first reason is, they are not so messy as face pack, and the second is, the mask sheet made from thin cotton fiber is drenched in serum, so concentrated goodness is directly delivered to our skin. The face mask comes in a real classy and sturdy packaging. It is packed in a matte thick plastic pack with a smooth wooden finish. All the product details are mentioned on the pack itself. The white and pink lotus printed on the packet looks soothing to our eyes! The packet of the face mask made of easily tearable plastic, though it is travel-friendly, you can just toss it in your bag and make yourself relaxed anywhere!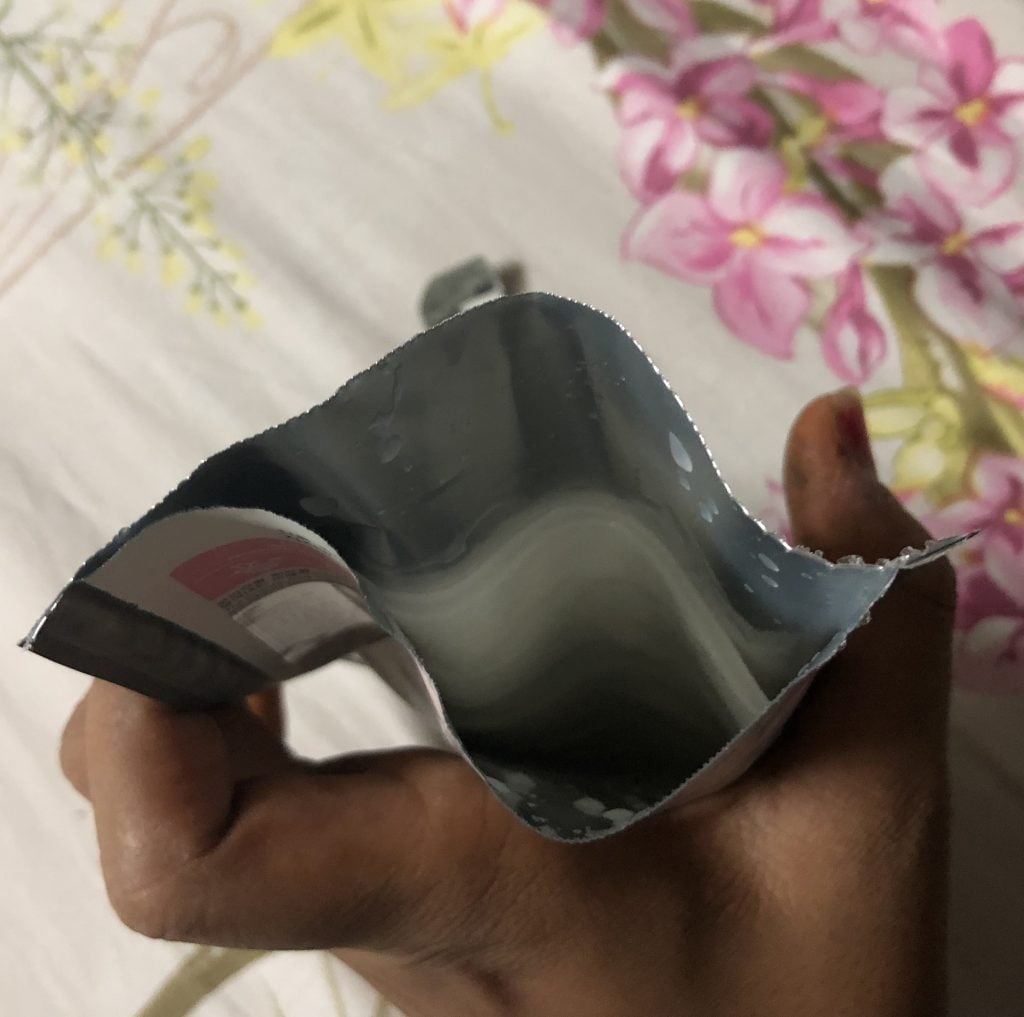 My Experience With The Face Shop Lotus Face Mask Says,
As directed I washed my face and used a toner. The face mask sheet was drenched with a lot of serum that there was quite a lot of serum left behind in the pack. The serum was a little thick yet easy to apply and blend. I poured this serum into my palm and apply it to my neck and hands too. The Face Shop Real Nature Lotus Face Mask has a light floral fragrance, which would take you to the lake full of lotus.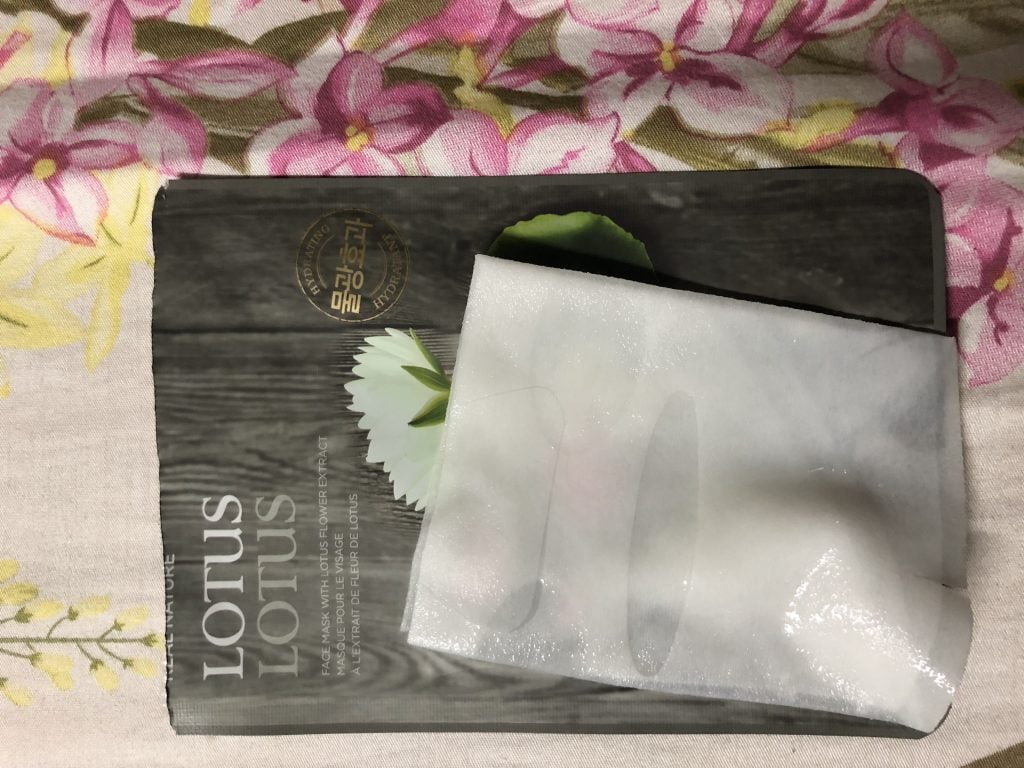 The mask is a little bigger than the size of my face, so you need to press it around your nose and under-eye circles. And voila I was in heaven for half n hour. 😜 Yes, I kept the mask for half n hour and yet the sheet is not dried out so I kept it for another 15 minutes. This Lotus mask is extremely hydrating than the blueberry face mask. After removing the mask, my skin felt so fresh and plumping. The glow on my skin remained for the next 2 days. It's true to its claim, It hydrated and moisturized my skin. Girls, you won't believe it but it is so much relaxing that I felt so sleepy after removing this mask sheet. And that was a good night weekend sleep after this intense skincare.
Pros of The Face Shop Lotus Face Mask :
– Light on the pocket
– Very easy to use
– Not time-consuming
– Travel-friendly
– Evens out the skin tone
– Makes your skin soft and supple
– Hygienic packaging
– Paraben-free
– Instantly brighten-up the face
– This lotus sheet mask is extremely hydrating
Cons of The Face Shop Lotus Face Mask :
– The fit of a mask is not proper
– Temporary glow
– Some girls might not like the fragrance
Vooeauy Rating: 4.5/5
Will you repurchase/ recommend the face shop real nature lotus face mask?
Yes, I will recommend The Face Shop Real Nature Lotus Facemask to the normal to dry skin beauties, this will not be so good for much oily skinned beauties. I will surely repurchase the face mask after using the other 12 masks from face shop. 😛