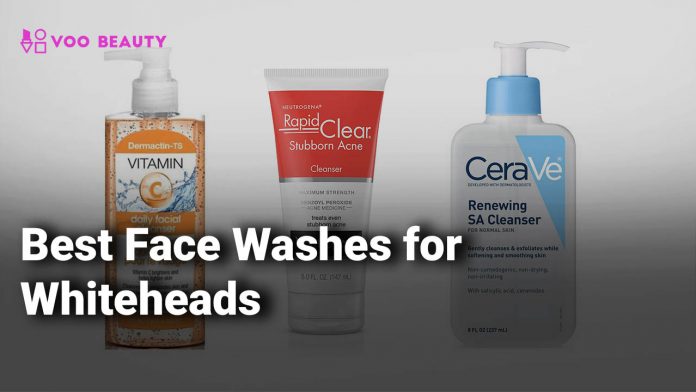 We are supported by readers. When you purchase through links on our site, we may earn an affiliate commission.
Whiteheads are nothing but a form of acne. They are mostly small and round in shape with a thin layer of white at the top. This white layer is actually skin flakes that got trapped under the skin, sealing the pores. And the collection of oil, dirt, and dead skin cells in the blocked pores causes whiteheads. This form of acne not only appears on the face but also on the neck, chest, shoulders, and back.
So what causes clogging of pores? It could be due to the excess amount of oil or sebum produced by your skin. This is turn is due to changes in your hormones. Other reasons that can lead to whitehead formation are genetics, lifestyle, stress, and puberty.
Does whitehead appearance mean something?
When you find these little painful bumps on your body, it means your body is trying to remove the collected toxin from inside it. So it is advisable to start treatment of these acne spots as soon as you see the first signs of a breakout. To help your body release the bacteria from its pores, don't puncture the spots but treat them effectively using a good quality cleanser and by inculcating certain lifestyle habits.
Here are 12 best face washes for clearing whiteheads and getting smooth and healthy skin.
Best Face Washes for Whiteheads in 2020
One of the excellent cleansers for treating whiteheads and other types of acne at home is this Oil-Free Acne Cleanser from Acne Free. It has advanced micronized benzoyl peroxide that gets inside the pores and removes all the bacteria that are clogging them and causing whiteheads. The 2.5% concentration means it does not leave your skin feeling too dry or irritated. This face wash also contains ceramides that provide enough moisturization for your skin for an after clean feel you will absolutely love.
2.5% advanced micronized benzoyl peroxide for deep cleaning of pores.
Ceramides ensure the skin stays hydrated by locking in its natural moisture.
This face wash can be used to treat acne on the body too.
Does not contain artificial fragrance.
This facial cleanser is one of the best products for whiteheads that is gentle on your skin and highly effective. It has a Low Lather Formula that reaches deep inside the pores, removing the excess oil, debris, and impurities. But it doesn't remove the natural moisture-rich layer of your skin while doing so. It makes sure your skin doesn't get deprived of its natural hydration and smoothness while getting rid of acne-causing bacteria. This makes the face wash safe to be used daily.
Low lathering and non-drying formula for complete cleansing without causing dryness.
This cleanser is hypoallergenic, which means it doesn't irritate.
It has a mild fragrance.
Excellent whitehead cleanser for normal, oily, and combination skin.
This facial cleanser by Dermactin contains a vitamin that not only promises acne-free skin but also a skin that is more youthful-looking and healthy. Vitamin C is a powerful ingredient that clears the skin of bacteria, turns it more radiant, and removes the signs of aging. After every wash with this cleanser, your skin feels fresh, clean, smooth, and glowing.
Packed with Vitamin C for gentle exfoliation and removal of acne bacteria from pores.
It refreshes the skin and turns it more radiant.
It reduces the appearance of wrinkles, fine lines, sun damage, and other signs that make the skin look older.
Overall, excellent whitehead treatment product.
Whiteheads can be stubborn sometimes. For such acne spots that refuse to come off quickly and easily, you need a strong acne-fighting face wash. This Neutrogena Rapid Clear Stubborn Acne Face Wash promises to give your glowing and smooth pre-acne skin back. With consistency to follow a cleansing ritual with this face wash, you will notice the difference much before your expectation. It contains 10% benzoyl peroxide for effective acne clearance. But don't worry, it doesn't strip away the natural moisture of your skin.
10% benzoyl peroxide for complete acne removal within a few days.
It promises to reduce the size of the stubborn acne and its effects in just 1 day.
Gentle formula makes it suitable for daily usage.
One of the most recommended facial wash to get rid of breakouts.
This wonderful face and hand cleanser from Forest Heal gives a spa-like massage to your skin. It contains natural ingredients to remove impurities from the pores and shrink them to remove whiteheads and prevent future breakouts. This luxurious micro bubble face wash is enriched with cleansing, hydrating, and soothing aloe vera, green tea, and andiroba oil. It also contains niacinamide and adenosine that fight bacteria and regenerate the youthful and glowing look of your skin.
Made using 100% natural and rare ingredients found in the Amazon rainforest.
Contains antibacterial and healing andiroba oil.
Also has green tea and aloe vera which calm irritated skin, moisturize it, and prevent it from further damage.
It gently but deeply exfoliates the pores and minimizes them with its papaya fruit extract.
Revive your morning facial skin by giving it a refreshing cleanse with this Clean & Clear Morning Burst Oil-Free hydrating facial cleanser. It has natural extracts that help rejuvenate your skin and remove all toxins from deep inside it. The bursting beads formula massages your skin's layer and washes away the dirt and oil, making it feel rejuvenated.
Its bursting beads formula and citrus scent instantly wake up your lethargic skin.
Contains cucumber and green mango extract for deep cleansing of pores and skin nourishment.
Suitable for normal, oily, and combination skin.
This bubbling face wash has everything to treat your acneic and damaged skin and leave it looking flawlessly radiant and hydrated. It is made using Centella Asiatica leaf water along with other natural ingredients that are excellent skin exfoliators and healers with anti-aging properties. This face wash doesn't dry up your skin but leaves it feeling fresh and hydrated for hours.
69% leaf water of Centella Asiatica beautifies the skin with its anti-aging properties.
Contains tea tree leaf water, ormenis multicaulis oil, oryza sativa bran extract and other naturally derived ingredients.
It soothes irritated skin and provides all-day moisturization.
Deep cleans the pores and prevents future acne breakouts.
Looking for a non-drying whitehead face wash for your normal skin? You should check out this Renewing Exfoliating Face Wash from CeraVe. Its formula is created using salicylic acid, hyaluronic acid, niacinamide, antioxidant vitamin D, and 3 types of ceramides. This face wash is, thus, a great remedy for treating whiteheads and keeping skin hydrated for long.
Contains salicylic acid that removes the dead layer of the skin and makes it smooth.
1, 3, and 6-II ceramides care for the skin by keeping its natural protective barrier intact.
Its fragrance-free formula is gentle, which means it is non-drying and non-irritating.
If you are a fan of milk-based face cleansers, then do check this Coconut Facial Cleansing Milk by Georgette Klinger. It has a foam-free formula that purifies the facial skin and enriches it with softness and moisture. Coconut milk, its main ingredient, gently clears away the toxins from the skin and hydrates it, all while enriching it with essential Vitamin E. This face wash also has natural ingredients that ensure your skin doesn't experience inflammation or irritation, stays young, and strong against damage.
Coconut milk is a natural moisturizer and skin repairer.
The grape extract gives the skin fighting properties to prevent future damage.
Cucumber extract hydrates soothe skin and tighten sagging skin, making it look younger.
Say goodbye to your whiteheads forever with this Proactiv Deep Cleansing Wash. Its beads formula removes dead skin cells from the upper layer, penetrates into the pores, and fishes out impurities that have caused you acne. It refreshes your acneic skin without leaving it feeling uncomfortably dry or tight.
Contains salicylic acid for deep cleaning of pores.
It has a bead formula that removes the dead layer and reveals a smoother and more glowing skin.
Its formula is gentle and doesn't cause excess skin dryness and tightening.
Try this YADAH Anti Trouble Bubble Cleanser for your sensitive or oily skin with whiteheads and other forms of acne. Made using salicylic acid and natural botanical ingredients, this face wash gently removes dead skin cells and impurities from your face. As a result, your face looks cleaner and fresher with a drastic reduction in the appearance of acne. The good news is, you can use this cleanser daily without fearing dryness and tautness of skin as it is free of chemicals such as paraben, mineral oil, and sulfate.
Formulated with low-acid bubbles with wintergreen leaf extract to effectively enter the skin and remove all toxins.
Contains rosemary, green tea, sage, aloe vera, and more botanical extracts for hydration and moisturization.
Free from harsh chemicals.
Clinically tested in one of South Korea's top medical centers.
What did people in the old era do to get rid of whiteheads? They rinsed their face with rice water! The water that you get after washing rice is a natural source of vitamins and minerals, which are most beneficial for acne skin. The THEFACESHOP Rice Water Bright Foaming Cleanser contains this traditional acne-treating ingredient along with moringa oil and soapwort to treat acne spots, heal, soothe, and moisturize the skin.
Rice water is rich in Vitamin A, B and E, ceramides, amino acids, and minerals which perfectly clean and treats acne skin.
Moringa oil is packed with anti-oxidants.
Soapwort aids in the gentle cleaning of pores.
Keeps the skin hydrated and well-moisturized.
Buyers' Guide for Picking the Best Face Wash for Whiteheads
Heading out to buy a whitehead clearing face wash? Make sure you are well-versed with the following pointers before taking your pick.
1. What's Your Skin Type?
Skins are divided on the basis of their oil production. So, there are 4 types of skins- normal, dry, oily, and combination. Based on the amount of oil your skin produces, you can determine under what kind your skin falls into. Accordingly, you need to search for a whitehead removing face wash. Because choosing a face wash as per your skin type will yield more effective results.
2. What are the Ingredients?
It is always recommended to go for natural face cleansers to treat acne. Face washes with natural cleansing ingredients do not irritate or dry out your acneic skin, making them safe for daily use. Benzoyl peroxide, salicylic acid, etc. are some of the acids that are an essential ingredient in acne face washes. So don't be scared of them, just make sure your face wash doesn't contain harsh chemicals such as paraben, sulfate, mineral oil, etc.
3. Is It Clinically Tested?
If you are unsure about using an acne clearing face wash, one way to get confident is to find out whether it is clinically tested or dermatologist approved. The approval by skin experts means the face wash is proven to be safe and effective in fighting acne.
Keeping these points in mind, you can buy any of the above-listed face washes for whiteheads.
Suggested Read: Best Natural & Organic Face Masks in 2020
Best Face Washes for Whiteheads – FAQs
1. How to remove whiteheads permanently?
By following a daily cleansing ritual. Wash your face daily with a gentle acne clearing face wash. Watch your diet. Keep your hands off your face.
2. What causes whiteheads on the face?
When your face's pores get blocked by dead skin cells, oil or dirt, the skin starts to push out the toxins in the form of whiteheads.
3. What food cause whiteheads?
Food containing refined sugar and white flour, dairy products, etc. are known to cause whiteheads and other acne.
4. Do whiteheads go away on their own?
Yes. But they can take weeks to completely disappear and can be quite painful. That's why it is recommended to use a facial cleanser for quick whitehead removal and future breakout prevention.
Conclusion
Along with the skincare routine, you also have to ensure that you keep a watch on what you give to your stomach. A healthy gut means healthy skin. You also want to minimize the use of beauty products as they may help clog the pores further. Keep it simple until your pores are cleaned and well protected against future damage. Choose your products wisely and be strict with your skincare regime. Only consistency will rid your skin of whiteheads and give you the results in time. Stay beautiful, stay spot free.