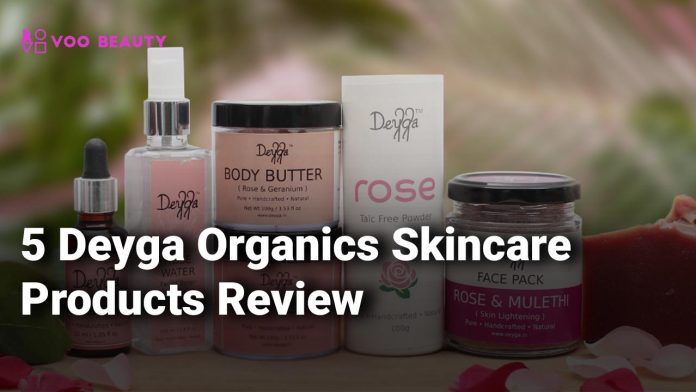 We are supported by readers. When you purchase through links on our site, we may earn an affiliate commission.
No surprise that the organic skincare market has been evolved. With years, people have begun to recognize what's inside their skincare regime to make better decisions about skin whitening products to use, which has resulted in hundreds of new brands along with cruelty-free brands in the market. Indeed, both natural and organic terms are different and some brands label their products as "green", "non-toxic", etc. do you think they mean it all?
However, the products that are FDA approved are original with its ingredients and that's where Deyga Skincare ranks in the peak!
Redefine beauty with products that are good to both our skin and the planet. Organic skin care products blended with essential botanicals, vitamins, and minerals that restore the skin with absolute pampering and long-lasting nourishment. You might have scrolled and come across tons of organic ones, but Deyga is the one to stick to!
To give your skin the love it needs, we will be reviewing 5 best Deyga products that you should not miss out on! So, should we begin?
Deyga Organics Products Review (2020)
Made with herbal oil fragrance, Deyga beautifying serum blends in bitter almond oil, Moringa oil, Grapeseed oil, Khuskhus oil, and with few more essentials. Just a few drops of this light-textured serum and there you get the glow. Notice an impressive difference in the skin tone and texture resulting in smooth and supple skin.
This beautifying serum gives an instant brightening look with every use. Being the absolute care-taker of your skin with all those rashes, breakouts, and acne, Deyga beautifying serum penetrates the essential ingredients deep down, leading your skin to be healthy and radiant, all in one go!
How to use the beautifying Serum?
Take a few drops of serum onto your palm and evenly spread on your face and neck.
Gently pat the serum all over the face without massaging.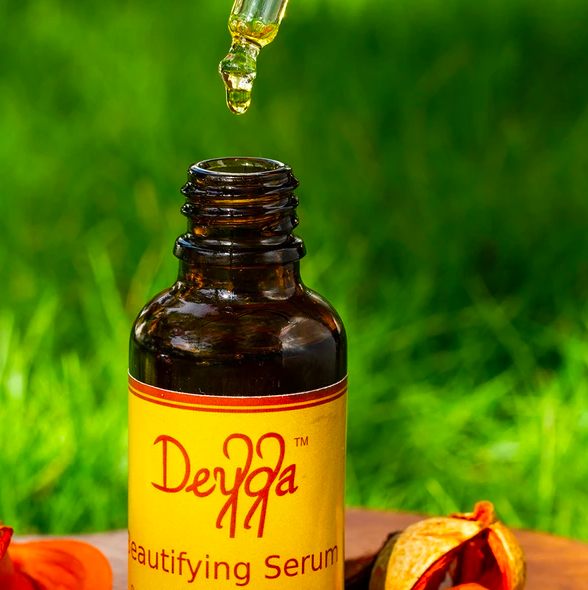 Features of Deyga Serum:
This fast-absorbing and light-weight serum consist of anti-oxidants and anti-bacterial substances.
Make your skin supple and soft with Deyga beautifying serum consisting of Moringa oil and bitter almond oil.
Nourishes your skin with Grapeseed oil and gives a natural-looking glow with utmost radiance and shine.
A brightened skin is a dream, and this beautifying serum gives it all for brightening skin with permanent results.
Acnes and breakouts are a major problem, but not when you have Deyga with you, which gets through the skin roots and heals the skin from within.
Contains zero harmful ingredients and is safe on all types of skin demanding only natural care.
Pigmentation and dark circles can be critical trouble, especially if it has taken charge under your eyes. Calm the under-eye bags with this Deyga under eye cream that comes with the perfect blend of nourishing oils. It removes the appearance of under-eye skin with proper control over puffiness. Let the Deyga eye cream remove pigmentation and fine lines over time. With regular use, your under area appears to be brighter, smoother, and indeed younger.
The best thing about this cream is that it is suitable for all skin types and goes extremely well with all weather conditions. It offers a soothing effect under the eyes and all around the area with deep nourishment, improving the blood circulation with every de-stressing massage.
How to use Deyga Under eye cream?
Cleanse your face gently and pat it dry.
Take a small amount of eye cream on your fingertips.
Apply it evenly around your eyes and then massage it with your ring finger on the contour area for proper absorption.
Features of Deyga Eye Cream:
Enriches with chamomile and almond extracts, Deyga under eye cream pampers the skin and nourishes the area.
Look young and healthy with rosehip oil in the eye cream that also effectively increases the blood circulation and de-stresses.
It doesn't make the skin look sticky or greasy after use, as it immediately absorbs the cream after use.
Blurs the fine lines beneath the eyes and helps the skin glow with complete radiance removing the eye bags.
Indeed, it can be used with your regular skincare routine as it goes well with concealers and foundations too.
Get a flawless complexion with a balanced skin that might still feel like a dream to many. This natural and chemical-free Deyga rose scrub helps your skin for a complete restoration with regular use. The coarse powdered texture makes it efficient for a do it yourself or homemade scrub. The granules of the scrub being too gentle on the skin work in the most amazing way which can also be used on your body for astonishing results. The scrub with every use exfoliates the skin and makes it supple soft after rinsing. If you still haven't tried this wonderful scrub then you are certainly missing out on essentials that your skin needs.
How to use Deyga Rose Scrub?
Wet your skin with water and then apply the gentle amount of scrub on hands/face/underarms or even all over the body.
massage it gently and keep it for 60 seconds to absorb and then rinse off.
Features of Deyga Rose Scrub:
Comes in a well-packaged kit with careful packaging that doesn't let the scrub spill.
Handmade rose scrub makes the skin glow with proper hydration and moisturization efficient on every skin type.
Deyga rose scrub restores the skin as the rose properties heal the skin out of acne, rashes, and scars with regular use.
The scrub removes all the dead skin cells that would reveal a fresh skin to lock in the moisturization intact.
The aloe vera ingredient in the scrub treats the dry and dull skin giving clean and clear skin after the first use itself.
The Deyga hair oil is well-known for its organic ingredients that are included in the making of the hair growth oil. Bringadhi hair oil is an intense treatment to the hair strands that protect from hair damage and hairfall in the long run. Stress can be a major cause to hair fall, and the castor oil in the product makes it beneficial for the hair roots to grow stronger. Bringaraj oil as one of the ingredients works as the perfect touch to your scalp that gives a cooling effect and uplifts your mood the entire day. A warm and smooth massage with Deyga Bringadhi oil can make your day!
How to use Bringaraja Treatment Oil?
Pour the oil on your scalp and apply it with the hair root applicator.
Apply Directly on your scalp.
Massage it in a circular motion for boosting the blood circulation.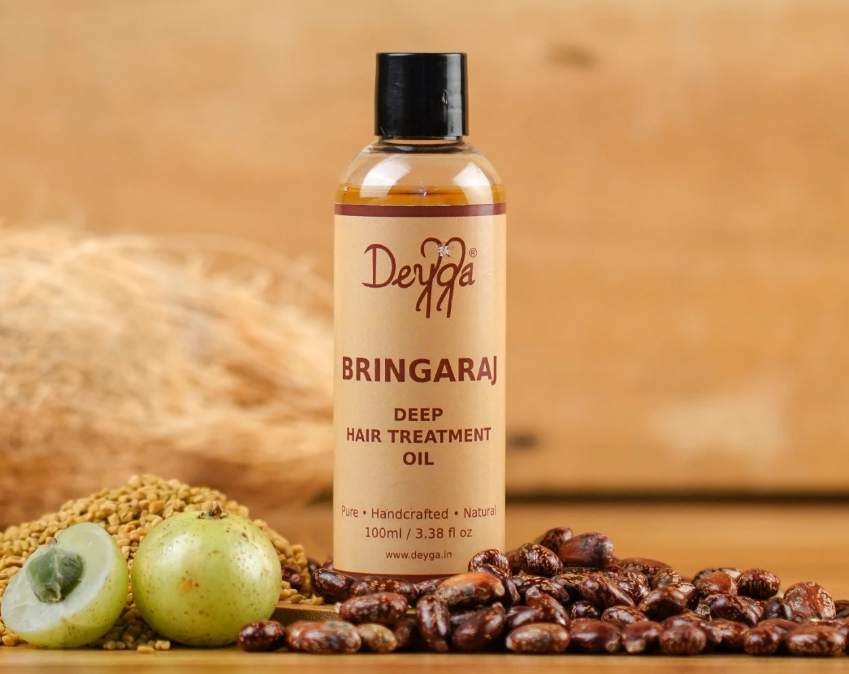 Features of Deyga Hair Oil:
The Bringadhi oil in the Deyga hair growth oil keeps the scalp and the roots nourished and work as the perfect treatment for infections.
The Deyga hair oil also prevents the scalp from any type of infections that is caused due to dryness or itching or any scalp issues.
Worried about hair fall and hair damage? Deyga Deep hair oil treatment works as a clear hair therapist for your hair fall problems.
The cooling effect of the Bringadhi oil makes up to your scalp and protects it from heat and dullness giving a calm effect.
The anti-bacterial properties in the product battle hair problems which also strengthens the hair from its roots.
Getting smooth and soft lips is not a struggle anymore, Deyga beetroot lip balm has it ready to embrace it for you. The goodness of butter, beetroot extracts, and the essential oils give a beautiful yet supple lip. The beetroot ingredients in the Deyga lip balm heals, restores and nourishes the lip skin and keeps it balanced and healthy. It gives a natural shine on the lips that would last the entire day. Chapped lips? Not anymore!
How to use Deyga Beetroot Lip Balm?
Take a small amount of lip balm and apply it to your lips.
You can follow the lipstick application after this lip balm for a smoother look.
Features of Deyga Lip Balm:
The jojoba oil in the lip balm keeps the skin calm, and it repairs the damaged skin, especially during the cold weather.
The beetroot extracts benefits the skin to be more glowing and soft along with optimum radiance supplied to the skin.
The Beeswax in the product works as the perfect natural barrier from protecting the lip skin from different environments.
The regular use of Deyga beetroot lip balm leaves a subtle radiant and shiny look on the skin.
FAQs on Deyga Organic Products & Reviews
1. How to use the Deyga products?
Using Deyga products is just usual like you would use the other skincare products. However, you can follow the directions to use in the product label.
2. How often should I use the rose scrub?
Indeed, you can use the scrub every day for better results, or otherwise, you can use it as per the directions mentioned on the product either way as it would be beneficial and show instant results after every rinse.
3. Will Deyga organic products suit sensitive skin?
Of course, it will! It doesn't comprise any skin type limitations and people with any skin type can use it with confidence.
4. Can I use lipstick with Deyga lip balm?
Absolutely! The lip balm won't affect the lipstick or lip gloss that you would wear. Yet, Deyga beetroot lip balm takes care of the lip with perfect shine and gloss.
5. Can men use these products?
Deyga is for all! It doesn't have any gender limitations, the skincare products certainly suit all the skin type regardless of the gender.
Conclusion
Organic and natural skincare products indeed impress every skin and make us fall in love with our own skin, which is the ultimatum of Deyga. The purity with Deyga and its product ingredients are effective and are something that every skin needs in the world of artificialities. Another fact is, all of the Deyga products are certainly handmade and crafted with perfection and ultimate natural substances that would go pretty amazing with every type of skin for both men and women. Right from its packaging to labeling the final results after usage, the brand has covered up the organic properties in its skincare range.