We are supported by readers. When you purchase through links on our site, we may earn an affiliate commission.
Hi Ladies,
Gorgeous healthy hair is what we all want. Nowadays our hair goes through a lot of damage because of dust, pollution and heat styling products. It needs some extra care and pampering. My review of Toni & Guy Heat Protection Mist will give us a clear idea of its pros & cons. However The Conditioner from Toni & guy has not impressed me much, Let's see how this heat protection mist worked for me!
 Toni & Guy Heat Protection Mist Review
Product Description:
Price: Rs. 650/-INR
Content: 150mL
Ingredients:
Aqua, Dimethconol, VP/VA copolymer, tea-dodecylbenzenesulfonate, PEG-40 hydrogenated castor oil, glycern, dimethconol/silsesquioxane copolymer, Laureth-23, parfum, PEG/PPG-20/15 dimethicone. Citric Acid, disodium, EDTA DMDHydanaton, methylisothazolinone, alpha-isomethyl, ionone, benzyl, alchol, benzyl, salicylate, butylphenyl, methylpropane, citral, coumarin, geraniol, hexyl, cinnamal, hydroxycitronellal, limonene, Linalool.
What Toni & Guy Heat Protection Mist claims:
Toni & Guy Heat Protection mist prepares your hair for styling with salon hairstylist's care and protection. Use between straightening sessions or sprint it before blow drying to restore the natural shine of your hair. Protects hair from heat styling up to 230 degrees.
How to use?
Spray it evenly across the length of your damp hair before styling. Use it in between ironing or blow-drying to maximize your hairstyle.
 Toni & Guy Heat Protection Mist with Hairstyling Tools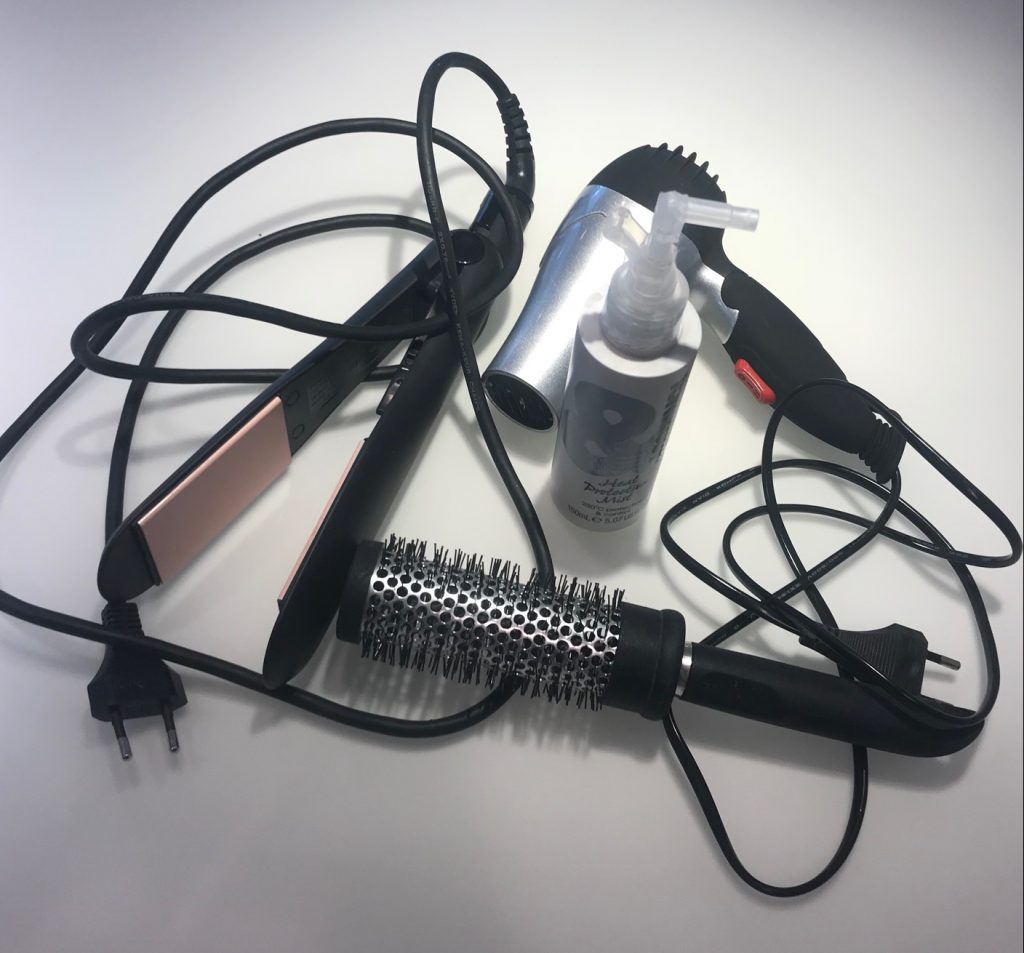 My experience with Toni & Guy Heat Protection Mist says,
Frequent get-together and functions demand proper hair styling. I haven't been blessed with manageable hair. This makes me use heat styling products quite often. I am aware of the long-term damage caused by such products. A heat protection mist was on my wishlist for quite some time. I thought who better can I think of than Toni & Guy. I shopped for Toni & Guy Heat Protection Mist online through Nykaa three months ago. Winters being at their peak, hairstyles are fun for style divas like me. On receiving the parcel, I immediately jumped on to check its performance.
 Toni & Guy Heat Protection Mist Closer Look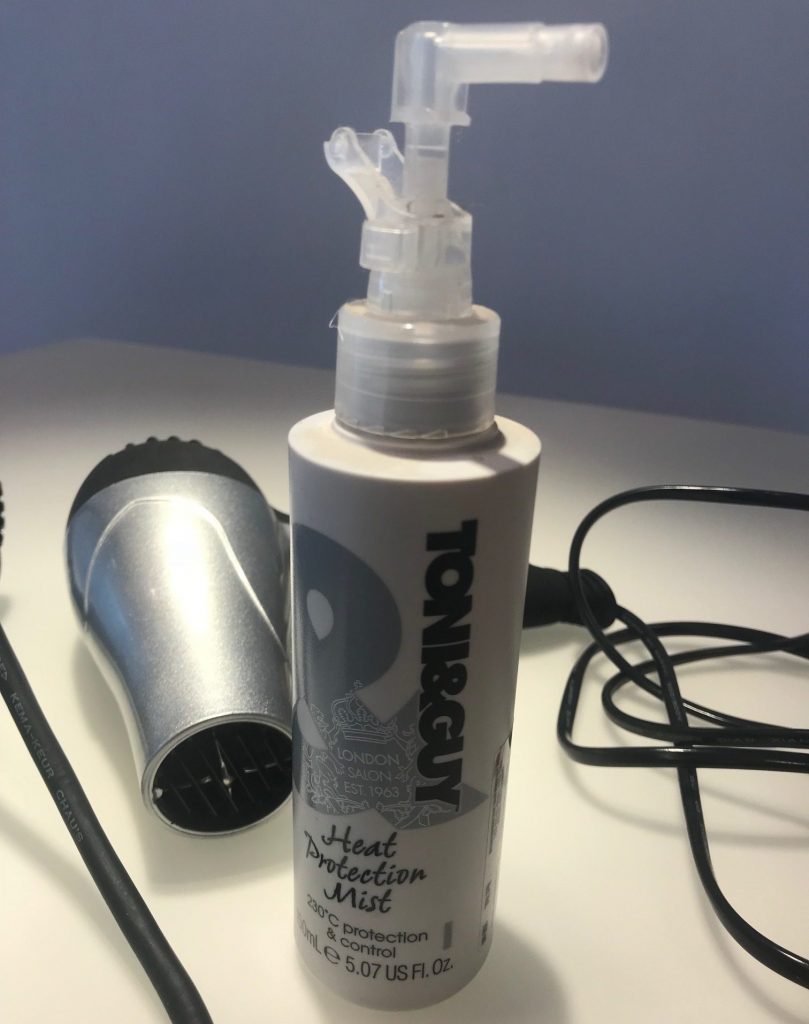 The Packaging of Toni & Guy Heat Protection Mist Review :
Let's start with the packaging, it's a white sturdy plastic spray bottle with a nozzle. I quite like it as I get a professional feeling on holding the bottle. There are very few chances of spillage due to its sturdy packaging. The product is clear in color with a light serum-like texture. It has an overwhelming smell similar to any high-end hair care product. This could be a turn off for the ladies with a sensitive nose. I spray it on damp hair before using my straightening iron for hairstyling.
It does a good job of safeguarding my hair from the straightening iron's heat damage. Toni&Guy Heat Protection Mist claims up to 230 degree which is enough for most hairdos. You will feel like it creates a barrier between the heat and your hair. I also use the mist as a hair setting spray to hold hairstyles. I have committed the mistake of going overboard with the quantity. Be careful ladies. Spraying evenly and in limited quantity is the mantra. It might take a few trial and error before you figure the right quantity for your volume. Overall, it does a good job at what it claims.
Pros:
– Travel-friendly package
– Sprays fine mist
– Lighweight
– Trusted brand
– Can be used as hair setting spray
Cons:
– Overpowering smell
– Not easily available at stores
Frequently Asked Questions Related to Heat Protection Spray/mist:
1. What is a heat protection spray/mist?

Heat protection spray/mist is used before doing any hair styling. You can apply this spray or mist to protect from the heat damage by dryers, straighteners or curlers.
2. How to open Toni and Guy heat protection mist?

You will find a small button below the trigger spray. You need to press the button to slide it across and the spray is unlocked.
3. Do Heat protectants really work?

Due to the spray of heat protectant, your hair won't heat up suddenly, they will gently heat up! So your hair will be less damaged, but they can't protect your hair from heat.
4. Do you put heat protectant before or after?
You can lessen the amount of damage on your hair so you should spray it before blow-drying or straightening.
VooBeauy Rating: 3.5/5
Will you repurchase/ recommend?
Yay, I will, only to gals who can get away with the strong smell.