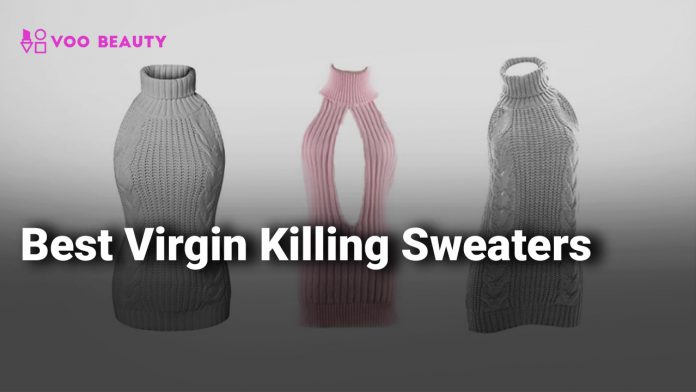 We are supported by readers. When you purchase through links on our site, we may earn an affiliate commission.
With a draw-string around the neck of the sweater being backless and cover nothing but the front of your body the Virgin killer sweaters have become a popular fashion trend, not just in Japan, but also in other parts of the world, including the United States.
The most trendy virgin killer sweaters offer a lustful, sexy, and appealing look to the viewer without making it uncomfortable for the one wearing it. Indeed, they are true to their name – so seductive that a virgin could simply kill their virginity just at their sight.
These turtleneck sweaters titled the "virgin-killing" sweaters are much like some of the popular characters in Japanese anime. The trend began from the demand of identical clothing used in anime, and while it began as a fantasy cosplay theme.
12 Best Virgin Killer Sweaters in 2020
Our Top Pick: The Sexiest Virgin Killer Sweater
paloli Women's Knit Turtleneck Sleeveless Open Back Sweater Anime Bikini Top Vest Virgin Killer
SWEATER MATERCIAL: 90% wool, so soft, stretchy and comfortable
BACKLESS DESIGN: It's a knitted sweater that features a large open back which has gone viral in Japan. Sexy backless cutout with sleeveless designs to show off your charming curves. The strings in the back that you can tie them in a bow
OCCASION:It is more suitable for wearing indoors, if you are bold enough, you can also try outdoor, you must be the focus of everyone
SIZE INFORMATION: fits for S - L petite ladies or girls; Bust: 35.4" - 36" and length at 25.9", suit 88 lb-130 lb, the best feel weight is 100 lb-110 lb
CLEANING METHOD: It is strongly recommended to wash gently by hand to keep the softness of the trade to the greatest extent, and do not bleach. The sweater is made recently, it will emit a smell, please wash it and try it on after receiving the package
There's no doubt that you can wear a Virgin Killer sweater anywhere, but since it'll be showing your cleavage and few of them might even show your buttocks, that's why it isn't something you can wear around the town. But if you're looking forward to wearing it in the private to spice up your sex life, then these are among the most trendy and comfortable options.
Made with acrylic material, the sweater is very stretchy and comfortable enough that helps to wear it for a longer period of time. Having a backless, sleeveless and a halter neck look, this sweater is designed to give you a sexy enough look. The knitted fabric is of such a material that you can wear in any season. Since this sweater is of free size, it is easy for any size of a woman to wear it.
Comes in free size
Highly comfortable acrylic fabric
Plenty of variety in colors
This Sweater is majorly made out of Wool, giving the wearer a soft touch to the skin. Above that, the stretchy fabric is what you need when you're out there showing off your marvelous body. The backless design of the product is there to enhance the beauty, and the sleeveless design makes sure that the eyes are glued to your curves. To cater to your needs for a party where you need to look sexy, or any date with your loved one, this Sweater is sure to spice up the occasion.
Plenty of colors to suit your taste
Fir for anime cosplay
Large open-back design
With its sexy backless design, this cosplay One-Piece Sweater has been hollowed out at the top, to enhance the overall appeal to the appearance of the wearer. The design is for the daring, for the exposure of the body in this sweater is considerably, and showcases your beauty more appropriately. Although it is a knitted sweater, the fabric is made to be thin enough that the product can be worn in summers, or any other season, for that matter.
Showcases your curves and beauty
Perfect for night dates or parties
Comfortable and soft fabric
Comes in free size
Much like these other sweaters, this Cosplay Sweater is also made out of comfortable woolen fabric which does not make you feel suffocated upon wearing. This turtleneck sweater is a sleeveless product, where the backless cut-out ensures that the beauty of your curves is on the display without ever revealing too much. The bandage back design this sweater gives presents a vibe unlike any other and graces you for most occasions.
Backless design
For alluring looks
Comfortable wear
Not too harsh on the skin
Wearable in most seasons
This turtleneck sweater appears more like a cardigan, except, it is not like a cardigan at all. For the sexy looks, you want this product for, the manufacturers have cut out a slit right where your breasts are – to make sure nobody misses the beauty of your assets.
With this flirty touch to it, this Turtleneck cardigan is a perfect sexy fit for every season. The softness of the fabric ensures that the fabric does not become uncomfortable over prolonged usage.
Front keyhole for sexy looks
Buttons for adjustment according to breast size
Flirty display
Perfect for intimate occasions
This oversized sweater is made up of comfortable fabric, which is of good quality. This backless sweater comes oversized, so it would be the best bet for you if you are targeting that shaggy, rugged and comfortable look. With its backless design, tied by a single knot, this baggy sweater is full-sleeved and can be used as regular everyday apparel for casual as well as travel purposes. Even some semi-formal parties are not out of possibilities.
Available in a variety of colors
Easily matched with other clothes
Hand wash only, not to be bleached
Well, this won't be your everyday choice for a party, but still, if you are looking for that exclusive sexy appearance that you deserve, then this Hollow-Out Sweater would be your go-to. With its front slit, it is going to make sure your beauty is eye-popping.
No doubt about it. With soft fabric having been used in it, it is comfortable for the user to wear it. It is an ideal choice, with its bodycon fit, to put on show your best of assets.
Perfect for parties and likewise
Full-sleeved – ideal for all seasons
Perfect for intimate occasions, dates
For a change, this product is made out of cotton being the major fabric. However, in addition to cotton, the use of spandex makes this product stretchable and flexible. This ensures that the fabric does not make it uncomfortable for the user to wear it.
The design allows it to be used as a multi-purpose product – it could very well be a sweater, a mini dress, or even as a piece of lingerie.
Free size – one size fits all
Ideal for dates and other intimate occasions
Perfect for putting your curves on the display
This Backless Sweater was designed to keep the Cosplay culture in mind. Modeled after the female characters in Japanese Anime in mind, this cosplay sweater is a backless product, with the little cover on the side – ideal to let everyone admire the fantastic curves you worked hard for. The cozy design is surely comfortable for most women in general, and the costume itself is perfect for cosplay parties, or maybe intimate occasions.
An ideal outfit for cosplay
Comfortable fit – free sized product
Available in plenty of other colors
Made out of complete acrylic fabric, the product itself creates a breathing space for the skin, and thus, proves to be a comfortable and healthy fit for the skin. Since the entire neckline of the product is off-shoulder, you have the option to wear as one shoulder off on either side or both of them off – it totally depends on the mood you have while wearing it. With the variety it comes with, it is a great addition to your wardrobe.
Ideal for common casual gatherings
Plenty of colors available
Easily paired with other clothes
Much like its other counterparts, this sweater is also a cosplay costume and can be used to display your curves and beauty to their maximum glamour. With its sides hollowed out, and backless design, without a doubt, this sweater is going to make you look at your sexiest prime. Breathable soft fabric, the product is a comfortable fit and comes in a free size. Select this if you're looking for a cosplay costume to spice up your party, or maybe the bedroom.
Soft, comfortable fabric
Braided design
Backless straps
Perfect for a sexy appearance
This is another full-sleeved sweater that is made of complete acrylic, making it a flexible and breathable fit for most women. The stretchy product is chic in design and can be paired up with most pieces of clothing. This fashionable design is in trend, and the oversized look is perfectly balanced here. A plus, which we think most ladies will appreciate, it has pockets on both sides of the product.
Turtleneck design
Usable as an individual dress
Baggy fit
Free size that can be worn by any woman
Pockets for convenience
Buyer's Guide to Buy the Best Virgin Killer Sweater
The virgin-killer sweaters, although they began as just a costume-party activity, has become a fully-fledged individual industry segment. Virgin-Killing sweaters are without a doubt, a risky piece of clothing. With so much bare skin exposed, it is important to take note of what is covering your body, no matter how much scanty it may be. A lot of thought needs to be put into buying what is a perfect virgin-killing sweater. A lot of products are available in the market, and we are here to help you select the ones which would be the best fit for you. Below, we have mentioned some important criteria, which you should definitely pay attention to, in order to buy for yourself the best virgin killing sweater.
1. Materials
Since the virgin killing sweater is subject to exposure, checking the material is the topmost priority. Sweaters with high-quality are very important because it will help you get rid of the unpleasant feels that is caused because of cheap quality material.
2. Size
If you get a sweater that is not fitting you then it is a total waste as you won't be able to flaunt the stylish look which it aims to give. Hence it is always sensible to buy a sweater that is in free size otherwise you will have to make changes in the sweater.
3. Comfort
Choosing a sweater that makes you feel comfortable is very important since it will help you carry it with different confidence and grace. If you go for a sweater that doesn't make you feel comfortable will only ruin the charm of it.
Frequently Asked Questions Regarding Virgin Killer Sweaters
1. What led to the inception of Virgin-Killer Sweaters?
The origin of Virgin-Killing Sweaters as a trend can be traced back to Japan, where the rise of cosplay as a practice led to the popularity of these Sweaters. The popular Anime characters happened to wear these sweaters, and the fans started clamoring for those styles. Manufacturers realized the demand and started rolling out these products.
2. Is Virgin-Killer Sweater too much to handle?
Undeniably, one look is sufficient to state that a virgin-killing sweater is not clothing for your everyday gathering. It is indeed, a bold piece of clothing to wear outdoors. If you are planning to wear it to a casual gathering, you'll have to have confidence. Putting your breasts and buttocks on display demands you to be comfortable enough to carry that style around.
3. Where can one wear Virgin Killer sweaters?
The idea originated from Cosplay in japan, and likewise, such costume parties would be an ideal place to adorn these sweaters. Additionally, you can also wear them indoors and around people, you are safe with.
4. What is a virgin killer sweater?
The virgin killing sweater, also known as the sweater which kills virginity is a halter neck sweater with a seductively large opens in the front and the back part. It is the trend which was first started in Japan first. It displays your curves before the people, with its open designs.
5. Where to buy a virgin killer sweater?
You can buy the Virgin Killing Sweater online, through shopping platforms such as Amazon or eBay.
6. Why is it called a virgin killer sweater?
The reason behind naming this product as virgin-killing sweaters is because of the appeal they create for the user, so much so that a virgin might die just by looking.
Recommended Beauty Products & Reviews:
Conclusion
Virgin Killing Sweaters have made a startling entrance in the world of fashion – starting from only a confined culture in japan, to the point where it has not gained affinity from around the world. Yet, it remains a bold fashion, at least to say. Wearing it around in the streets is still not the ideal choice, and you need to be careful as to where you are going to put it on. All the more necessary is that your cloth at least is of the right proportions for you, which is why you need to carefully shortlist the product you are buying. The list compiled above contains some of the best and the sexiest looking outfits on the market, and you should be fine selecting any one of them to spice up the party.