We are supported by readers. When you purchase through links on our site, we may earn an affiliate commission.
Hey Guys and Girls, We are back with the bang after a long long time! Sorry guys for a huge break we have taken! But we are back with a lot more products this time. Summer is hitting hard here in India and in this season skincare, as well as hair care, is so important. Hair becomes so dry and dull in this scorchy summer. As Hair spa this summer gives our hair life and growth, I have given a try on this Indian hair spa kit (Sesa Mud Hair Spa) by SESA for a mini spa at home and you won't believe, it's amazing at this price. Let's see how Sesa Mud Hair Spa works!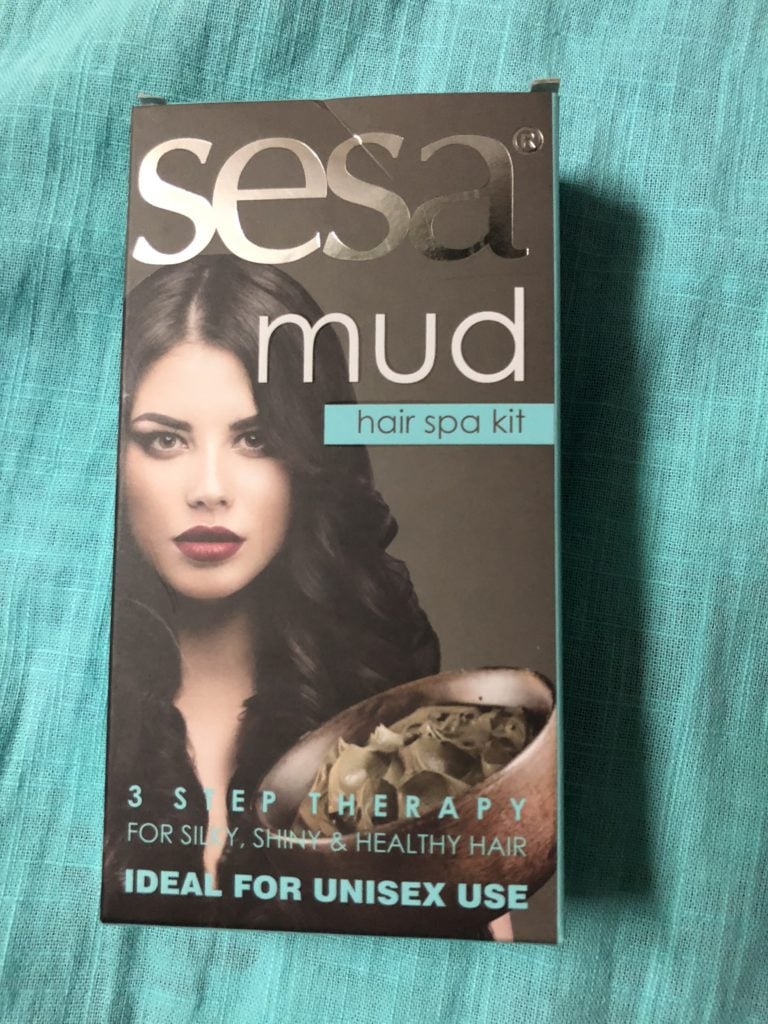 Product Description :
Price: 99 INR
Content: 4 Sachets
(Therapeutic Hair Shampoo, 2 Deep Nourishing Mud Hair Masque sachets, and Revitalizing Hair Serum)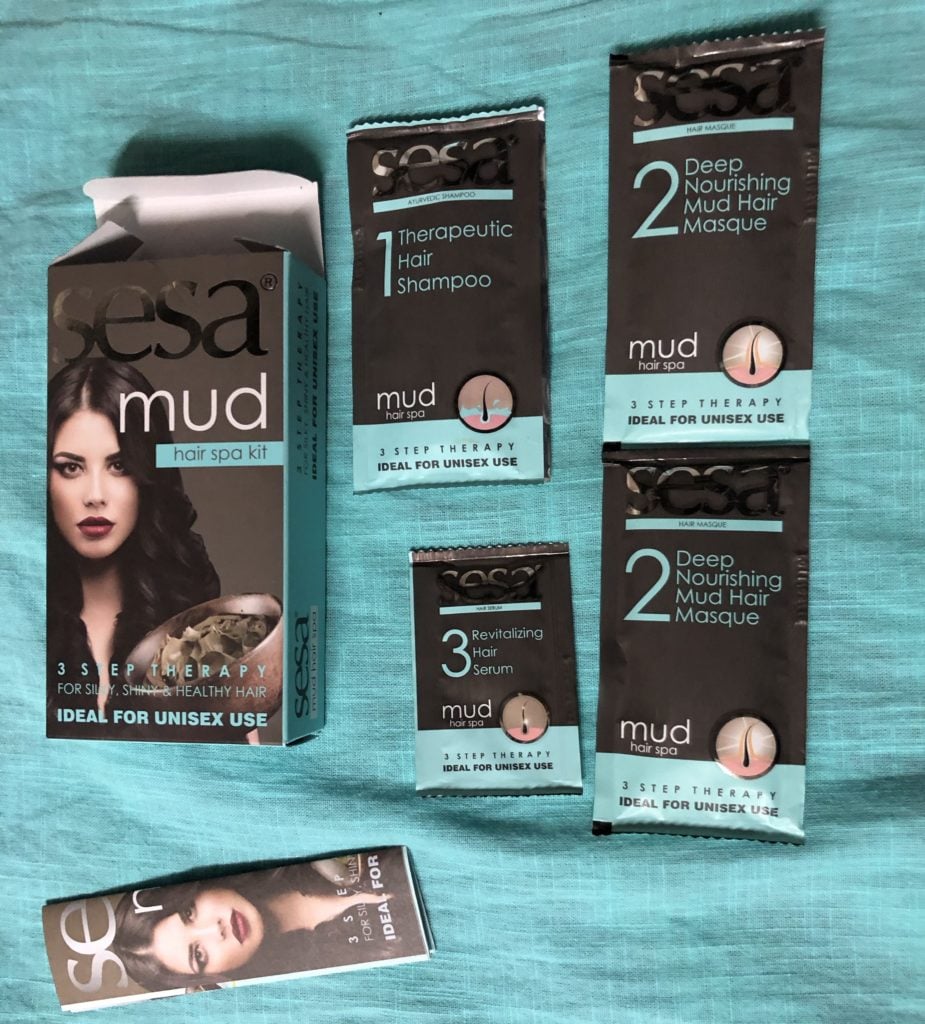 No products found.
Ingredients : (Refer attached picture)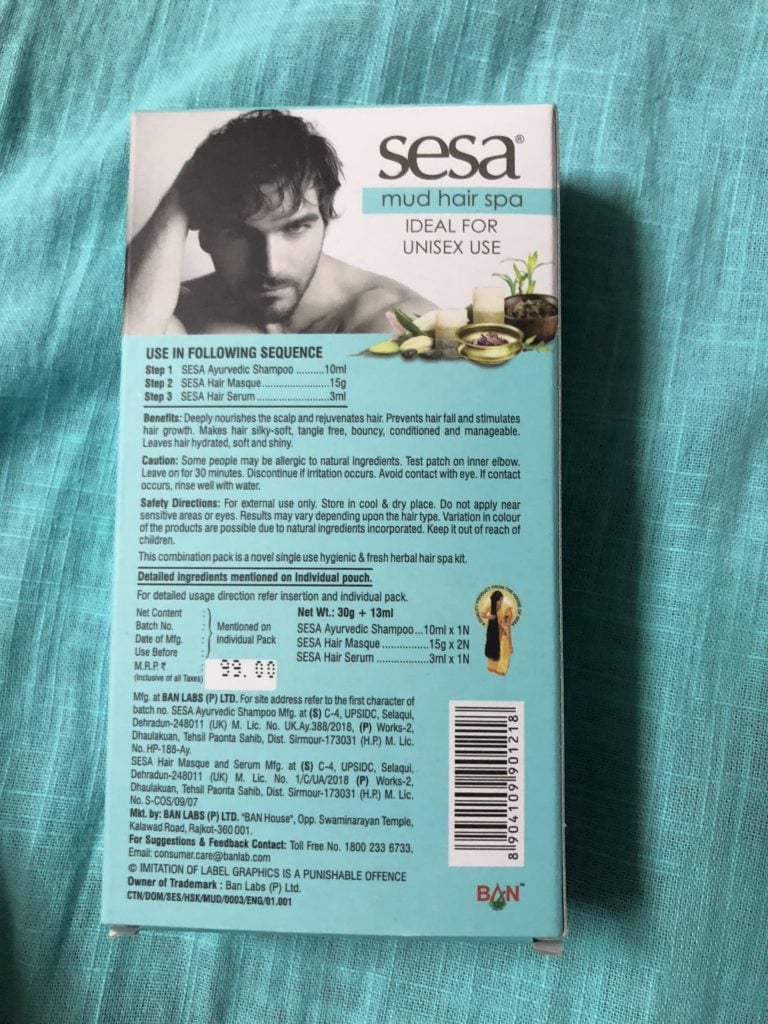 What Sesa claims for Mud Hair Spa kit :
It is a revolutionary and innovative Spa Kit as it can be done in just 15 minutes. The spa kit has the goodness of Mud which removes excess oil and dirt leaving hair silky and smooth naturally. It is easy to use and hence the whole process of the spa can be done at home. First Indian brand to introduce Hair Spa at home Kit. Most Affordable price. Ideal for unisex use. 3 Step Therapy for Silky, Shiny & Healthy Hair.
How to use it?
Step 1: Massage shampoo gently on wet hair & scalp. Rinse off after 3-4 minutes.
Step 2: Gently massage washed and towel-dried hair then leaves Sesa Mud Mask for 2-3 minutes and rinse off hair thoroughly. Do not apply it on the scalp.
Step 3: Take a few drops of Sesa Hair Repair Serum onto the palm of your hand as per the hair length and apply evenly along the hair length on towel-dried hair. Comb Gently.
My Experience With Sesa Mud Hair Spa says,
Sesa Hair Spa comes in a beautiful and bright sea green color. I got madly in love with the packaging of the spa kit! This is the first Indian brand that introduces the hair spa kit that can be used at home with so much ease. Sesa spa is the purely herbal product, that's why it makes your hair beautiful without any chemicals. Talking about the packaging, There are three sachets in the box, Therapeutic Hair Shampoo, Deep Nourishing Mud Hair Masque, and Revitalizing Hair Serum.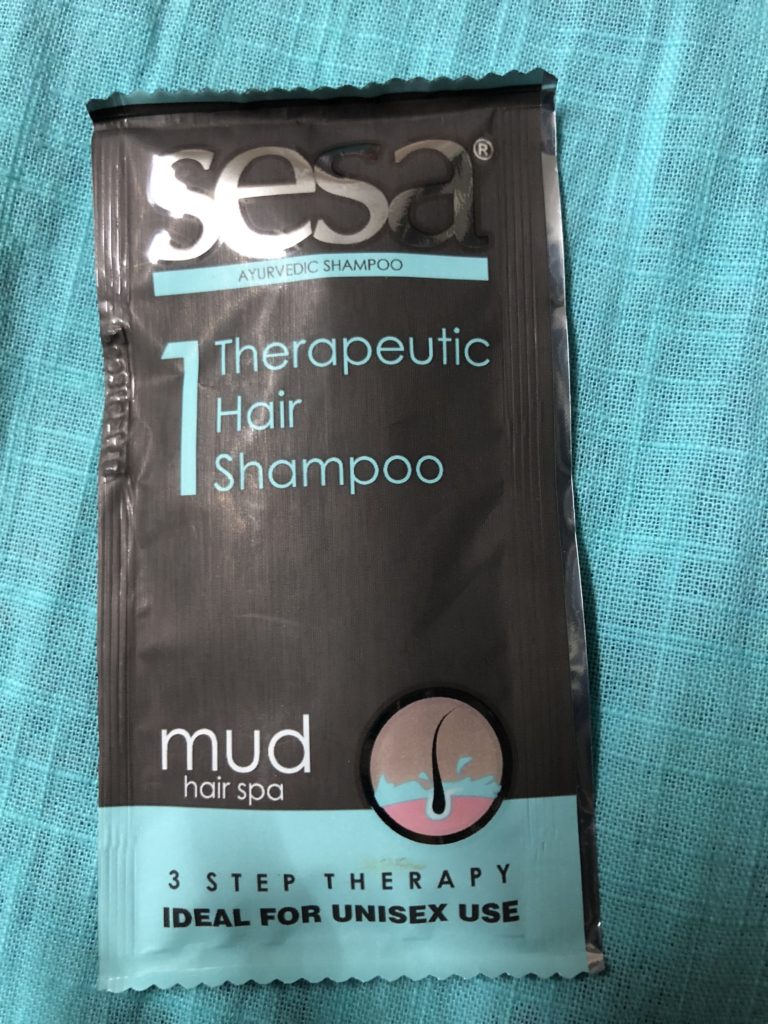 Sesa Therapeutic Shampoo,
Sesa Therapeutic Hair shampoo is the first step of the spa kit which is made of ayurvedic contents like Bhringraj, Triphala, Mehandi, Jati, and Yashtimadhu. Therefore, You can generously apply the shampoo on your wet hair and massage it gently and then rinse it off. The ayurvedic contents of this shampoo helps to remove dandruff, itchy scalp and infections. The fragrance of the product is so amazing. The ayurvedic shampoo makes your hair silky and shiny.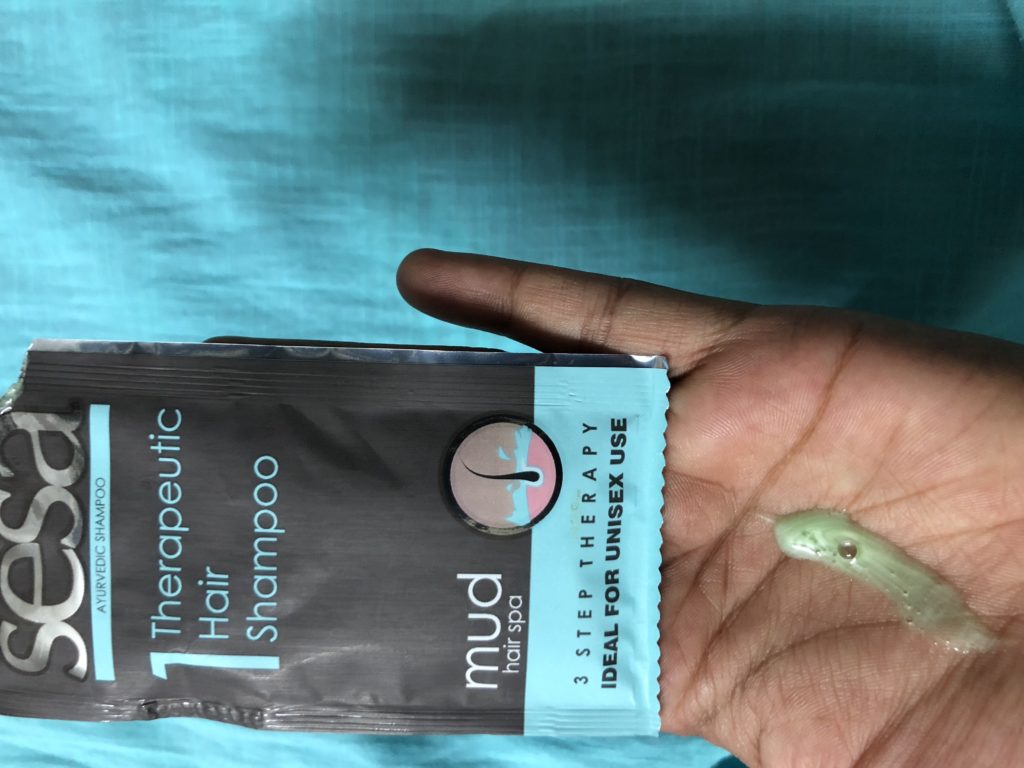 Sesa Deep Nourishing Mud Hair Masque,
Sesa Deep Nourishing Mud Hair Masque, the second step of the spa is formulated with kaolin, almond oil and powerful nutrients of strawberries, therefore, it makes the hair silky-soft, tangle-free, bouncy and manageable. You can apply this mask on towel-dried hair after rinsing the shampoo and leave it for 4-5 minutes. Then rinse it off thoroughly. Don't apply this mask on the scalp. This mask helps to strengthen the hair, reduce dandruff and fine-tune the problem of split ends.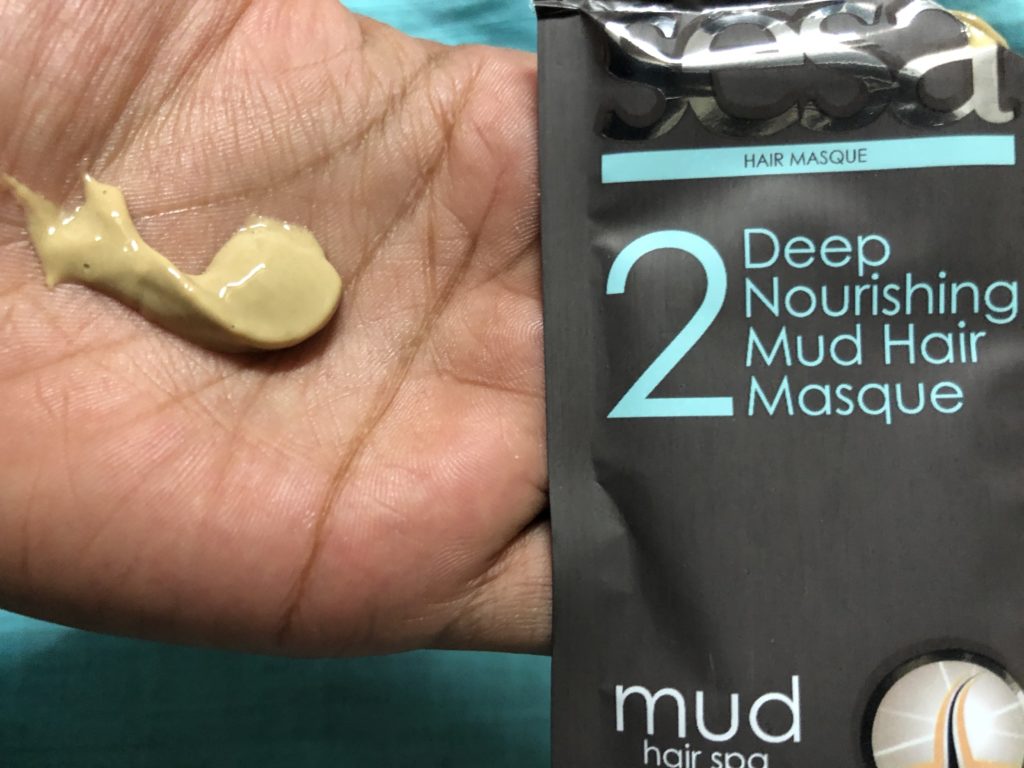 Sesa Revitalizing Hair Serum,
Sesa Revitalizing Hair Serum, the third step of the spa is a unique product enriched with vitamin E which helps make hair shinier and smoother. It protects hair from damage by exposure to the sun, pollution, and hard water. Take a few drops of hair serum and apply evenly along with the hair. The serum can be applied on dry hair too.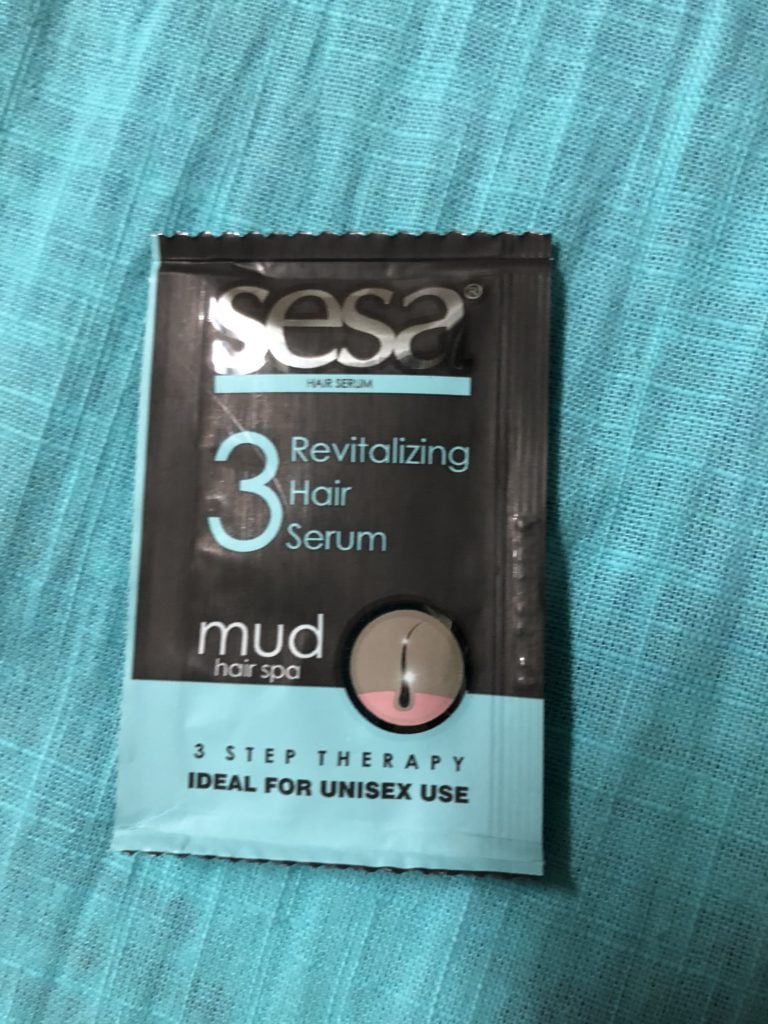 The whole experience of this spa is amazing. You will be amazed by the fragrance in your bathroom and feels like a spa at the saloon. It works wonderfully on the hair and I just love this sp because It takes 15-20 minutes for the whole spa and with the most affordable price. Even this spa has been used by my husband too and he was so happy with the results.
Pros of Sesa Mud Hair Spa :
– Easy to use at home
– Travel-friendly
– Ayurvedic Spa
– Ideal for Unisex Use
– Most affordable price
– Soft and Silky hair
– The mud in the mask helps to remove dirt and oil
– Conditions the hair
Cons of Sesa Mud Hair Spa Kit :
– As the sachet packaging cannot be used again, you need to use the whole spa kit at once!
VooBeauy Rating: 4.8/5
Will you repurchase/ recommend Sesa Mud Hair Spa Kit?
Yes yes yes, I will surely repurchase this mini spa kit at home! And I will also recommend you to buy Sesa mud hair spa kit for the silky and shiny hair!
Have you tried Sesa Mud Hair Spa Kit? Do let me know in the comment. We would love to hear your reviews. You can buy it No products found..
Thank you.
Keep glowing.