We are supported by readers. When you purchase through links on our site, we may earn an affiliate commission.
Hejhej Ladies,
Today, we will be exploring Swedish's renowned beauty brand i.e Oriflame. I have been using some of their products for over 5 years now. I have reviewed one more product rollon by Oriflame here. The Oriflame Swedish Spa Nourishing Body Polish is the latest on their shelves. With an exotic combination of Swedish Heather Flower and Almond Oil in Oriflame Swedish Spa Nourishing Body Polish, I was lured. As a result of this temptation, I am here up with a detailed review of the product.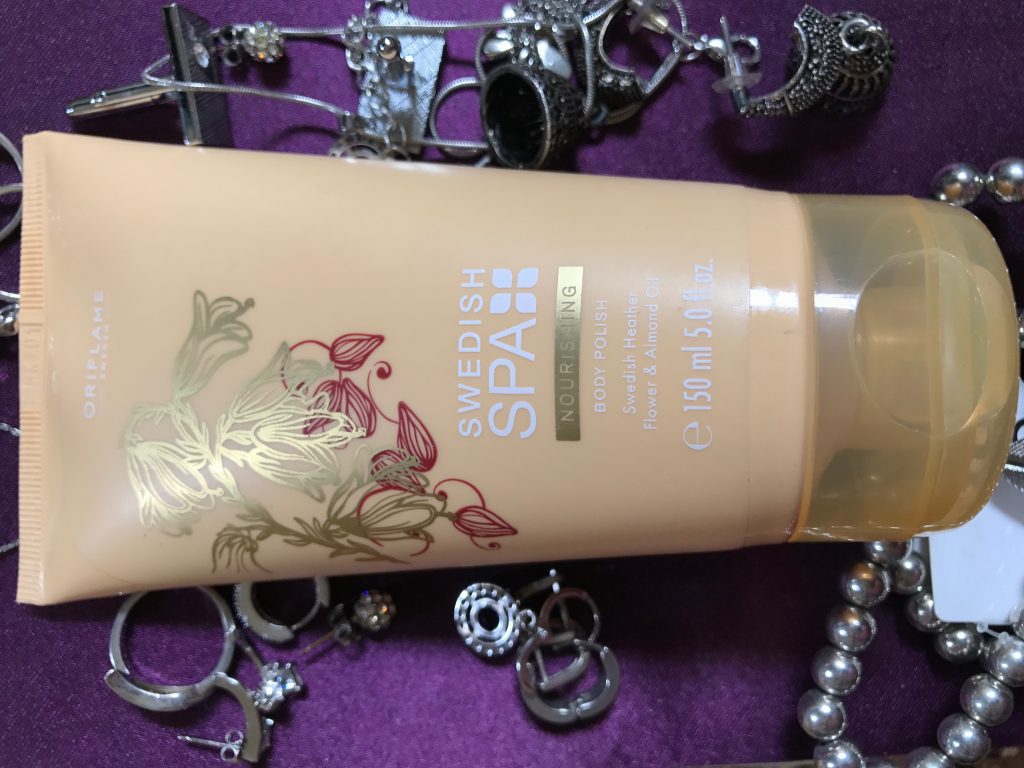 Product Description :
Price: Rs 799/- ( I got this for Rs.499/-)
Content- 150ml
Ingredients:( Refer attached picture)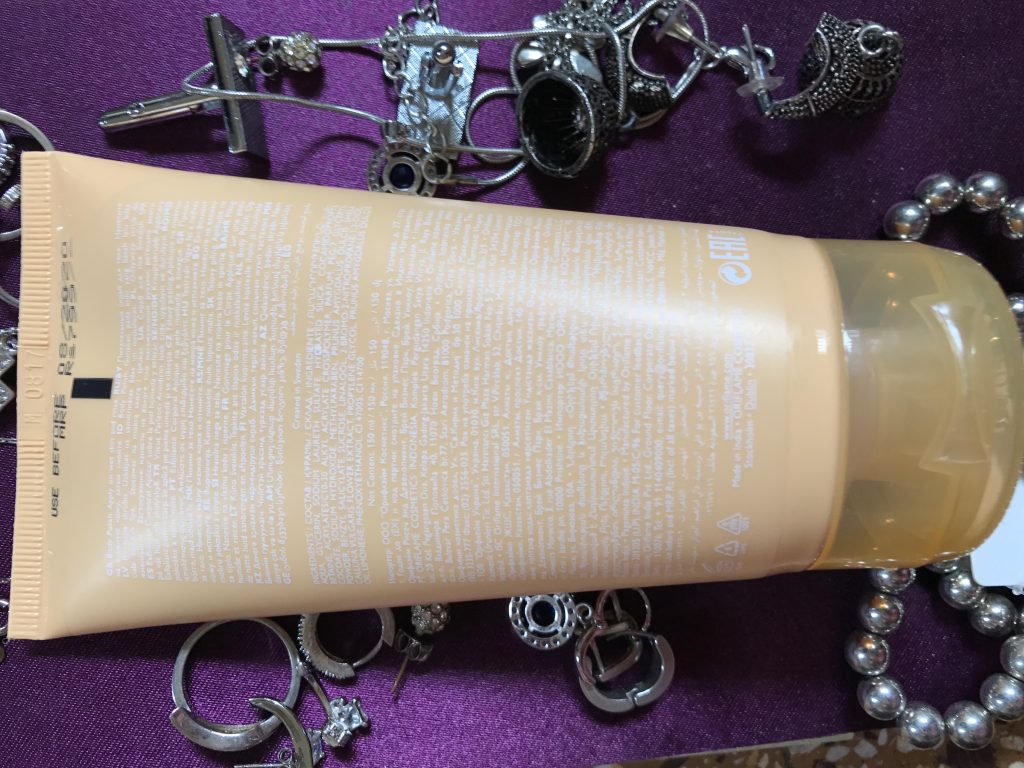 What Oriflame Swedish Spa Nourishing Body Polish claims:
– Removes dead skin
– Nourishes the skin
– Gentle on the body
– Moisturizing and conditioning properties
How to use it?
Wet your body with water. Take the quantity enough to cover your body. Please keep in mind a small quantity is enough. Gently spread it throughout in circular motion. Imitate a buffing action with your hand. Wash away with water.
The Packaging of Oriflame Swedish Spa Nourishing Body Polish :
Oriflame has some extremely top of the line skin care products. I have been addicted to some for quite some time. Therefore it becomes easier for me to give an honest review of Oriflame's Swedish Spa Nourishing Body Polish. First of all let's talk about the packaging, this one's glowy beige. Furthermore, they have detailed product descriptions on the tube. Since they are always known for their travel-friendly designs, this comes with a plastic cap. It's a conventional tube design where you squeeze products based on your usage.
I loved the combination of Swedish heather flower and almond oil, due to which I ended up with an impulse buy. In addition to this, a body polish was missing in my vanity shelf for quite some time. Previously, I have gone a bit too much abrasive and aggressive with a body scrub. As a result, this time I was very particular about the texture. It has very fine minute particles on usage. Therefore this makes it more suitable for all skin types, especially ladies with sensitive skin.
My experience with Oriflame Body Polish says,
The color is a transparent golden creamy liquid with visible polish particles. The most noteworthy aspect of this product is the smell. Ladies this one feels divine😇 !! I almost get a spa-like ambiance in my mind.😜 As a result, my bathing time takes long hence I have restricted this activity for weekends.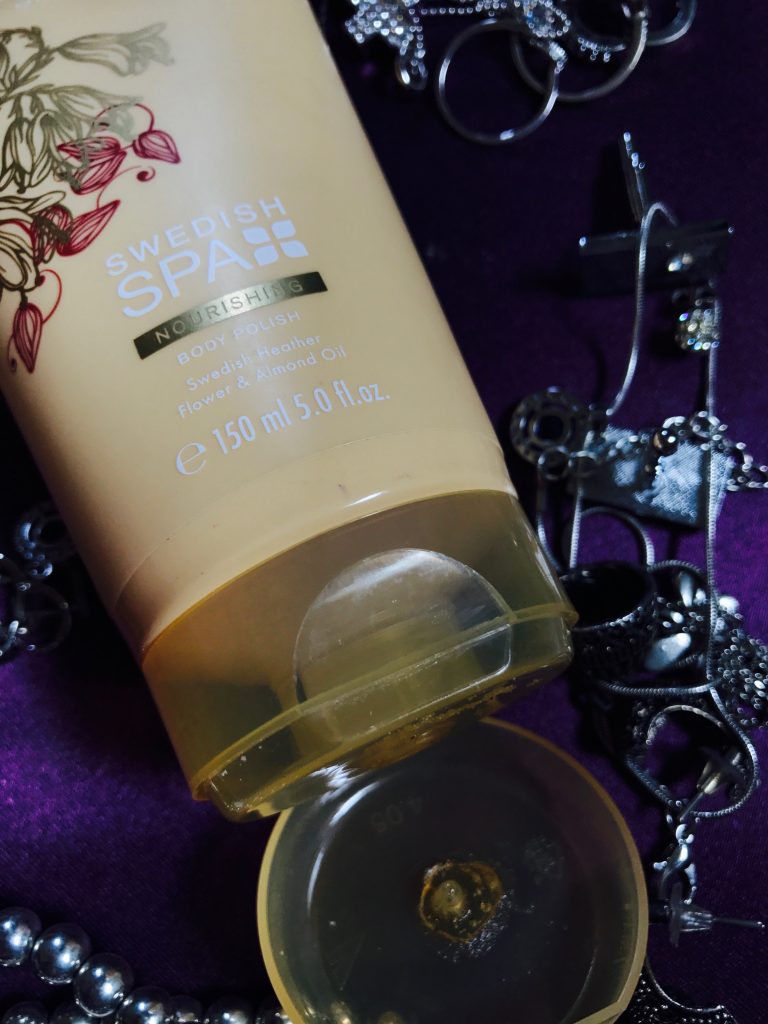 On application, it spreads like a white creamy substance with minute polish particles. I can feel the polish working its magic as I gently scrub it. The best part being it isn't hard on the skin or leave me with bruises if I overdo it. I could instantly see the results from the first use. It helped in bringing my skin shade back to its original. You may notice minor changes in the first go. Skin feels fresh as it is free from the dead skin layer. I suggest using it at least twice a week but not more. Dermatologists suggest avoiding excessive scrubbing. I follow this up with my favorite moisturizer in spite of the fact that this has moisturizing properties.
Pros of Oriflame Body Polish:
– Chemical-free
– Organic ingredients
– Reduces the appearance of fine lines/wrinkles
– Minimizes dark circles
– Subtle fragrance
Cons of Oriflame Swedish Spa Nourishing Body Polish:
– Expensive
– Availability
Frequently Asked Questions Related to Body Polish :
1. How to use Oriflame Swedish Body Spa?

Apply on the damp skin, and massage it in a circular motion and rinse thoroughly. You can use it 2-3 times a week.
2. What is a body polish?

A body polish is a scrub type treatment that exfoliates your skin and leaves it fresh, smooth and soft.
3. Does Body Polish lighten skin?

A body polish is used to exfoliate your skin and removes the dead skin cells.
4. What is the price of Oriflame Swedish Spa Body Polish?

It is priced for 799 ₹ in India and 30 USD.
VooBeauy Rating: 4/5
Will you repurchase/ recommend?
Yayyy….! I would go ahead with another purchase. Eyes being on the most sensitive area, I don't think I would prefer to experiment further. This one has worked for me and it seems will remain for a very long period.