Hey Peeps,
Koreans are much aware of the skincare regime. We Indians spent a lot on cosmetics but not much on skin care (at least I was one of them) but intensive research about skin care made me buy some worthy skin care products. Lately, some Korean brands like Innisfree, The face shop are launched in India (you can get it on Nykaa). I was tempted to buy a bunch of The Face Shop Sheet Masks due to the huge discounts on Nykaa. There are different flavored sheet masks available. My friend has already tried and reviewed for The Face Shop Blueberry Real Nature Mask previously. These sheet masks are clarifying and purifying masks. Today I will be sharing the experience of The Face Shop Real Nature Green Tea Face Mask.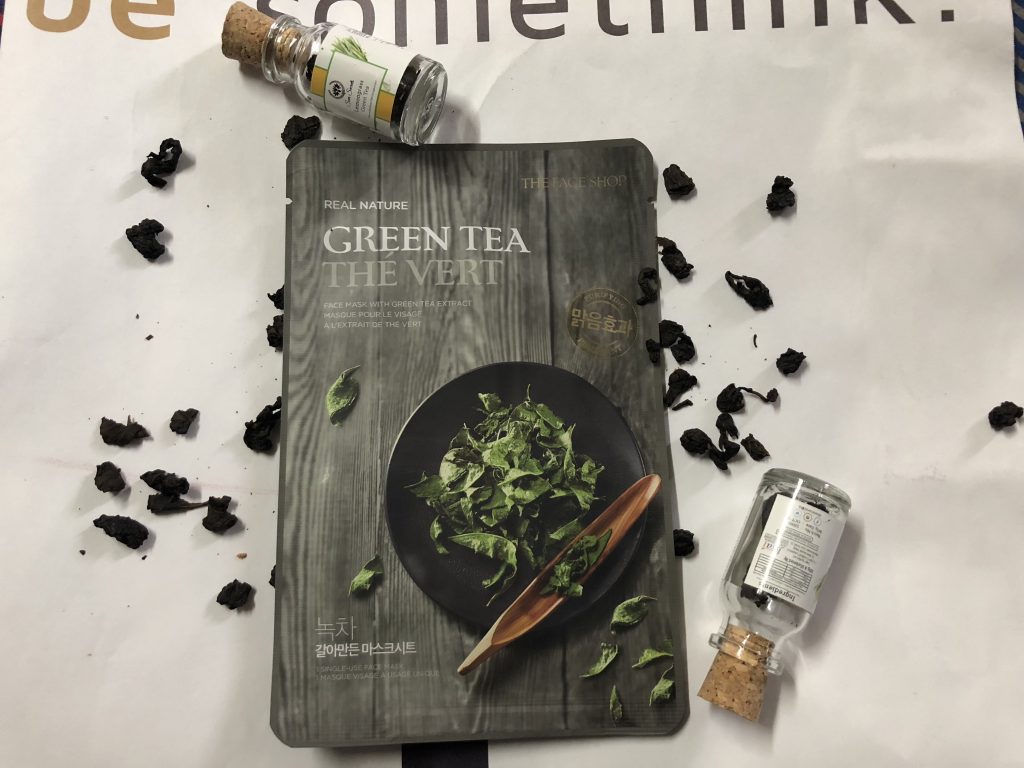 Product Description:
Price: Rs 100/-INR ( I have got it for 50/- from Nykaa)
Content: 1 sheet
Ingredients:( Refer attached picture)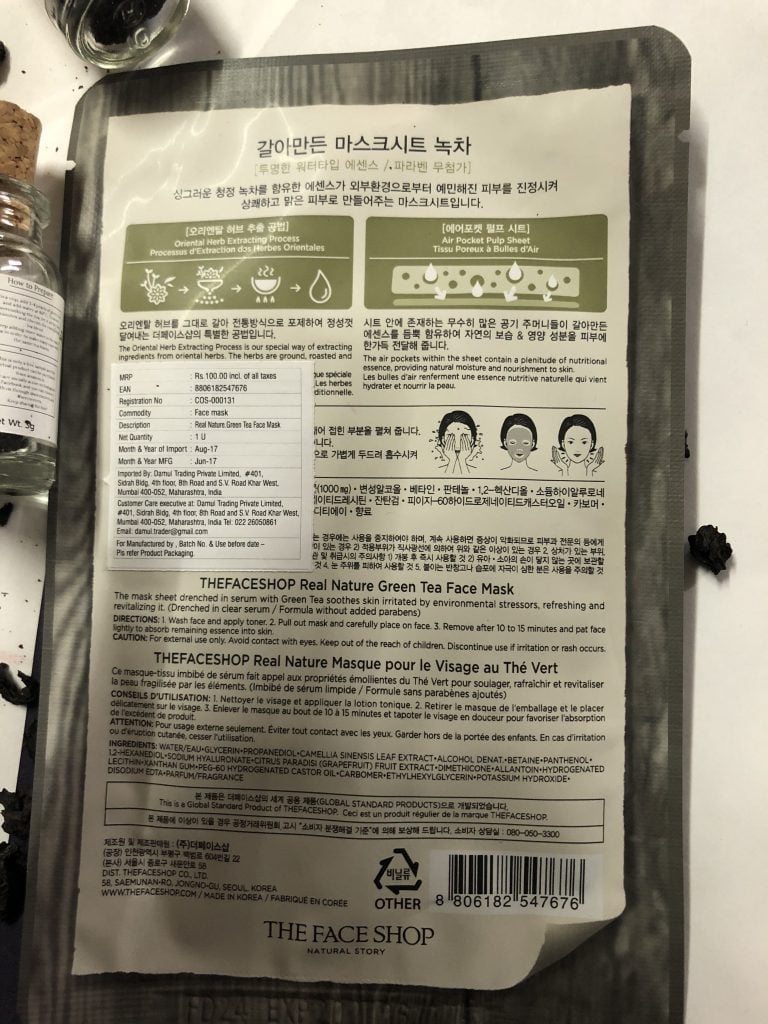 What The Face Shop Real Nature Green Tea Face Mask Claims:
– Refreshes and revitalizes irritated skin
– Clarifies and smoothes skin instantly
– Enriched with green tea extract known for its purifying properties
– Natural squeeze-and-extraction process
– Contains one single-use face mask
– Has smooth oil-type essence and natural ingredients
How to use?
– Wash your face and apply toner
– Pull out the mask carefully and place it on your face
– Remove it after 30 mins and pad your face lightly to absorb the remaining serum
The Packaging Of The Face Shop Real Nature Green Tea Face Mask Says,
The sheet masks are one of the best way to indulge in the skin care and ease out the stress and anxiety that hinders your inner peace. Talking about the packaging, It is so inviting to the buyers. After seeing the product you can't resist yourself from buying it just like me. The Face Shop Real Nature Green Tea Face Mask comes in a matte grey colored and easily tearable pouch with a print of a bowl filled with green tea. The bowl of green tea will almost takes you to the tea gardens in Kerala. The details of ingredients and usage directions are mentioned on the back side of pack. This is a one time use sheet mask and travel friendly too. You can just toss it in your bag and sooth your skin at any place.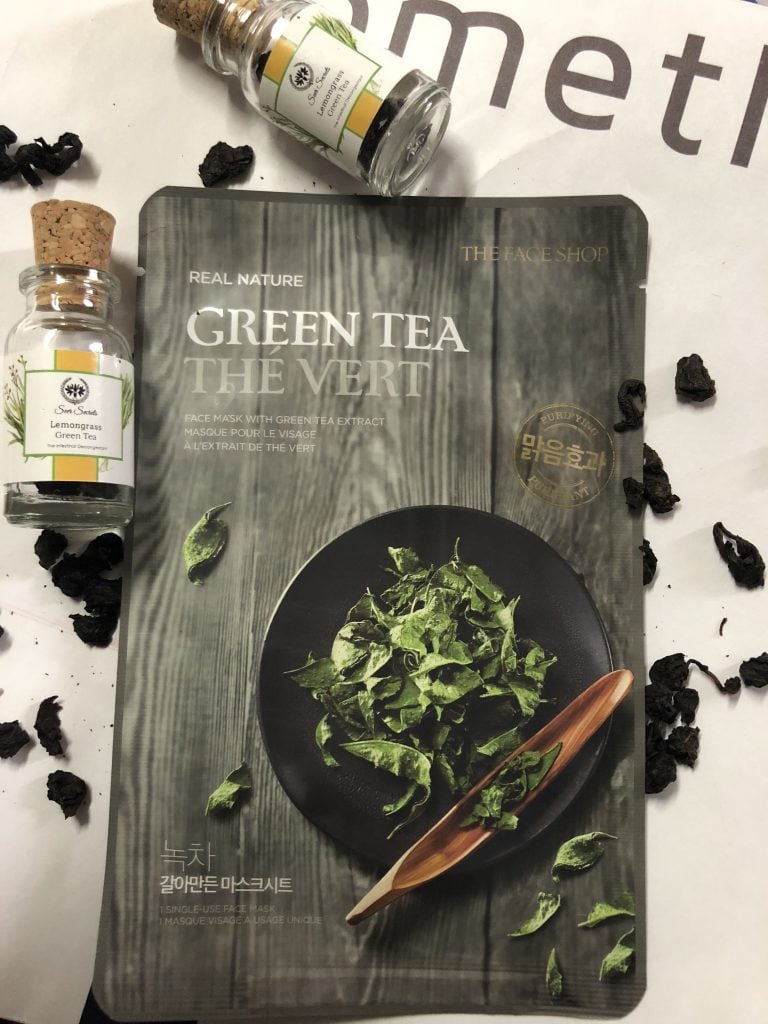 My Experience With The Face Shop Real Nature Green Tea Face Mask Says,
When I opened a face mask, I found a soft fabric mask drenching in a clear serum. Be careful while opening, it can be messy on your clothes or on your bed sheet too. My bestie has already warned me about this, so I was careful but be ready for messy hands. The Face Shop Real Nature Green Tea Face Mask is slightly thicker than the regular masks. The Fabric mask is literally dipped in a green tea serum. I was mesmerized by the mild fragrance of this face mask. As soon as I opened a mask, I unfolded and placed it gently on my face. As I mentioned the face mask is full of serum, however, there is still about a tablespoon of serum left in the pouch and on my messy hands. I generously applied it all over my hands and neck. The size of a mask is a slightly bigger than usual sheet masks, so you need to press it around your nose and under eye circles.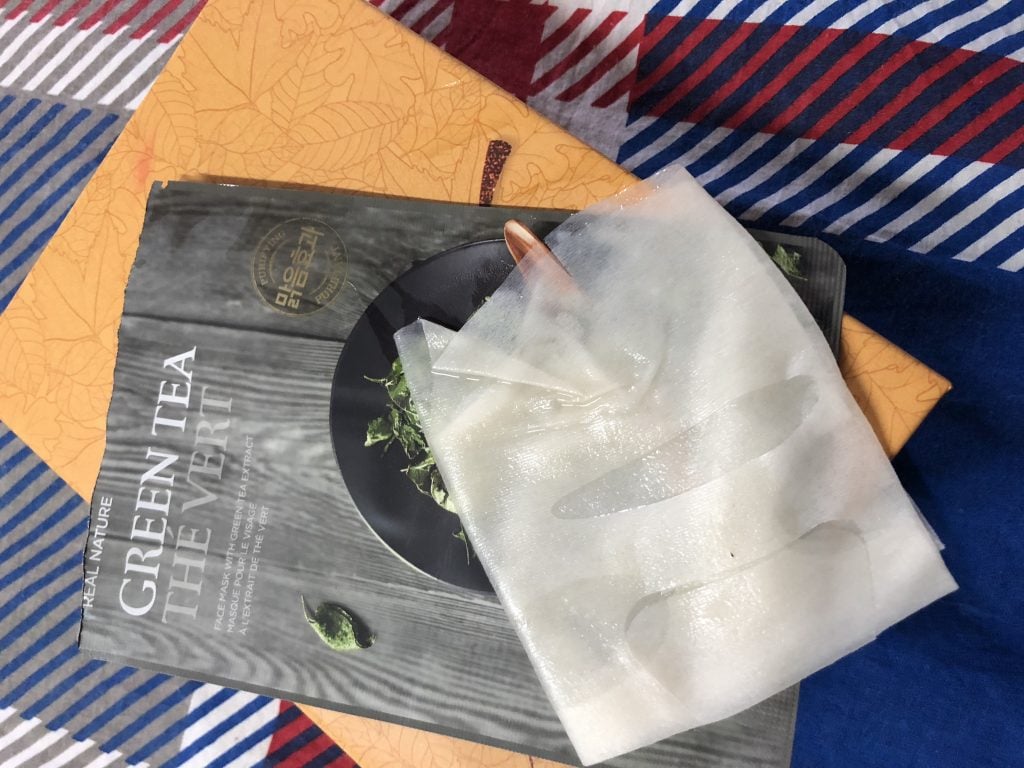 Believe me, girls, It gives a cooling sensation and makes you feel calm and relaxing. I have placed the mask for 30 minutes and after that I removed it. You need to gently pat your face and let the serum soaks into your skin. That will make your skin hydrated and rejuvenated. To lock the serum and penetrate it into my skin, I have applied an aloe vera gel on my face and slept. The next day when I woke up, the results were amazing. My skin was super hydrated, brighter, soft and supple. The after effects last until the end of the day.
Pros of The Face Shop Real Nature Green Tea Face Mask :
– Travel-friendly
– Paraben-free
– Instantly brighten-up the face
– Evens out the skin tone
– Makes your skin soft and supple
– Suits all skin-types
– Gives a cooling effect after sunburn
– Hygienic packaging
Cons of The Face Shop Real Nature Green Tea Face Mask :
– Temporary glow
– The fit of the mask is not proper
– If not handled with care, It may be torn
VooBeauy Rating: 4.5/5
Will you repurchase/ recommend?
Overall I liked the calm and cooling sensation of a green tea that The Face Shop Real Nature Green Tea Face Mask provides. Girls, You can buy your favorite flavor of this range for beating the scorching heat.