We are supported by readers. When you purchase through links on our site, we may earn an affiliate commission.
Hola Chicas,
Call it a job or a beauty blogger to experiment, the Keeda of new launches or the fact that someone likes Jaqueline a lot. In my case, I found myself gravitating towards 'The Bodyshop Store' every time I visited the mall for watching movies! You can say, Addiction of makeup makes me visit the store, I am always hunting for new products with tempting discounts😋. The moment I swatched this liquid lipstick in store, It was smooth like butter and felt like a feather on lips! They launched 12 shades in this range, I bought the 2 shades of this lipstick, Goa Magnolia, and Sydney Amaryllis. Let's explore the review of The Body Shop Matte Lip Liquid Lipstick Sydney Amaryllis!
The Body Shop Matte Lip Liquid Lipstick Sydney Amaryllis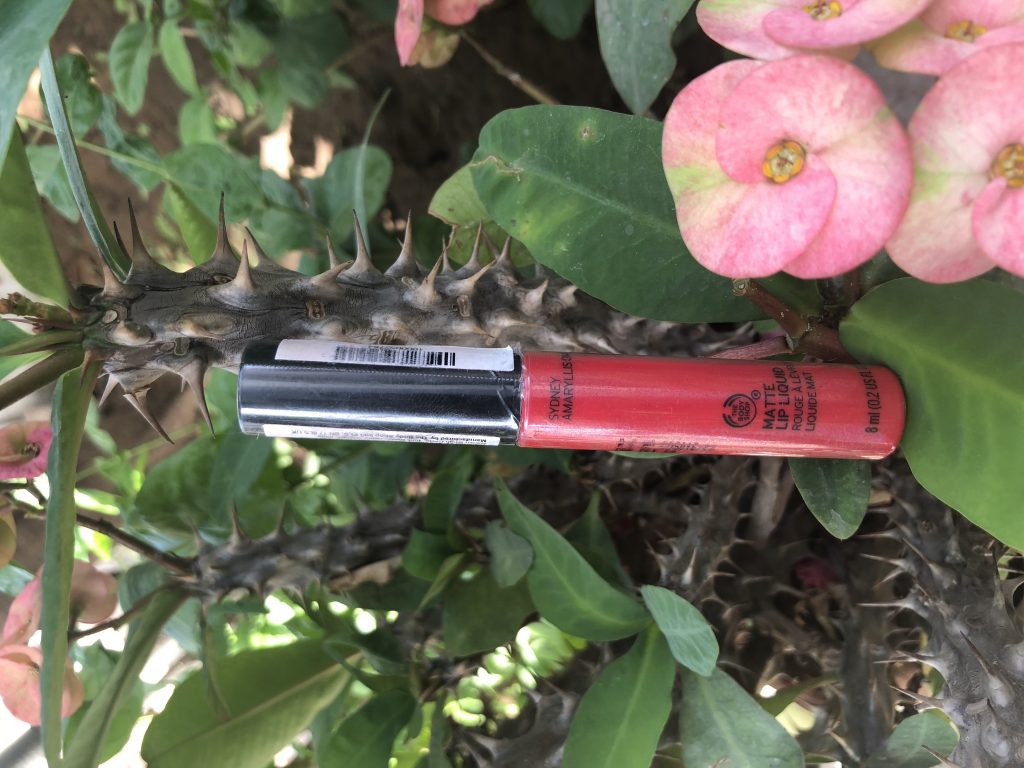 Product Description:
Price: Rs 695 (I got it for 590 Rs with member discount )
Content: 8 ml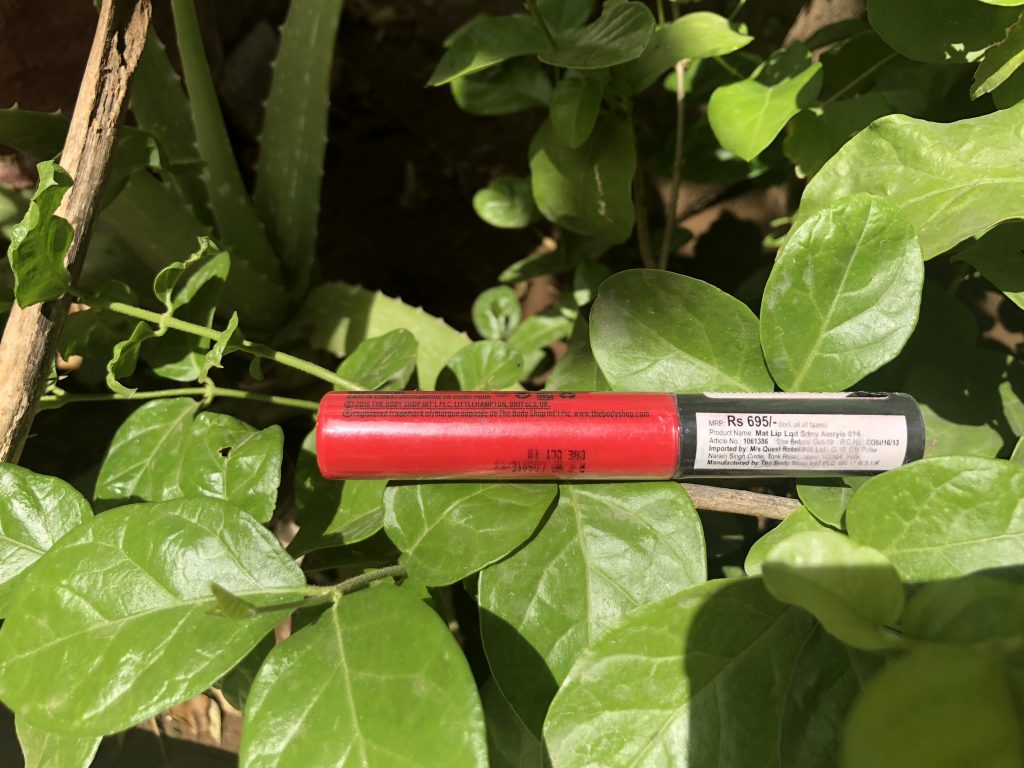 What The Body Shop Matte Lip Liquid Lipstick Sydney Amaryllis claims:
Introducing this season's hottest lip-color trend, Matte Lip Liquid. Our creamy Matte Lip Liquid provides intense color and a soft matte finish. The non-drying formula provides the perfect way to comfortably wear a bold matte lip this holiday season. Specially formulated to glide on effortlessly like a gloss and set with the rich creamy color and velvety touch of matte lipstick. Our liquid lipstick is long-lasting, lightweight and lusciously soft. And like all our cruelty-free makeup, it's vegetarian too.
– Velvet matte finish
– Lightweight formula
– Comfortable wear
– Long-lasting color
– Gluten free
How to use it?
Prepare Lips with the Lip Scuff
– Apply the Matte Lip Liquid in your favorite shade with the applicator or a Lipstick Brush.
– Start by defining the lip line, and then fill the rest of the lips
– Allow a few seconds to dry
The Packaging of The Body Shop Matte Lip Liquid Lipstick Sydney Amaryllis :
Finding the best liquid lipstick with more coverage and staying power is quite difficult. I had two of them that is MAC Retro Matte Liquid Lipcolour Slipper Orchid and GOA Magnolia from the body shop! The packaging of the bodyshop matte lip liquid lipstick reminds me of NYX soft matte lip creams- Color-coded body with black matte cap and sleek body. This liquid lipstick has a mousse-like formula that doesn't dry down completely. It's not like the conventional liquid lipstick, that feels heavy on lips. The applicator wand is quite long with a doe foot applicator at the end. Sydney Amaryllis is a very bright red, almost coral shade. It is more on the orange side shade. It would suit on all the Indian skin tones. If you're someone who loves bright red-orange lipstick, you will definitely love The Body Shop Matte Lip Liquid Lipstick Sydney Amaryllis.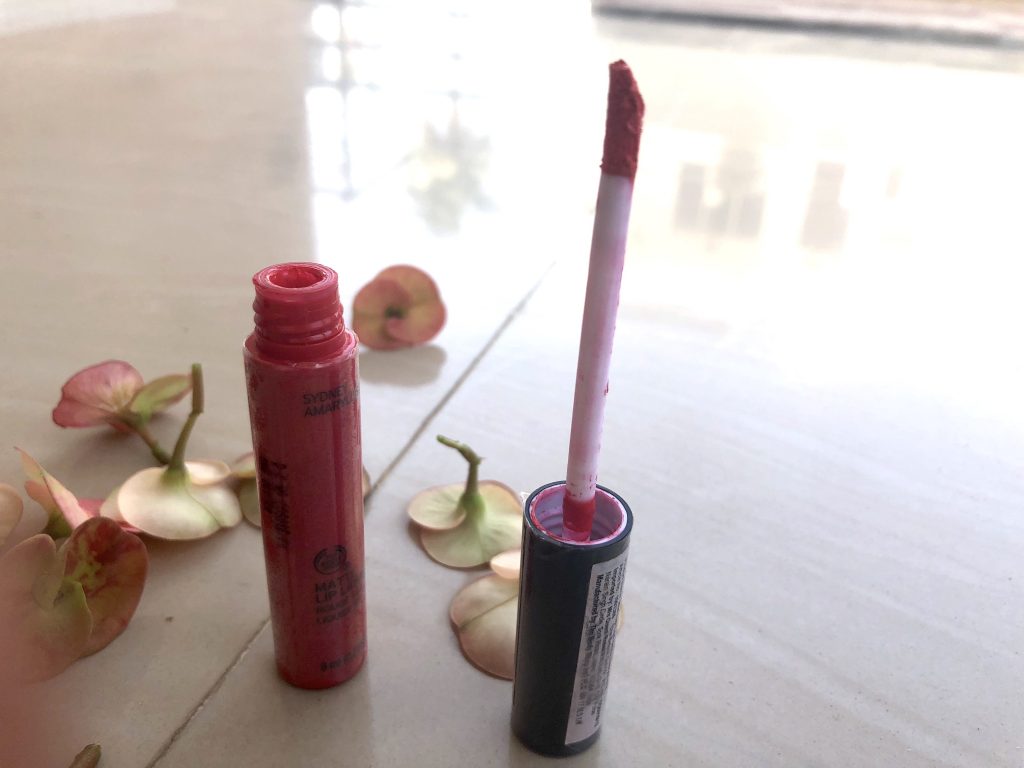 My experience with The Body Shop Matte Lip Liquid Lipstick Sydney Amaryllis Review says,
These lipstick have a fruity mixed with sweet cherry syrup-like smell. The smell is not very strong and lasts only for minutes till you are applying the lipstick. It has a velvety smooth formula and a nice matte finish. But I expected more coverage and staying power for this price. The pigmentation needs to be built in layers. I have to wait for the first layer to be dry down completely to the extent of adding another layer to get extra coverage. A single swipe of The Body Shop Matte Lip Liquid Lipstick Sydney Amaryllis won't cover your pigmented lips. the lipstick is not transfer proof, it transfers when you eat or drink something and leaves a ring on your lips. It lasts for 3-4 hours until you drink or eat anything. It will fade away after a heavy meal.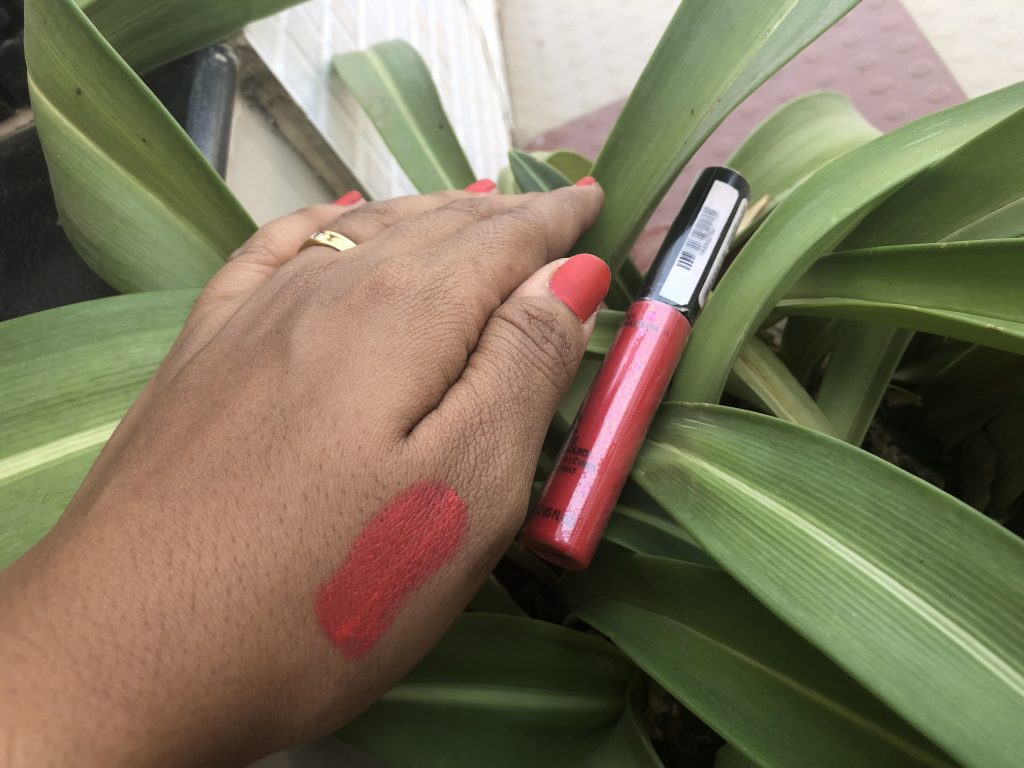 Pros:
– Cruelty-free
– Velvety matte formula
– Feels very light on lips
– Bright Pigmented Shade
– Transparent tube packaging
– Does not have a strong smell
– Sydney Amaryllis is a beautiful coral red color
– Travel- friendly packaging
Cons:
– Less Staying power
– Not transfer-proof
– Need 3-4 swipes for proper coverage
Frequently Asked Questions Related to Liquid Lipstick :
1. Are liquid lipsticks better?

Liquid lipsticks are very good for creating precise lips as there is no need of lip liners. Whereas the traditional lipsticks can not be applied precisely without the help of lipliner.
2. How do I prepare my lips for liquid lipstick?

You need to prep your lips with primer or exfoliator, and then you can outline the lips with the liquid lipstick brush and then you can fill the lipstick on the entire lips.
3. Do liquid lipsticks last longer?

Liquid lipsticks can last longer than four hours with eating, drinking and even kissing too.
4. Is the Body Shop vegan?

The leading cosmetic brand body shop is vegan and cruelty-free.
VooBeauy Rating: 4/5
Will you repurchase/ recommend?
Yayyy, I would love to try that Nairobi Camelia shade from this range. I would have rated it more if the lipstick had more staying power and coverage. Value for money is on Voobeauty's top 10 review principles!!!😉
Which are your favorite shades from this range? Do recommend some other beautiful shades if you have tried any of them.
Till then, Stay beautiful and Keep Smiling ☺