We are supported by readers. When you purchase through links on our site, we may earn an affiliate commission.
Hello, Candies, You would have been enjoying weddings these days, as these months are busiest wedding months in India for residents and non-resident Indians also. We all wanna look at our best for the wedding parties and functions. Eyes are the soul of a person and to make our soul look beautiful, It takes little effort on eye makeup. Eye makeup is designed to make your eyes stand out from your face. Sephora Curacao Punch is one of the cutie eyeshadow that should be in your makeup pouch.
Sometimes I just feel like a world would be a better place if people knew how to blend their eyeshadow. To play with different colors on your eyes and get colored smokey eyes works with any outfit. You need to keep your all makeup subtle when you define your eyes with different bright colors. To have the beautiful eyes, Sephora has launched a colorful eyeshadow collection with 80 different shades in four finishes – Shimmer, Glitter, Metallic, and Matte. Today I will review Sephora Curacao Punch (#13) from glitter finish. Keep on reading ladies.
Sephora Curacao Punch (#13) Mono Eyeshadow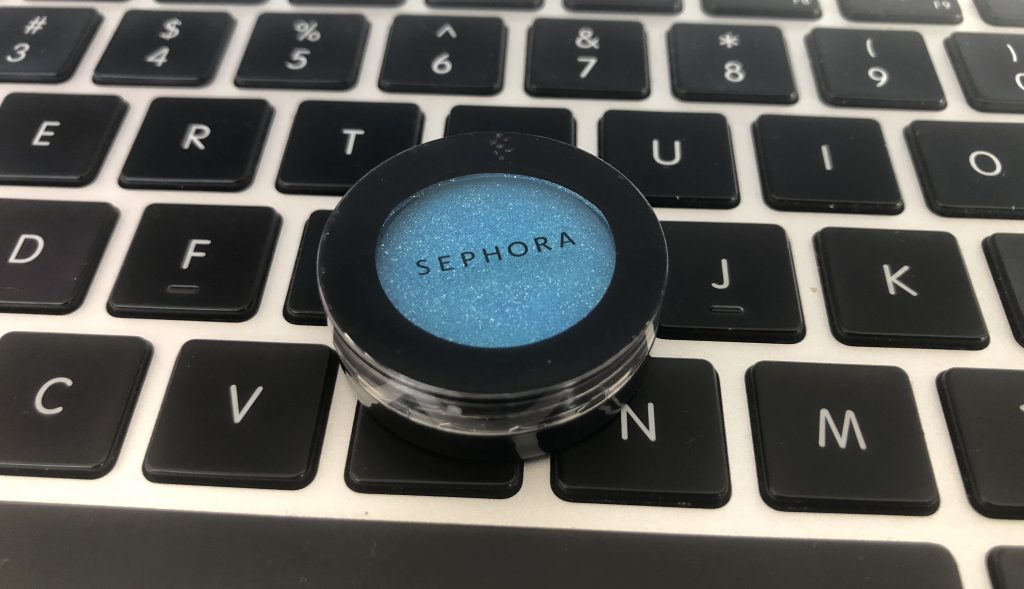 Product Description:
Price: $13 (845/- Inr)
Content: 2.2 g
Shelf Life: 5 years
Sephora Curacao Punch Eyeshadow Ingredients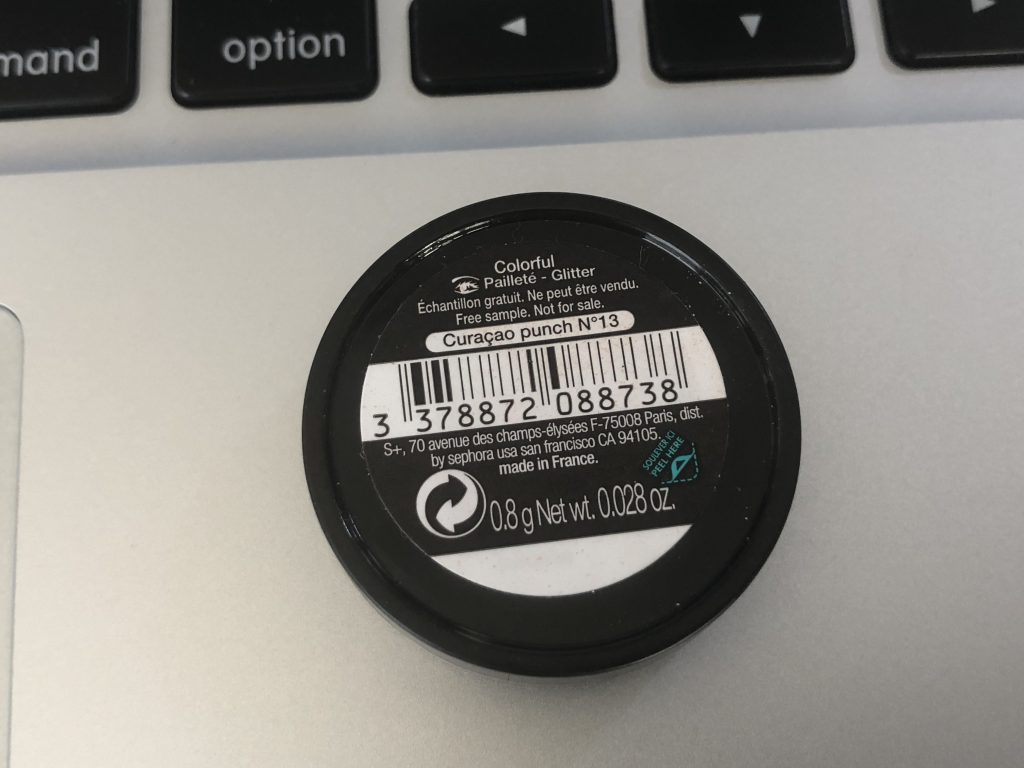 My Experience on Sephora Curacao Punch eyeshadow says,
Sephora Curacao Punch is a striking vivid aquamarine blue eyeshadow with a hint of teal having silver glitter particles in it. I have received this Sephora Curacao Punch eyeshadow palette as complimentary from the Sephora store at Dubai Mall on a purchase of 4000 INR. This mono eyeshadow is individually packed in a plastic circular black compact with a see-through cap on a top on which 'Sephora' is written.
Sephora Curacao Punch Eyeshadow Closer Look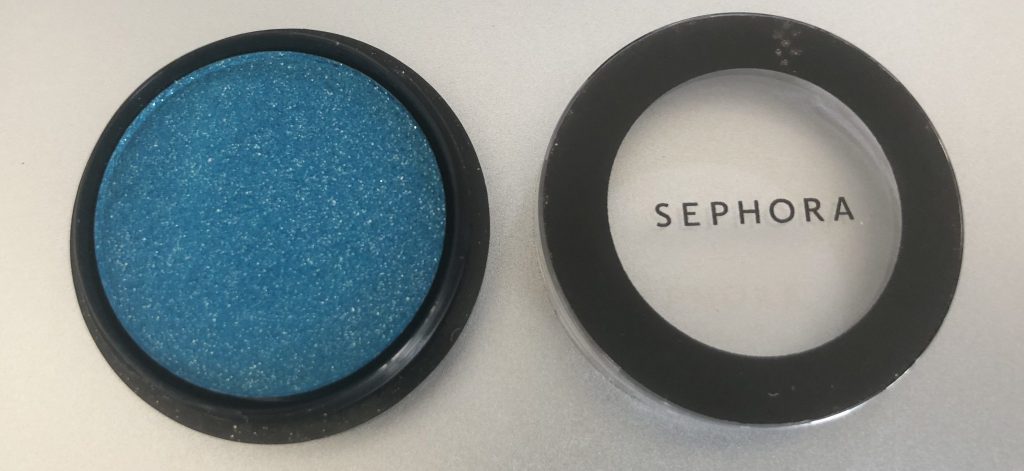 It has a plastic cap with a snap-shut lid which makes it travel-friendly. Sephora Curacao Punch has a metallic texture on it. When I applied Sephora Curacao Punch on my eyelids, It gave me an average payoff. Since, It is infused with large silver particles, It gives me quite a good fall-out under the eye area and on the face. To avoid this, I put my hands on with a damp brush to apply Sephora Curacao Punch eyeshadow and voila it works, it gives me pigment-reach eyes with fewer fallouts. As I am a fan of blue eyes, It surprisingly looks amazing on my eyes.
Sephora Curacao Punch Mono Eyeshadow Swatch Test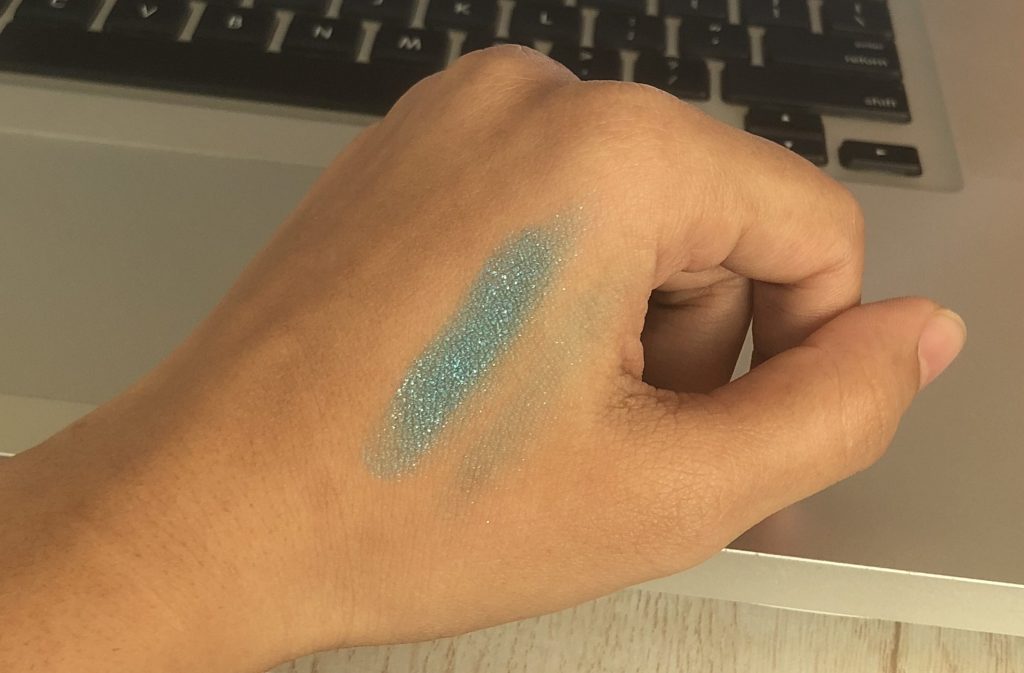 The blending ability of Sephora Curacao Punch is too good but I would not suggest to dab it on the eyelid. It will make your eyes look patchy and you will end up having silver glitter particles all over your face. Sephora claims it to stay 10 long hours but It stays hardly 4 hours without primer and around 7 hours with primer. Because of glitter fallout, the glitter stays on eyelids for 2 hours but don't worry you will be left with a beautiful blue-hued stain on your eyes that will last long minus the glitter. Thanks to the glitter fallouts!
(Pro tip: Keep your lips subtle with nude lipsticks, it will make you look more beautiful)
Sephora Curacao Punch Mono Eyeshadow Light & Dark Swatch Test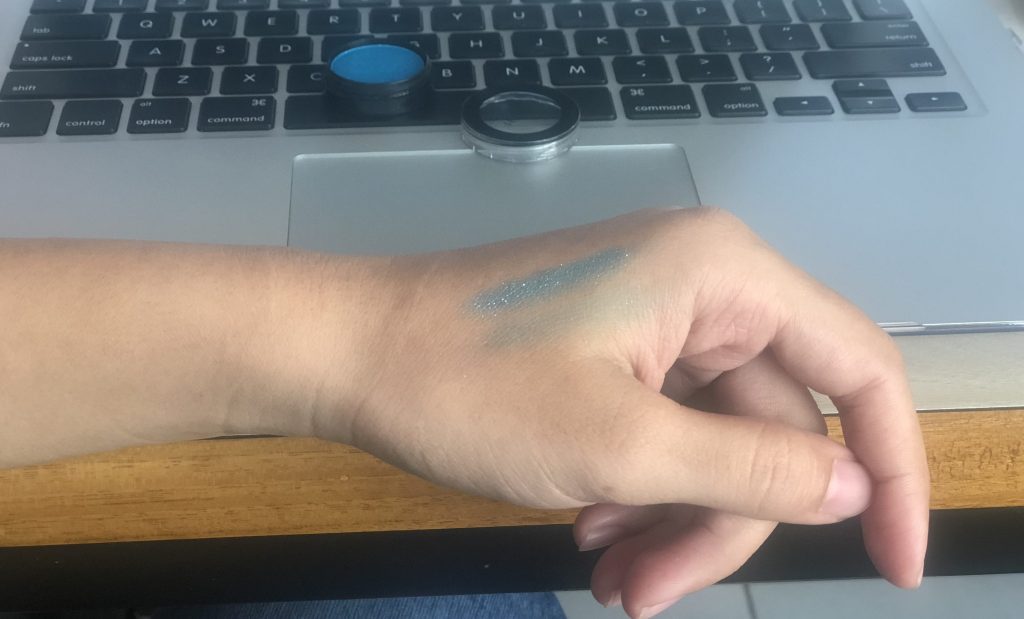 Pros of Sephora Curacao Punch Mono Eyeshadow:
– Perfect Party-wear Eyeshadow
– More pigmentation if used with a damp brush
– Micronized pigments that make an ultrasmooth blendable texture
– Long-lasting with primer
– Travel-friendly packaging
– Smooths out evenly on oily eyelids too
Cons of Sephora Curacao Punch Mono Eyeshadow:
– Crazy amount of silver glitter fallout
– Higher price
– Availability issue
Sephora Curacao Punch is an eyeshadow that makes you look glamorous in any type of evening parties. It makes your eyes look bold and beautiful.
Frequently Asked Questions Related to Sephora Curacao Punch Eyeshadow :
1. What is the easiest way to apply the eyeshadow for beginners?

Prime or moisturize your lids
apply a neutral color all over your eyelids to make it even
Blend in a darker shade of eyeshadow to your crease and blend it well
Apply highlighter above the crease
Press a light shade of eyeshadow or a highlighter in the corner of your eyes to make the eyeshadow look beautiful.
2. How do you blend eyeshadow?

You can start by applying the base color or neutral color all over the eyelid and blend it so well. Thus it will look even. then you can apply the darker shade to the crease and blend it to the outer side as well, By starting at the outer corner of the eye to the inner corner of the eye.
3. How do you wear blue eyeshadow?

You can wear blue eyeshadow with blue eyeliner and blue mascara, it will give you bold and defining eyes. You can apply a blue shade from the crease and blend it. Then you can apply the neutral base above the crease. Use the blue eyeliner and blue mascara and voila you are done.
3. What defines smokey eyes?

Smokey eye is nothing but any dark color starts with dark saturation near the lash line of eyes, darkened lid and fades to a little light browbone.
4. Is powder or Cream Eyeshadow is better?

If you are blessed with an oily skin just like me then you can go for powder eyeshadow. else the cream eyeshadow will be better for dry skin.
5. Can I use lipstick as an eyeshadow?

Yes absolutely, you can apply peach lipstick or pink lipstick as an eyeshadow.
VooBeauty Rating: 4/5
Would I recommend/repurchase this product?
Yes, But I would suggest you buy different products worth 4000 INR and get this Sephora Curacao Punch mono eyeshadow complimentary😍.