We are supported by readers. When you purchase through links on our site, we may earn an affiliate commission.
Hello, Beauties!!
"You are never fully dressed without perfume!" I am sure most of us will relate to this phrase, we always need our favorite scent based on our mood/ style/ occasion or maybe at times without any reason. I have started developing an interest now in trying out various scents thanks to one of my closest buddies who has a dog's nose. He can literally give the exact name with details, also describe how your bottle looks like. It might take me years to reach that kind of perfection in recognizing perfumes, however with this one I have somewhat figured out my taste. Ladies this one's not for the 'GIRLY' gals, it will cater to women who prefer scents that are somewhere in between the masculine and extremely feminine versions.
Issey Miyake L'eau D'issey Absolue Perfume Cover Pic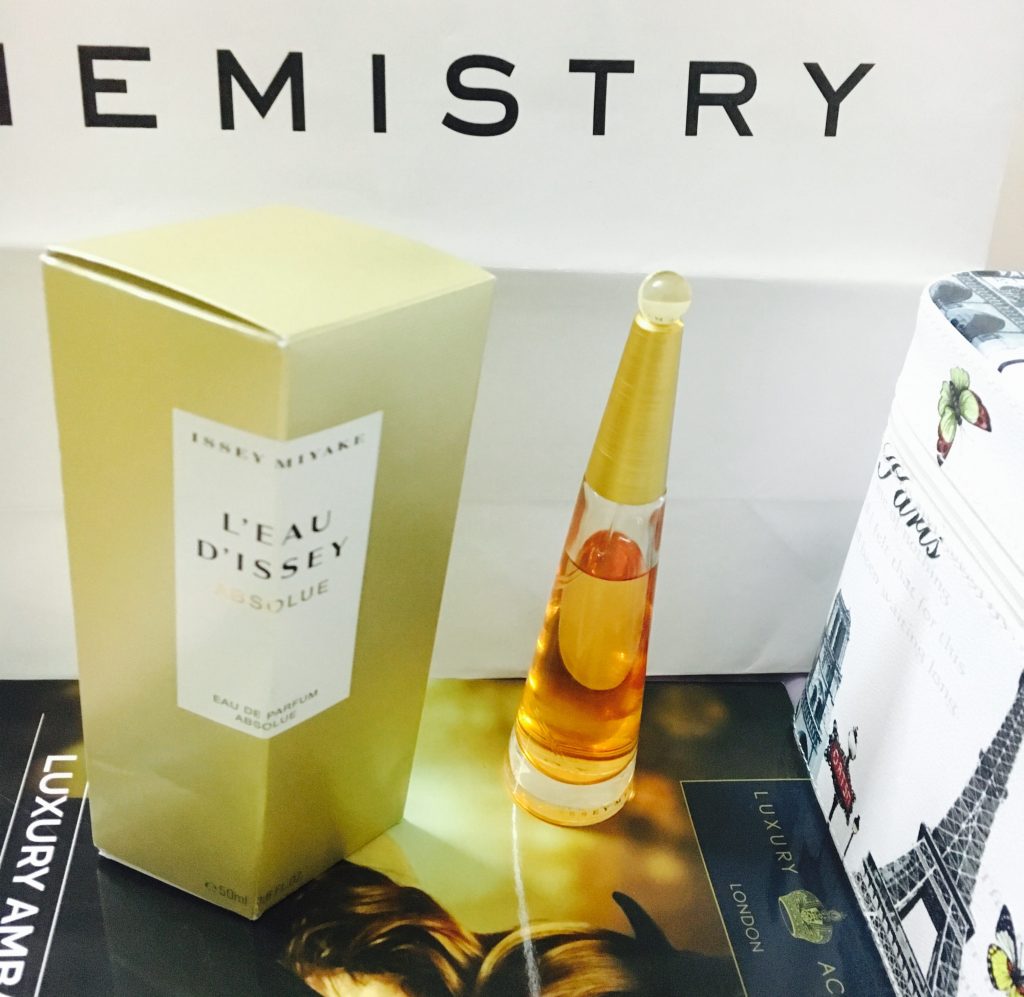 Price: Rs.5250/- for 50 ml (I got it on sale for Rs.3450/- at Lifestyle Store in Ahmedabad)
Ingredients:
Alcohol,Parfum(Fragrance), Aqua(Water), Benzyl Salicylate,Butyphenyl,Methyl Propional,Linalool,Hydroxycitronellal,ButylMethoxydibenzoylmethane,Ethylhexyl Methoxycinnamate,citronellal,benzyl benzoate,benzyl alcohol,EugeNol,Geraniol,Limonene, Farnesol,Isoeugenol,BHT,CI 19140 ( YELLOW 5), CI 60730( EXT VIOLET 2)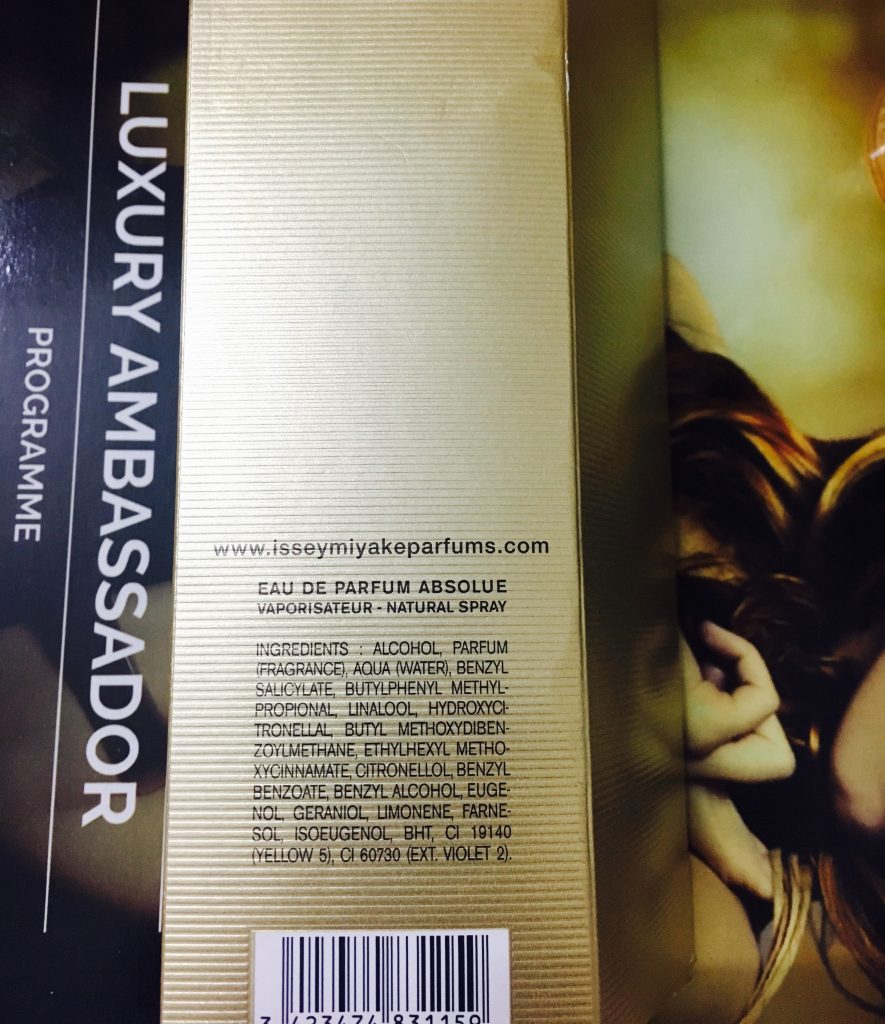 My experience with Issey Miyake L'eau D'issey Absolue:
Before I start reviewing I need to mention my taste in perfumes & scents. I am not someone who appreciates extremely floral, fruity, bubblegummy scents or any smell that shouts loud "ITS A FEMALE PERFUME". I have always liked more of woody, musk, spices or aqua scents that again shouldn't be very overpowering. In the case of perfumes, the preference is subjective to individual taste.
I was introduced to this brand by my friend who wears the Isse Miyake L'eau D'issey, Pour Homme. For the first time, I could completely identify with a scent that suits my taste, however being a men's perfume I didn't bother to probe further. On inquiring further I got to know that this is one of their classic and is sold off their shelves in huge numbers. I have recommended it to a lot of my friends for their better half's anniversary gift/ birthday gift😜. you can never go wrong with classics. I ended up trying Issey Miyake L'eau D'issey Absolue Perfume on one of my visits to Lifestyle recently.
Issey Miyake L'eau D'issey Absolue Perfume Packaging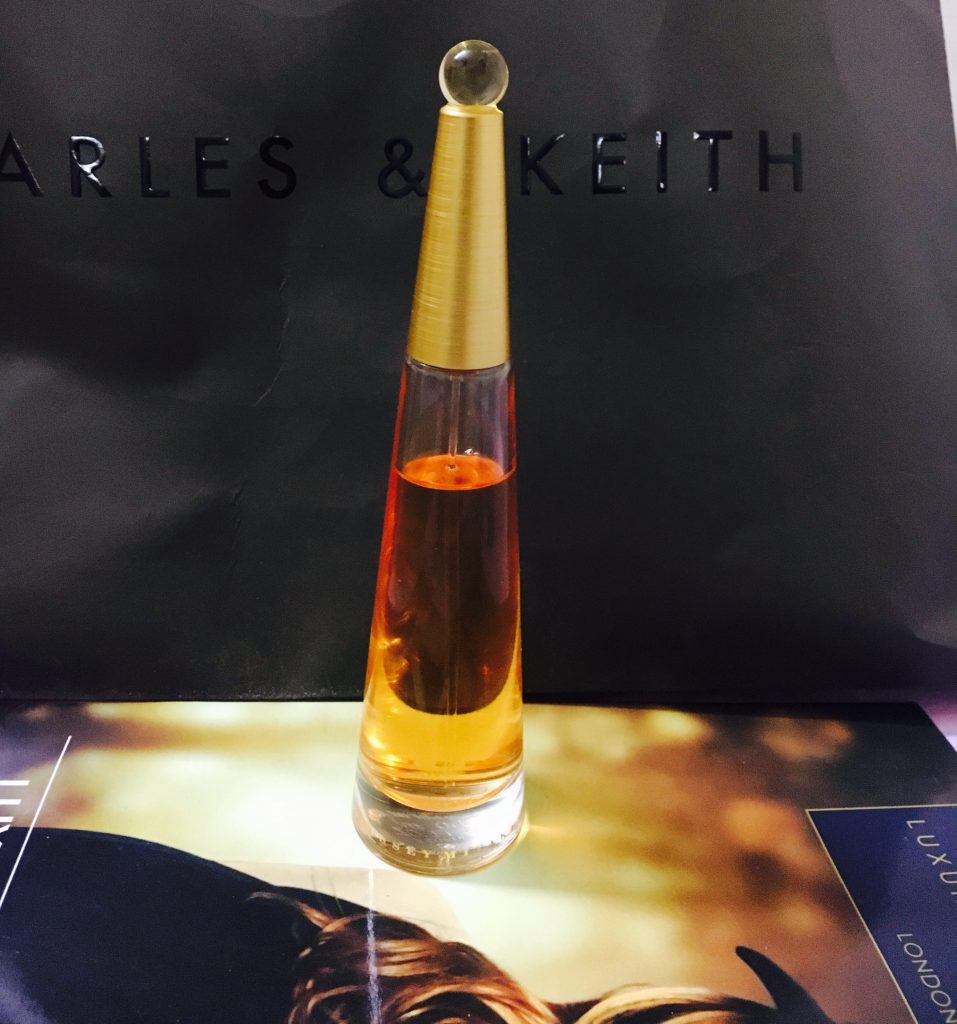 The Packaging of the Issey Miyake L'eau D'issey Absolue Perfume :
Talking about the packaging, It comes in a glass conical bottle with an orange-yellow kind of crystal on top. Issey Miyake isn't known to experiment much with their packaging. They stick to their classic designs as compared to their counterparts. The smell is intense and at the same subtle. Issey Miyake L'eau D'issey Absolue Perfume has a blend of floral notes freesia and lotus with a heart of jasmine honey and tuberose. The base notes include Bourbon vanilla and precious woods. The jasmine extract gives it that hint of an exotic floral touch. The woody element remains a strong base which ensures that any element, be it the lotus or jasmine or tuberose or vanilla doesn't overpower each other. A very rare combination I must say.
Issey Miyake L'eau D'issey Absolue Perfume isn't very long-lasting if you sweat a lot, which isn't my case as my work requires me to be in air-conditioned cabins for the most part of the day. If you too have similar work conditions this might last you throughout the day but by 5-6 hours. You would end up wearing it again for that extra dose of freshness. Ladies if you have similar taste do try this version, it can definitely be an addition to your perfume collection.
Pros of Issey Miyake L'eau D'issey Absolue Perfume :
– The right blend of floral & woody scent
– The scent isn't overpowering
– Lasts up to 6 hours
Cons of Issey Miyake L'eau D'issey Absolue Perfume :
– Expensive
– Not available easily
Frequently Asked Questions Related to Issey Miyake Perfume :
1. What does Issey Miyake mean?

Issey Miyake is a Japanese Fashion Designer.
2. How long does Issey Miyake last?

Generally, Issey Miyake lasts for 3-4 hours and then lowest notes will be there for 5-6 hours.
3. What is meant by Pour Homme?

Pour Homme is a french word and it means "For men".
4. Are tester perfumes stronger?

Sometimes tester perfumes have more concentration of fragrance than the more commonly sold perfumes.
5. Why do they call it eau de toilette?

Eau De Toilette is literally meant toilet water. But in general, it is known as grooming water. And EDT is a light refreshing cologne scent used as a skin freshener.
6. What is the difference between perfume and toilette?

Perfume has more amount of concentration of oils in the fragrance compare to the toilette. Pure Perfume has the highest concentration fragrance. Eau De Perfum has a medium amount, and Eau De Toilette has less amount and the last one will be Eau De Cologne.
Voobeauty's rating: 5/5
Will I repurchase?
Yes, because this one definitely suits my taste. If you have a similar taste in perfumes I will certainly recommend giving Issey Miyake Perfume a try.