We are supported by readers. When you purchase through links on our site, we may earn an affiliate commission.
Greetings Ladies,
Removing makeup is less fun than applying it, especially when it involves rubbing your eyelids and shedding a few lashes in the process. Nevertheless, A powerful makeup remover is always a rescue! Finding a makeup remover that is strong to remove makeup but very gentle on the skin leaving it moisturized. I have used Maybelline makeup remover and Hip-hop makeup removing wipes, but they were not that good! After seeing so many Instagram videos on how celebs promoting and using cleansing water, I got excited and ordered the latest launched Garnier Skin Naturals Micellar Cleansing Water and using it for a week! Let's see how it worked for me!
Product Description:
Price: 175 inr (149 after discount)
Content: 125 ml
What does Garnier Skin Naturals claim about Micellar Cleansing Water?
The 1st all-in-one Micellar Cleansing Water that purifies and removes make-up in 1 gesture. Enriched with Micelles, it captures and lifts away residue from face, eyes & lips like a magnet. No need to rub to get of impurities & makeup. The refreshing formula is non-sticky, non-oily and without perfume; it is suitable for all skin types including sensitive skin. Result: Skin is perfectly clean, soft and looks healthy. Directions: Apply onto face, eyes, and lips with some cotton pads without rubbing. No rinsing required.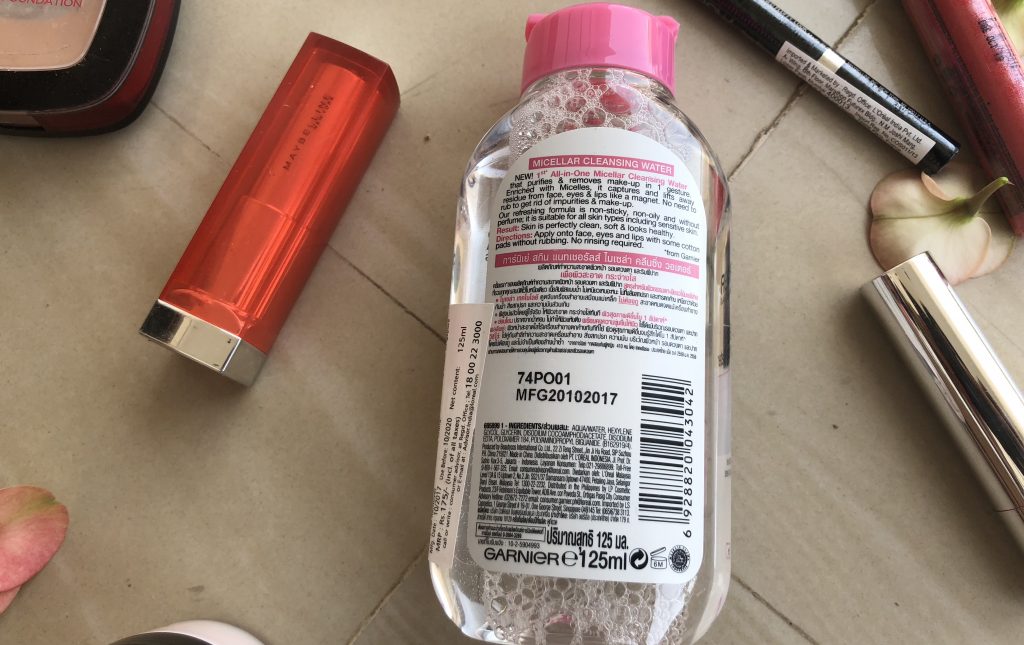 How to use it?
To remove eye makeup – Hold pad over closed eyes for a few seconds, then gently wipe without harsh rubbing.
To clean skin and remove face makeup – Gently wipe all over until skin is completely clean from makeup and impurities. Use daily, AM/PM. No need to rinse.
My Experience on Garnier Skin Naturals Micellar Cleansing Water says,
The packaging of micellar cleansing water is a clear and sturdy see-through plastic bottle. The bottle has a baby pink flip top cap that dispenses the right amount of product. Micellar water is just a colorless fluid like water and it is a one-step convenient answer to all the excuses of lazy beauties. Garnier Skin Naturals claims about Micellar Cleansing Water purifies skin and removes makeup in 1 gesture. Well, let me tell you that this micellar water is good for everyday makeup, It won't work well with heavy-duty waterproof makeup, for that, you can use Garnier Skin Naturals claims about Micellar Cleansing Bi-phase Water which is infused with argan oil! The review of Garnier Skin Naturals' claims about Micellar Cleansing Bi-phase Water is also coming soon on our website. Stay tuned for the updates!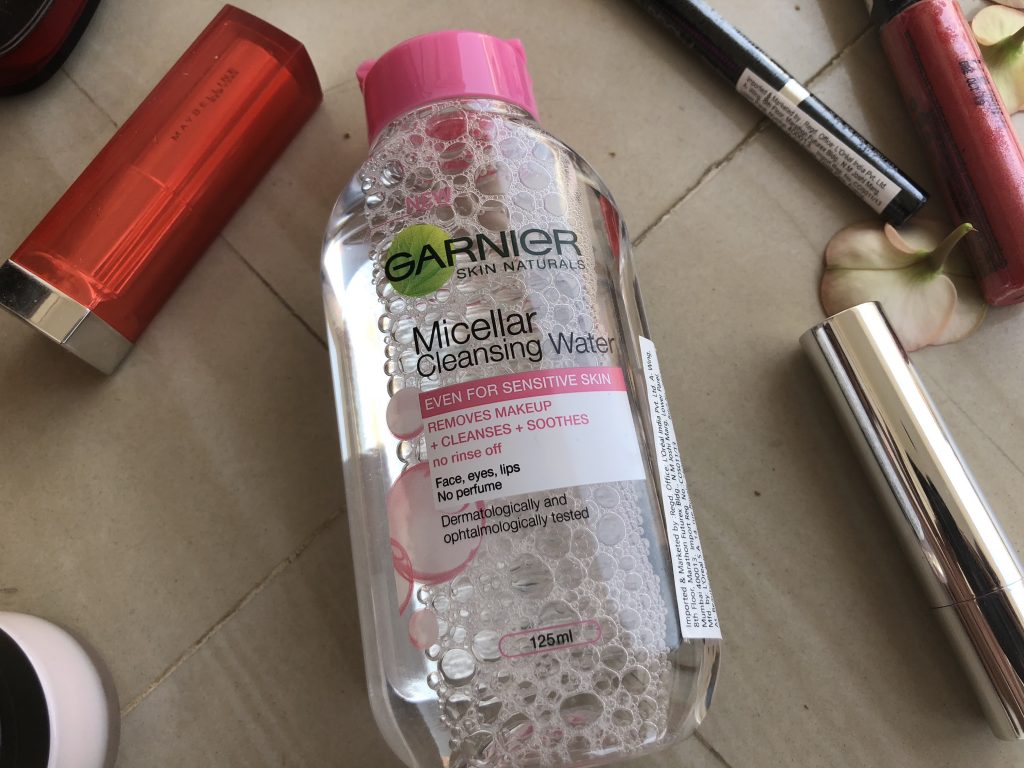 The refreshing formula of micellar water is non-sticky and non-oily without any perfumes. It is made from natural ingredients that won't harm your skin. You won't need to worry about getting out of makeup remover anymore! It will last up to 100 uses. It is handy and budget-friendly, so you can get the new bottle anytime. The formula of micellar water is so simple. Get the Garnier Skin Naturals Micellar Cleansing Water onto the cotton pad and Hold the pad over eyes or the face and then gently wipe it out. Voilla, your makeup is removed without any harsh rubbing and even you don't need to rinse the face. You can apply or night cream or any moisturizing cream straight after removing makeup by Garnier Skin Naturals' claims about Micellar Cleansing Water.
Pros of Garnier Skin Naturals Micellar Cleansing Water :
– Simple and Sturdy Packaging
– No Rinsing required
– Effectively removes makeup
– Does not make skin dry
– Fragrance-free
– Dermatologically tested
– Does not sting eyes when removing eye makeup
– Leaves your face feeling fresh and oil-free
– Travel-friendly
– Suits for any skin types
Cons of Garnier Skin Naturals Micellar Cleansing Water :
– Might need more swipes for heavy-duty waterproof makeup
– Can be used with cotton pads or wipes not with tissues
Frequently Asked Questions Related to Micellar Water:
1. What is micellar water made of?

Micellar Water is made of tiny balls of cleansing molecules suspended in soft water, they attract impurity and dirt out of your skin.
2. Is micellar water good for skin?

It removes your makeup effectively, unclogs the pores and makes your skin hydrated.
3. How do you use micellar water?

you can take micellar water on the cotton pad and swipe on your face to remove the makeup till the dirt is removed.
4. Is Garnier micellar water oil-free?

This Garnier micellar water is oil-free, it is so good for oily skin.
VooBeauty Rating: 4.5/5
Will you repurchase/ recommend?
Yes, I will surely repurchase it for a hassle-free makeup removing process! I will surely recommend this travel-friendly makeup remover at such an affordable price to all the lazy girls out there who hate to rinse the face after removing makeup like me😛!