We are supported by readers. When you purchase through links on our site, we may earn an affiliate commission.
Helllooo Beauties,
I'm sorry for being a little inactive for the past few days. I was indulging in some travel peace for myself. I am back with a lot of exotic products particularly concentrating on skincare. Soft supple lips are all that we desire for. Not many are lucky to have them all year round. India's very own luxurious Ayurveda brand Forest Essential is been doing great internationally. I shopped for this at Forest Essential's Mumbai's International Airport counter. This was before my flight to Greece. Being my first international trip I had allowed myself to indulge. I was suggested to try Forest Essentials Lip Balm Sweet Narangi with Organic Bees Wax for the discoloration on my lips. Let's see if it lived up to its expectations.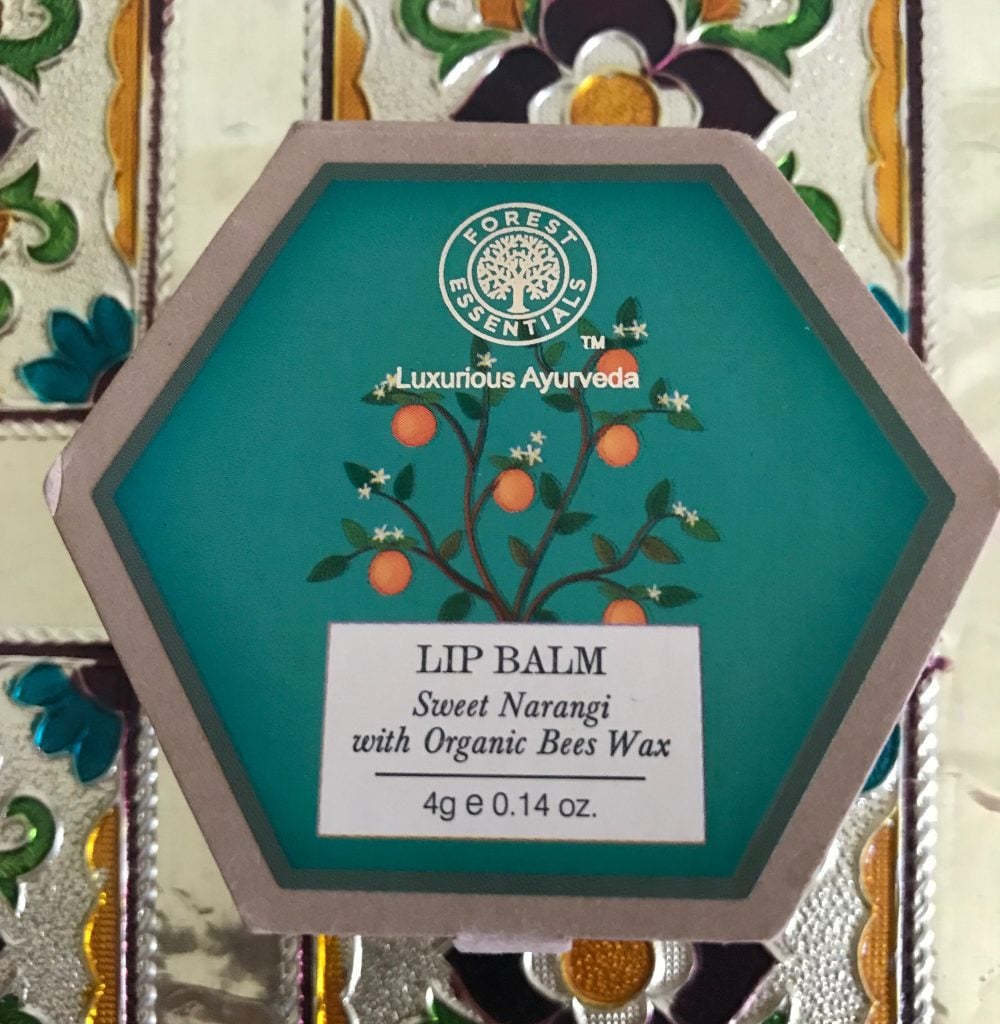 Product Description :
Price: Rs 625/-
Content- 4gm
Ingredients:( Refer attached picture)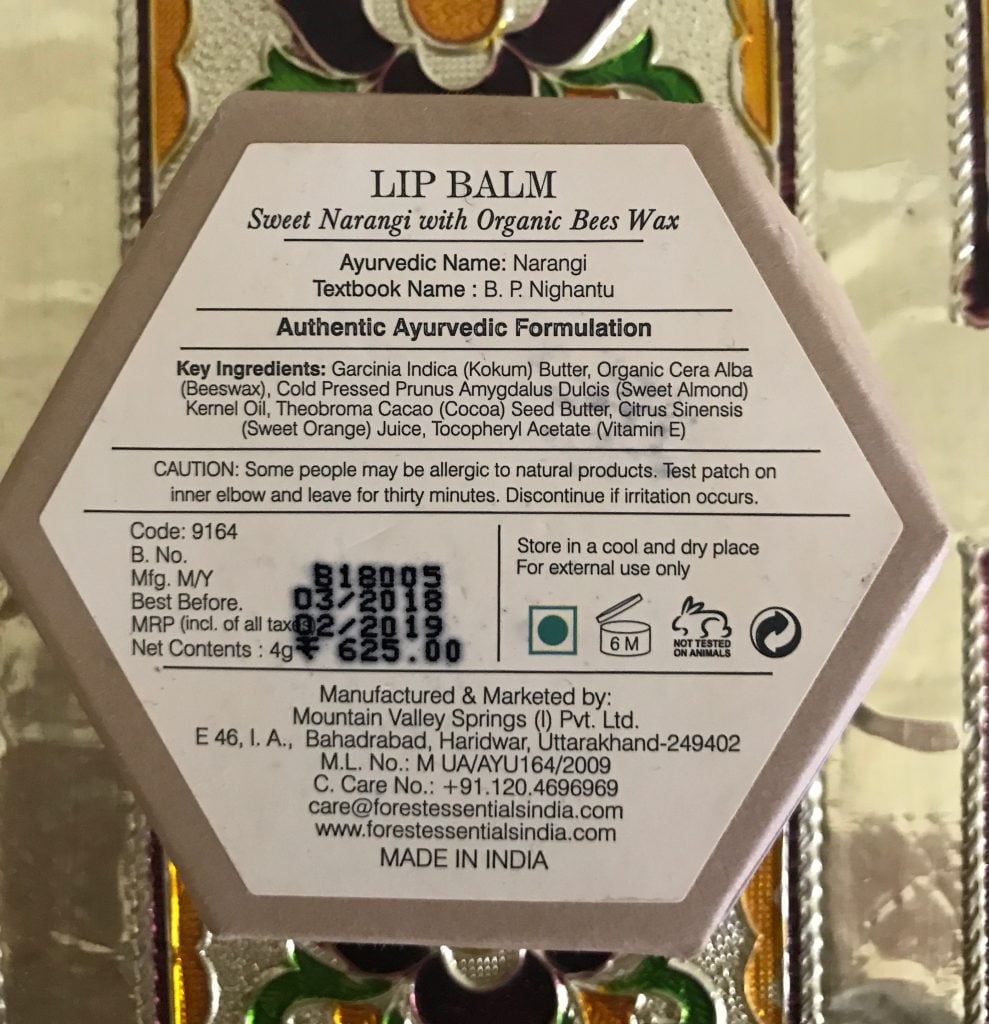 What Forest Essentials Lip Balm Sweet Narangi with Organic Bees Wax claims:
– Heals dry and chapped lips
– Chemical-free
– Nourishes lips
– Hydrating properties
– Soft supple lips
How to use it?
Prep your lips prior to application by using a lip scrub ( Preferably forest essential lip scrub). Gently apply it on your entire covering all the corners and edges. It is recommended to use it twice daily to see maximum results.
The Packaging of Forest Essentials Lip Balm Sweet Narangi with Organic Bees Wax : 
Ladies, By this time I am sure you all know about my addiction to skin care. Staying in Ahmedabad gives me limited access to forest essential outlets.. Yes, this is available on Nykaa . For this, I would prefer going to the store to feel the product. Trust me ladies, their stores have a soothing aura to our soul. Since it belongs to the category of luxurious Ayurveda, the packaging justifies the title. The hexagonal box packaging with product details mentioned clearly. I am in love with their luxurious simplicity which adds an elegant touch to its design. On opening, you witness an oval shaped box in orange color. They clearly know to stick to the theme. you see the lip balm content with a small mirror attached for precise application.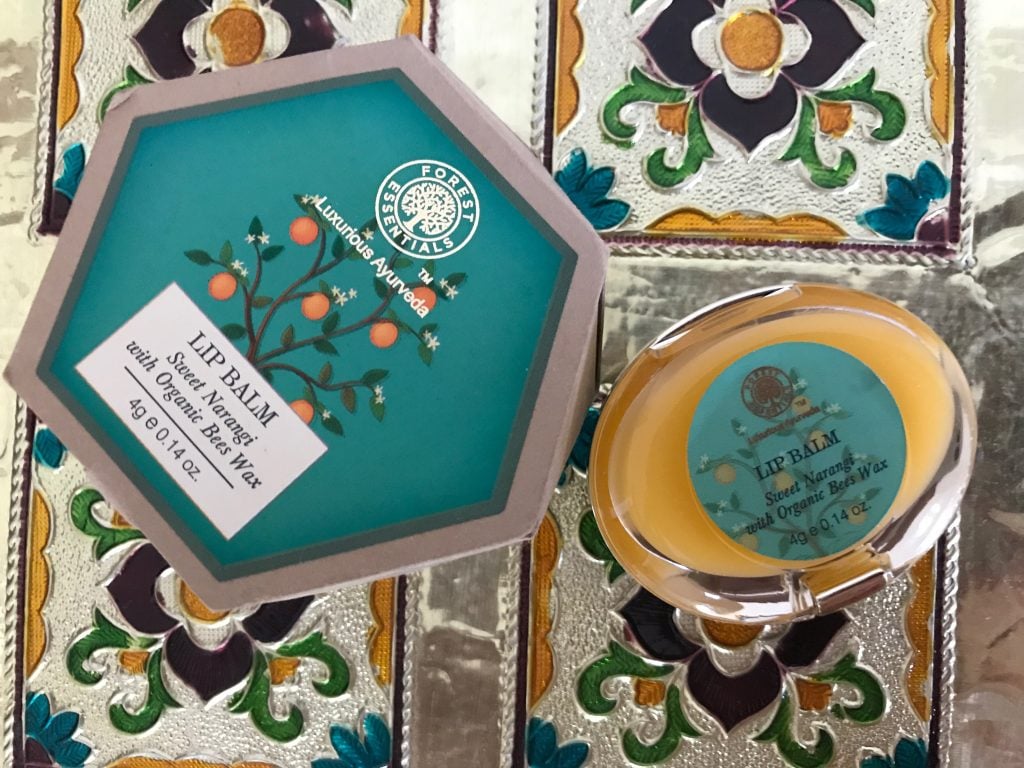 My experience with Forest Essentials Lip Balm Sweet Narangi with Organic Bees Wax says,
I am okay with Forest Essentials not providing this lip balm in the form of a lipstick. Inspire of the fact that it could have a lot more hygienic as compared to the current design. Somehow this speaks of old-world charm and it allows me to feel my lips on application. The texture is similar to most lip balms. The winner here is the smell, it strongly smells of sweet narangi. It feels fresh and very refreshing on an application. Forest Essentials Lip Balm Sweet Narangi with Organic Bees Wax is a mixture of sweet narangi with organic beeswax. Since it's a strong smell of narangi, you might like it if you are a fan of this particular smell. Honestly, ladies, I haven't come across humans who would hate such a soothing smell.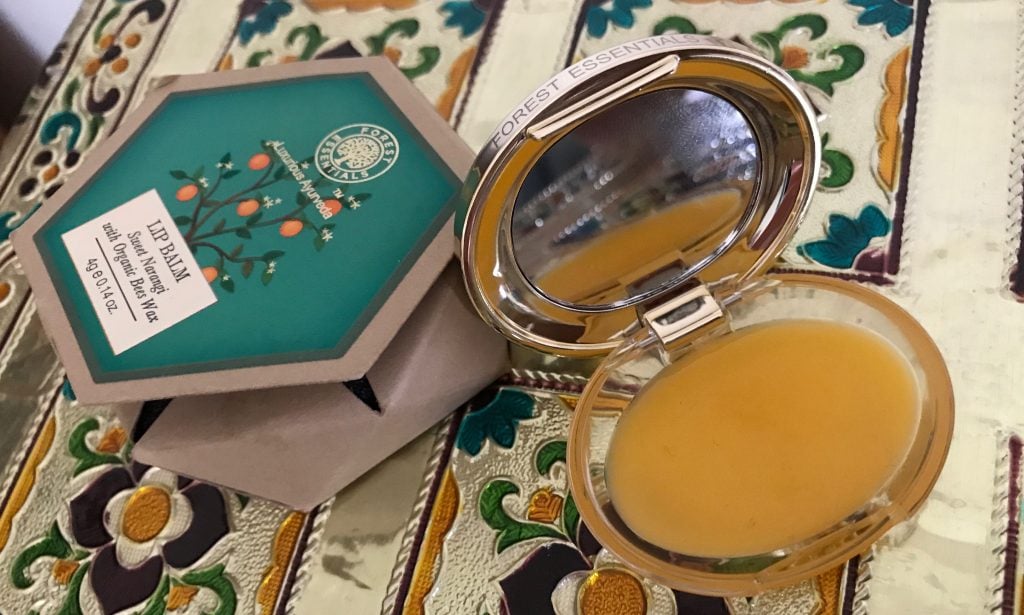 I used this lip balm along with their sugar cane lip scrub. I religiously used it and could see the results in the first 3 days. The sales associate at the forest Essentials counter had recommended this for the discoloration on my lips. It had definitely lightened it making it look very hydrated and supple. It forms a layer on your lips after application. This helps to seal the moisture. Being an Ayurvedic product one shouldn't expect results to be seen instantly. It will take at least2-3 months of religious usage to see the results. I have included this balm in my everyday routine. I am eagerly waiting to see the results.
Pros of Forest Essentials Lip Balm Sweet Narangi with Organic Bees Wax:
– Chemical-free
– Organic ingredients
– Repairs dry chapped lips
– Moisturises lips
– Soft and supple lips
– Reduces discoloration
Cons of Forest Essentials Lip Balm Sweet Narangi with Organic Bees Wax:
– Expensive
– Availability
Frequently Asked Questions Related to Forest Essentials  Lip Balm:
1. How often should I apply lip balm?

One should apply lip balm before putting on lipstick. Lip balm should be applied frequently to keep the lips hydrated.
2. Can you wear lip balm to sleep?

Lip balm should be applied before sleeping so that it can make your lips more smooth and hydrated.
3. Can I use lip balm under my eyes?

Lip balm hydrates the skin when it is applied under the eyes.
4. Is forest essentials fully natural?

Yes, Forest essentials brand is 100 percent natural.
VooBeauy Rating: 4.5/5
Will you repurchase/ recommend?
Yayyyyyyy….! This one deserves to be on your shelves gals. Using it along with the Forest Essentials Lip Scrub Cane Sugar gives you the best results instantly!