We are supported by readers. When you purchase through links on our site, we may earn an affiliate commission.
Namastey Beauties,
This traditional greeting for the day is thanks to my current touch of luxurious Ayurveda in my skincare regime. In case you missed out on reading up my last review. I recently acquired a lot of products from Forest Essentials so be prepared to watch out for their reviews in the coming weeks. I purchased Forest Essentials Lip Scrub Cane Sugar to target my dry and discolored lips as I haven't tried a lip scrub in the past except for the DIYs at home. Keep reading to know if this famous Forest Essentials Lip Scrub Cane Sugar lived up to my expectations. Using it along with the Forest Essentials Lip Balm Sweet Narangi with Organic Bees Wax Review gives the instant results to your lips.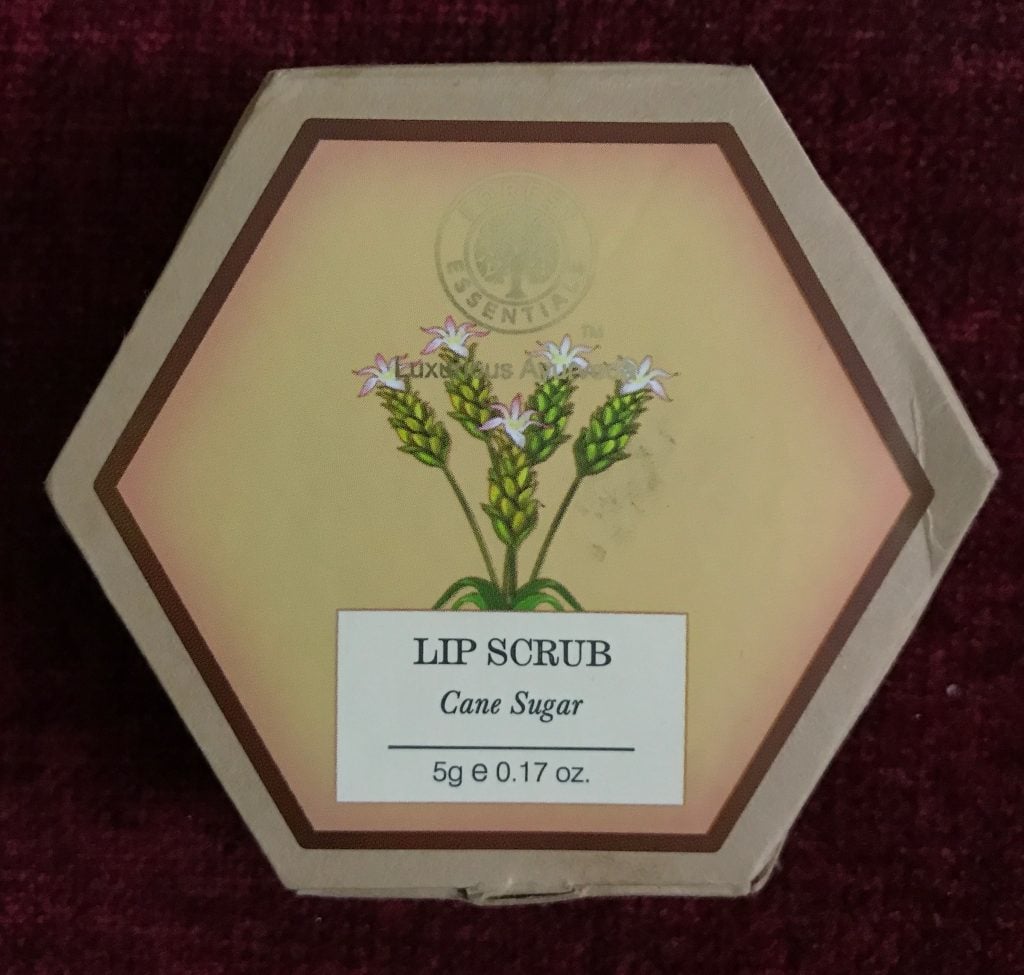 Product Description :
Price: Rs 500/-
Content- 5gm
Forest Essentials Lip Scrub Cane Sugar Ingredients:( Refer attached picture)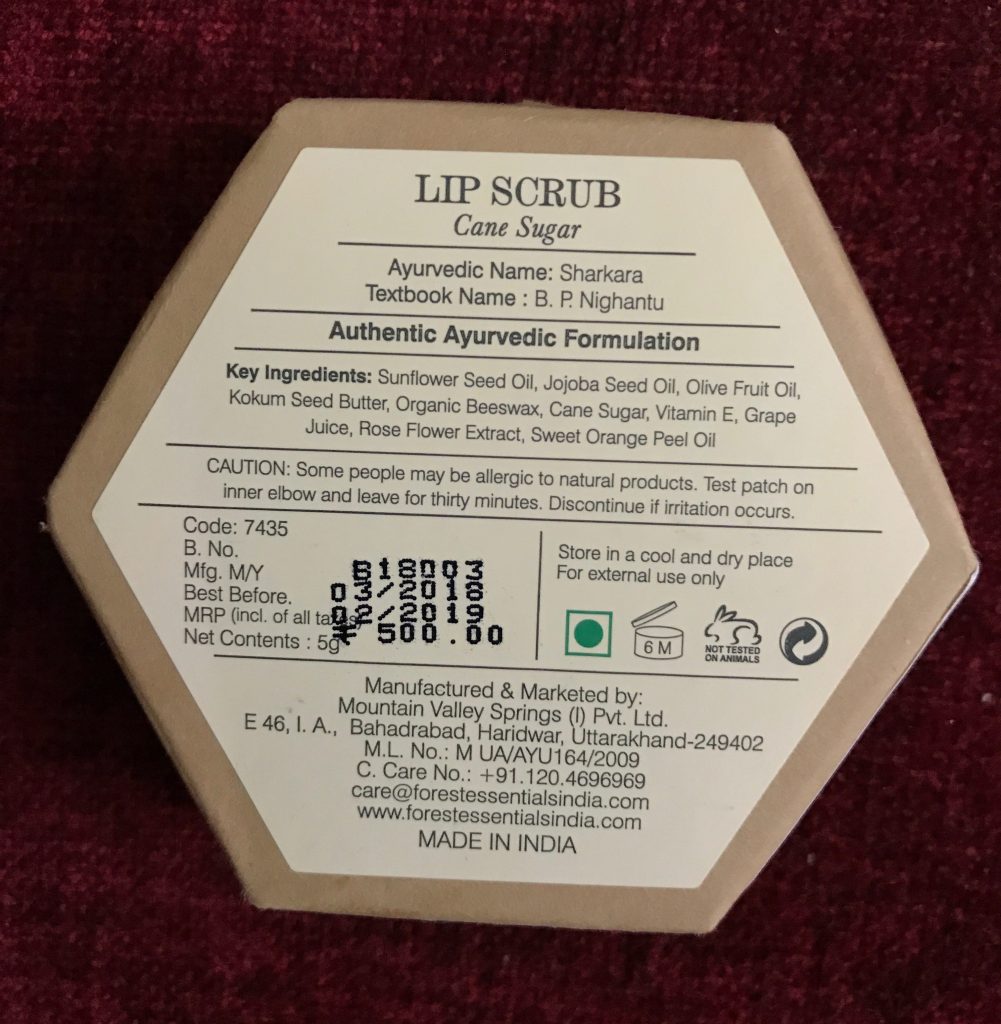 What Forest Essentials Lip Scrub Cane Sugar claims:
– Gently scrubs dead skin
– Chemical free
– Nourishes lips
– Isn't harsh
– Soft supple lips
How to use it?
Wet your lips with water and apply a pea size on your lips. Gently rub it in circular motions for 1-2 minutes. Leave it for a few seconds and wash it off with water ( Preferably lukewarm water). Follow it up with a rich nourishing lip balm.
The Packaging of Forest Essentials Lip Scrub Cane Sugar :
I have been struggling with the discoloration and dryness of my lips for quite some time now. Thanks to my ignorance towards lip care and the sudden change in climate conditions. I strongly believe that makeup can only hide certain flaws. You need to get to the deeper layers to heal or repair. This can only be accomplished if you stick to a certain routine. I decided to target my lips this time. It needed an ample amount of moisture and the dead skin layers were quite prominent. This led to discoloration.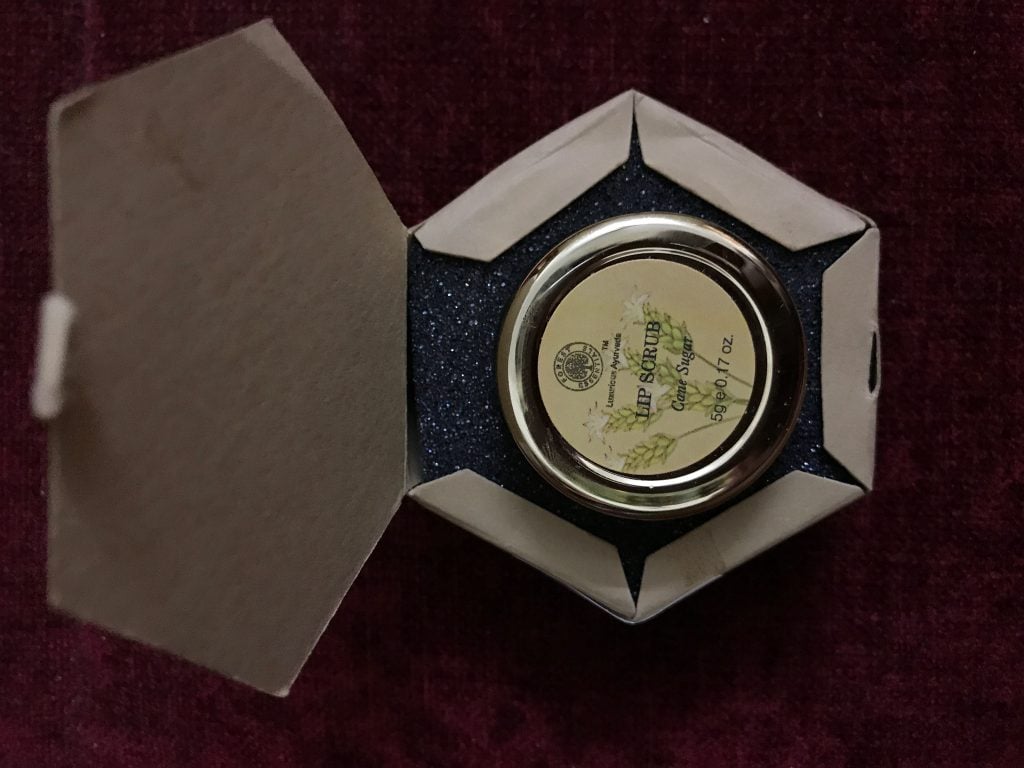 My experience with Forest Essentials Lip Scrub Cane Sugar says,
I was recommended Forest Essentials Lip Scrub Cane Sugar followed by their lip balm. You can't get enough of their interesting packaging designs if you love the royal feel of the packaging. This one again doesn't fail to impress me. Trust me it almost feels like a royal product on display. Forest Essentials Lip Scrub Cane Sugar comes in a hexagonal design with product details clearly mentioned. When you open it, you will find the scrub in a small round container inside with the right hint of gold chrome on the borders. As soon as you open the container you get a strong flavor of sugar cane.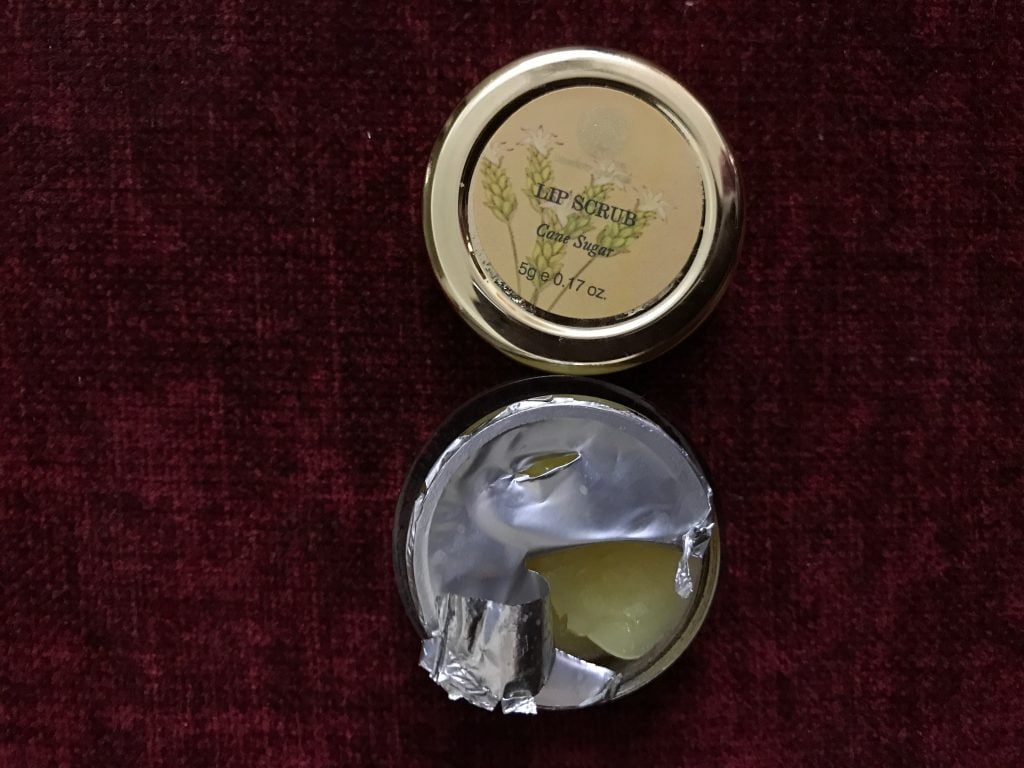 The texture of Forest Essentials Lip Scrub Cane Sugar is a sticky scrub with very small granular particles. It has just the right amount of stickiness for it to be used as a scrub. You can play with the intensity by mixing it with water. I could instantly feel the difference after the first use. There was a considerable amount of improvement in the texture of my lips. The dual shades that were formed were minimized so I have decided to use it once a week as excessive scrubbing isn't good for your lips. I have promised myself to stick to this regime. It can definitely be added to your shelves if you haven't believed in the concept of using lip scrubs. Ladies you need to use it to feel the difference!!
Pros of Forest Essentials Lip Scrub Cane Sugar:
– Chemical free
– Organic ingredients
– Gently scrubs dry chapped lips
– Moisturises lips
– Soft and supple lips
– Reduces discoloration
Cons of Forest Essentials Lip Scrub Cane Sugar:
– Expensive
– Availability
Frequently Asked Questions Related to Forest Essentials Lip Scrub:
1. How do you use Forest Essentials lip scrub?

Spread a gentle amount of scrub on your lips and rub it to exfoliate. Rinse or gently wipe off excess with a damp tissue. you can follow it with lip balm or lipstick as you wish.
2. Is Forest Essentials an Indian brand?

Yes, Forest Essentials is an Indian brand, owned by Mira Kulkarni. It provides a wide variety of skincare, haircare and perfume products.
3. How do you make a homemade lip scrub?

You can mix honey with brown sugar and exfoliate your lips by the mixture in the same way as a lip scrub.
4. Can I use lip scrub every day?

Once in a week is perfect for lip scrubbing, more lip scrub can make your lips chapped and dry.
VooBeauy Rating: 4/5
Will you repurchase/ recommend?
Yes, I will certainly grab another box as soon as I have exhausted the current one. Highly recommended for ladies who wear a lot of lipsticks, colored lip balms, or with dry chapped lips.