We are supported by readers. When you purchase through links on our site, we may earn an affiliate commission.
Namastey Beauties,
Hope you all are taking good care of yourself. Another review on one of my favorite brand's products i.e " Forest Essential ". My visit to Forest Essential's counter last month has led to these frequent reviews on their products. I have already reviewed for Forest Essential Cane Sugar Scrub,  Beauties, get ready… there are many more on the way. This one's a first in my skincare shelf. A cleansing paste with the almond, pistachio, and honey. The ingredients almost sound like " Badam Halwa" to most of my Asian beauties reading this blog. I am a big fan of Badam Halwa…!!😜 Keep reading to see if I have become a fan of Forest Essentials Deeply Nourishing Facial Cleansing Paste now.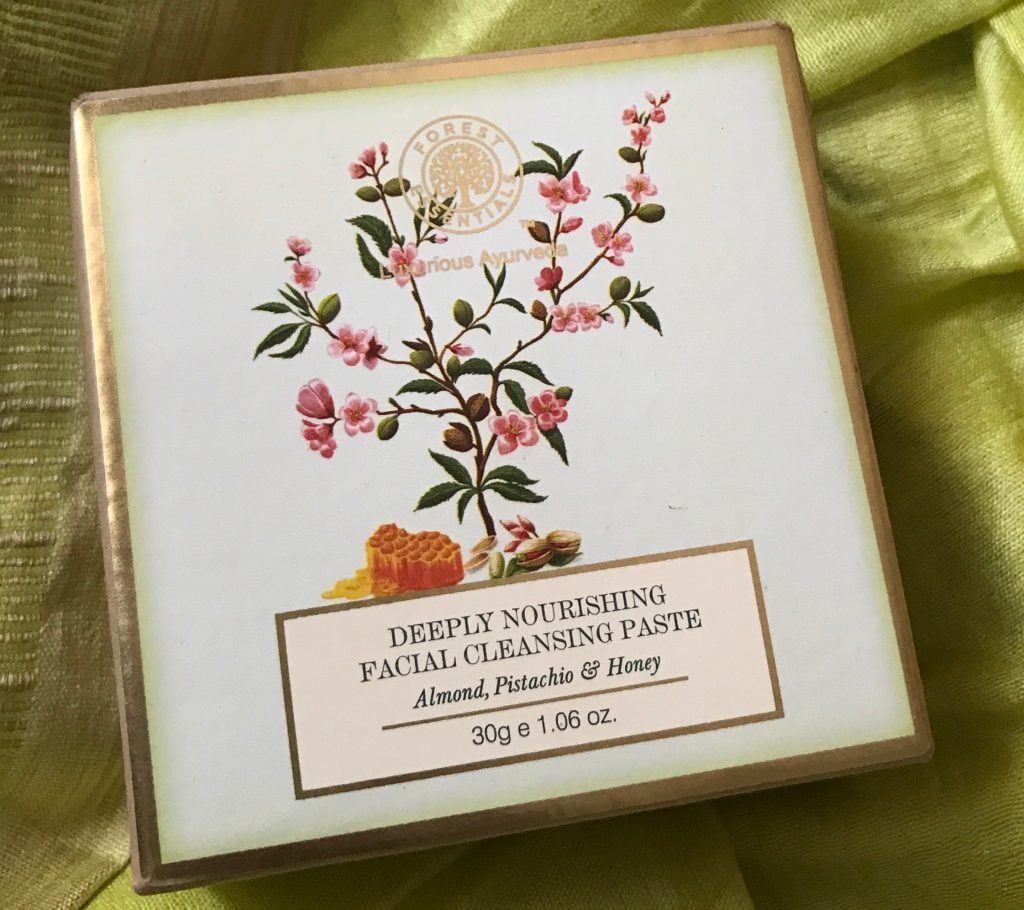 Product Description :
Price: Rs 1850/-
Content- 30gm
Ingredients:( Refer attached picture- It's more like a recipe😋)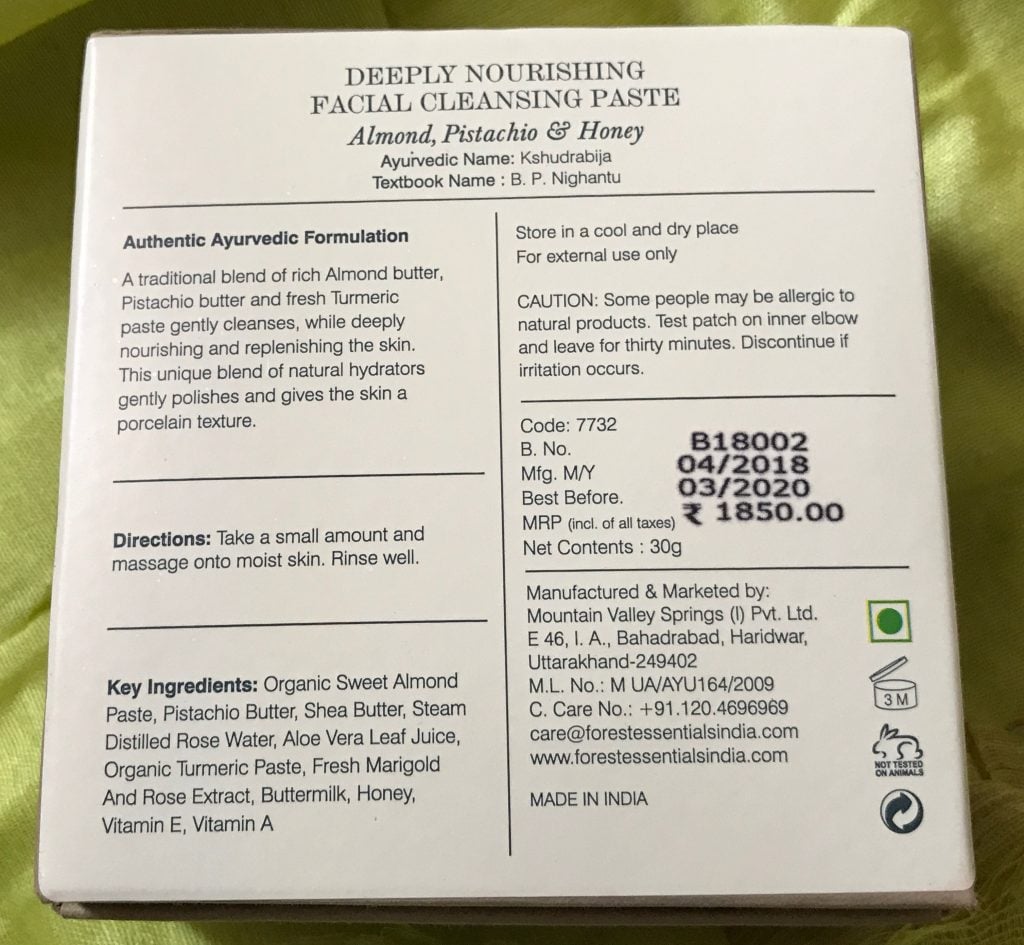 What Forest Essentials claims about Deeply Nourishing Facial Cleansing Paste claims:
– Gently exfoliates
– Nourishes the skin
– Gentle on the face
– Moisturizing properties
– Gives porcelain texture
How to use it?
Take half a teaspoon amount on your palm. Massage it in a circular motion on damp face. I recommend gently scrubbing it for 1-2 minutes which will help remove dead skin. Wash it off with water and pat dry. Follow it up with your favorite moisturizer.
The Packaging of Forest Essentials Deeply Nourishing Facial Cleansing Paste :
I am sure by now, most of you know my obsession with skincare and anything organic. It has a magnetic effect on my mind, body, and wallet😉! My Forest Essential haul blog continues with this product review. Forest Essential Deeply Nourishing Facial Cleansing Paste with Almond, Pistachio, and Honey. Claims of being organic…! Ladies, this brand comes quite close to its claim. You can easily consume the main ingredients of this product. It indeed is quite close to our desi Badam Halwa. Let's start with the design: This one comes in a container, the design looks luxurious. Floral prints and the right blend of color combination is enough to attract you. The golden chrome lid gives it a rich feel. Somehow, I wasn't quite impressed with the practical utility of the same.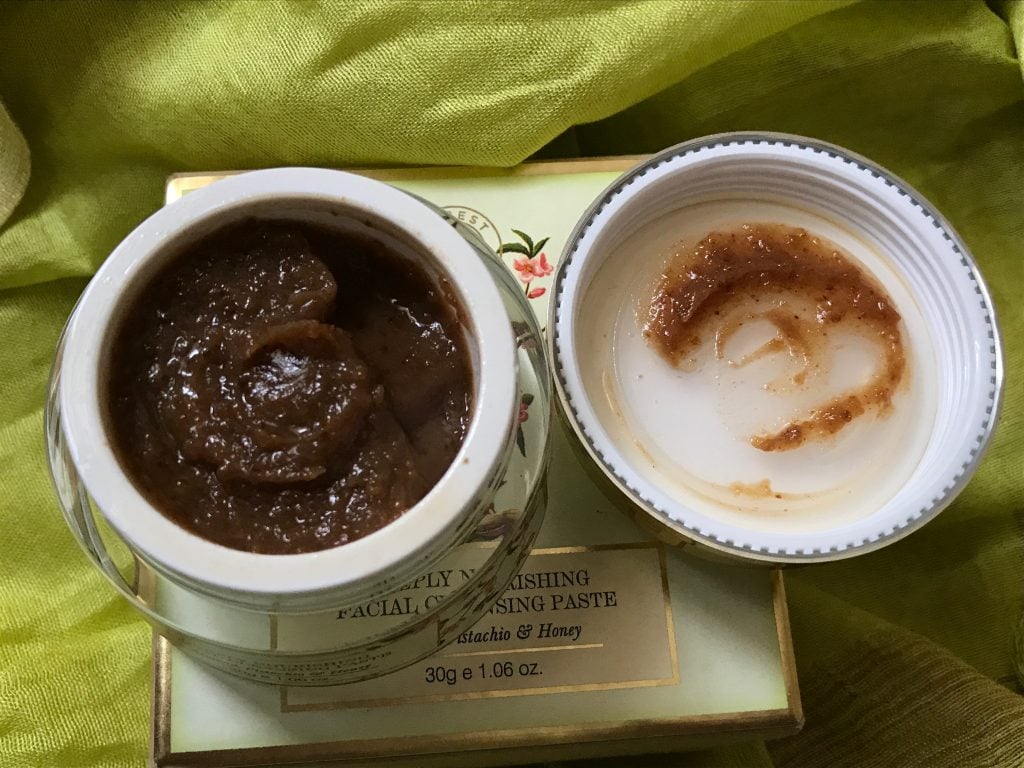 My experience with Forest Essentials Deeply Nourishing Facial Cleansing Paste says,
You may either use your fingers or a wooden spoon to take the required quantity. I find this a little unhygienic with the constant opening and closing. The texture is sticky and gooey, but it smells delicious. I almost got tempted to taste it. Eventually, this instantly brings a calming effect to my senses. Fine granules of powdered almond/pistachio are felt on an application. Somehow I found it a little coarse for the sensitive skin on my face. To compensate coarse granules, ladies here's the trick👍( Use your ring finger for scrubbing, you'll use the least amount of pressure). My skin felt cleaned after usage. A slight improvement in texture, all thanks to the natural hydration infused in the product.
I have been noticing minor improvements in the texture of my skin. As I use it only once or twice a week, it might take me a few months for noticeable results. This also has to do with the fact that organic products take their time to show results.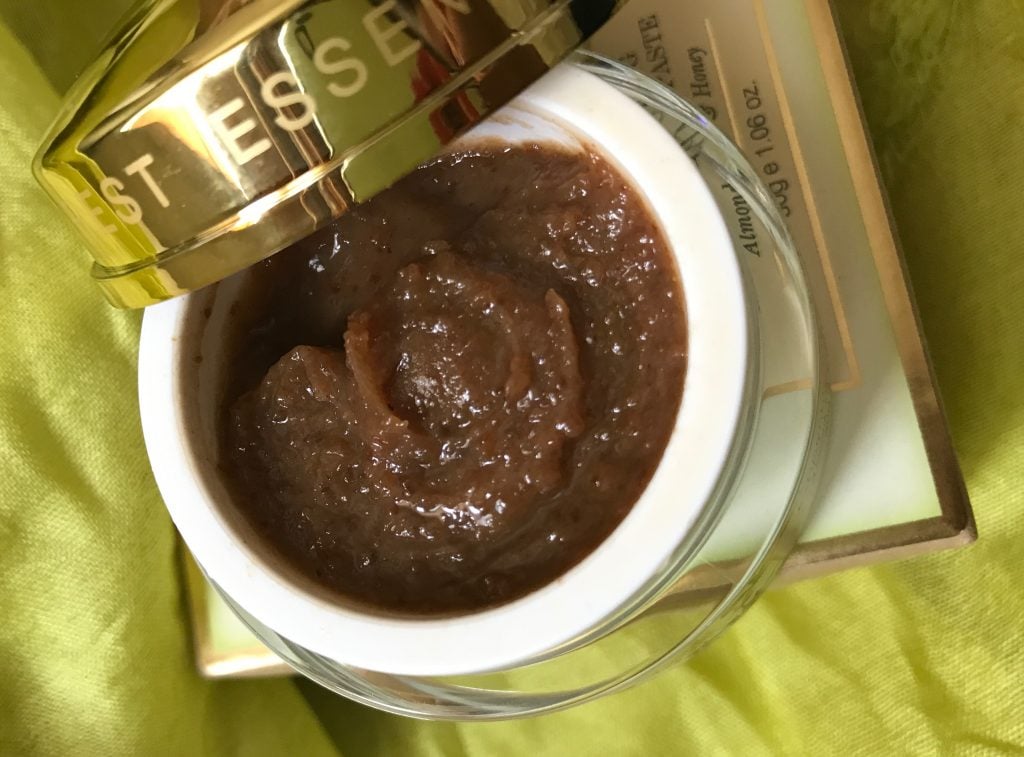 Pros of Forest Essentials Deeply Nourishing Facial Cleansing Paste :
– Moisturizing properties
– Exfoliates dead skin
– Smells delicious 😋
– Cleanses deeply
Cons of Forest Essentials Deeply Nourishing Facial Cleansing Paste:
– Expensive
– Slightly coarse particles ( If you have very sensitive skin)
– Packaging
Frequently Asked Questions Related to Forest Essentials Cleansing Paste:
1. Which are the main ingredients in Forest Essentials Cleansing Paste?

Almond, Pistachio, and honey are the raw ingredients in the cleansing paste.
2. What does Forest Essentials cleansing paste do?

The Cleanser nourishes and replenishes your skin deeply.
3. Is Forest Essentials 100% natural?

Forest essentials are 100% natural and they have proven about this.
4. Who is the owner of Forest Essentials?

Mira Kulkarni is the owner of forest essentials.
VooBeauy Rating: 3.5/5
Will you repurchase/ recommend?
I will definitely recommend it if you are up for trying something new. When it comes to repurchasing, I could easily skip this one if I stumble on something new.