We are supported by readers. When you purchase through links on our site, we may earn an affiliate commission.
Hello, Beauties, 'Happiness is taking a hot long shower – with a good shower gel' – A good shower will feel you relaxed. I just love to experiment with different shower gels to make my bath unique every time 🙂 This one is also one of my experiments at The Bodyshop. I like the refreshing fragrance always and it leads me to buy The Body Shop Fuji Green Tea Shower Gel. Yes, Today I will review for The Body Shop Fuji Green Tea Shower Gel. You can refer to the TBS British Rose shower gel review on the following link.
The Body Shop Fuji Green Tea Shower Gel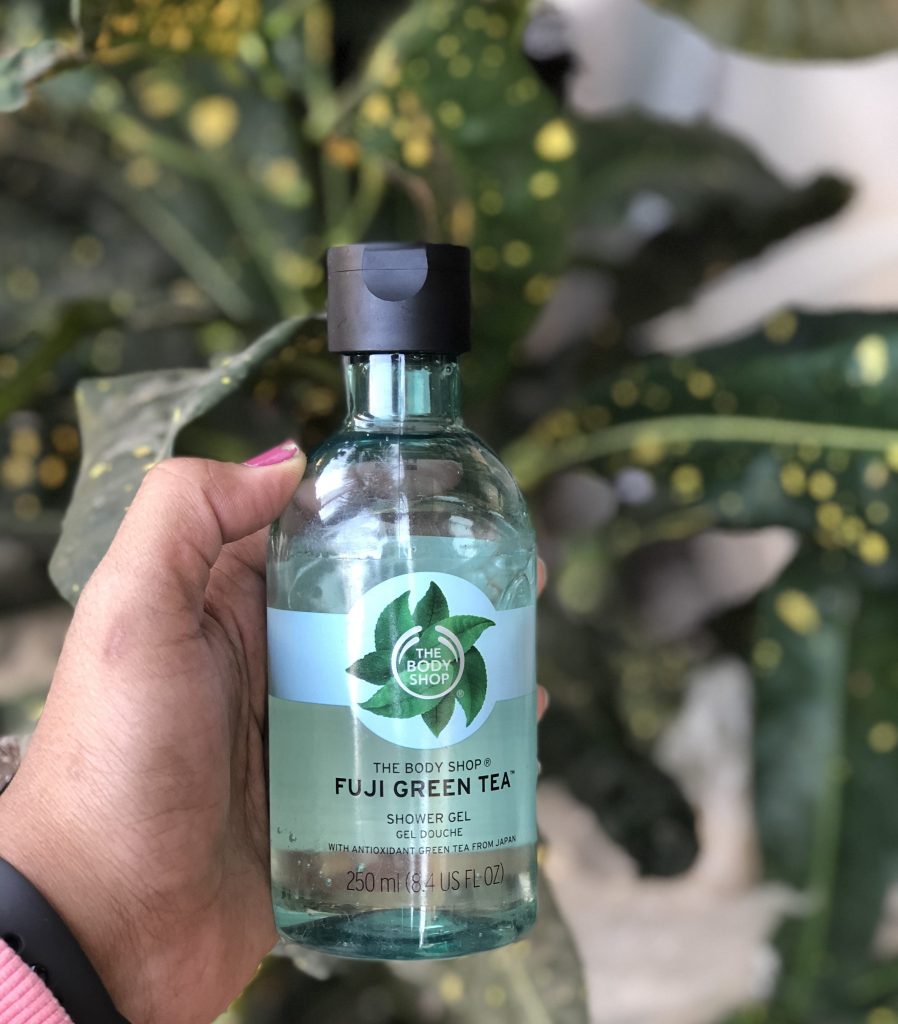 Product Description:
Price: 345/- (I got it for 230/- after getting discounts :P)
Content: 250 ml
The Body Shop Fuji Green Tea Shower Gel Ingredients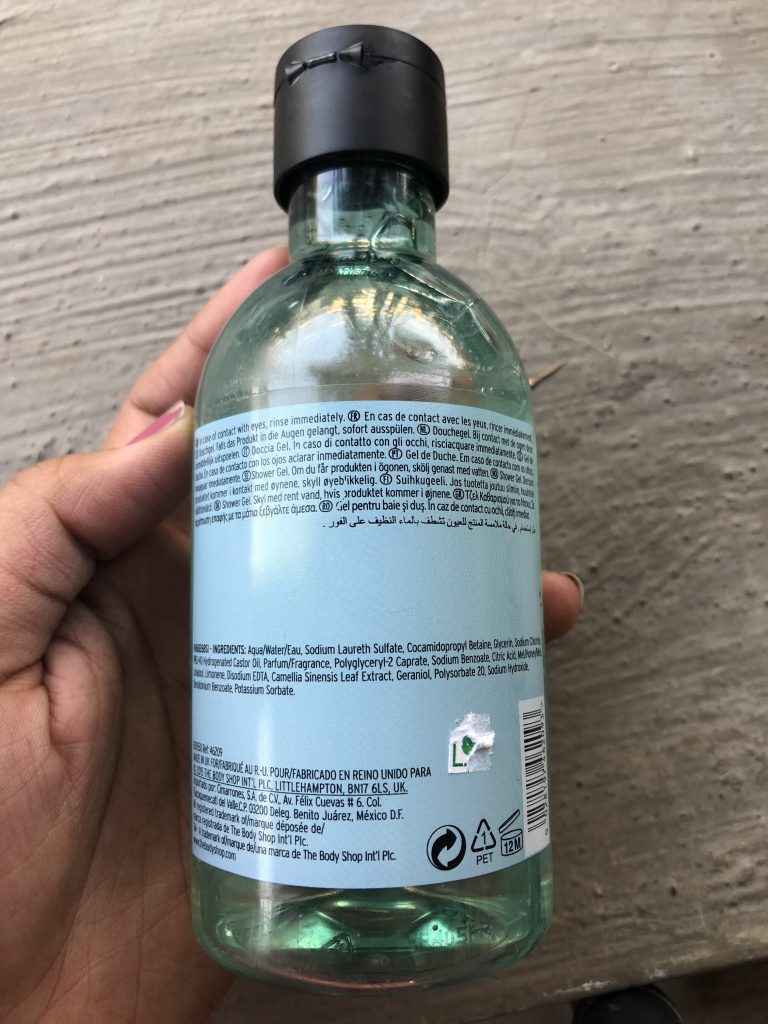 What Bodyshop claims about Fuji Green Tea Shower Gel?
It cleanses and purifies the skin with a crisp and refreshingly scent of Fuji Green Tea.
My Experience on The Body Shop Fuji Green Tea Shower Gel says,
The Shower gel comes in a nice dark green transparent plastic bottle with a matte black flip cap. It has elegant and classy packaging like other products. The bottle contains all the details from quantity to ingredients and price! It is travel-friendly due to that flip cap on the top of the bottle.
The Body Shop Fuji Green Tea Shower Gel Swatch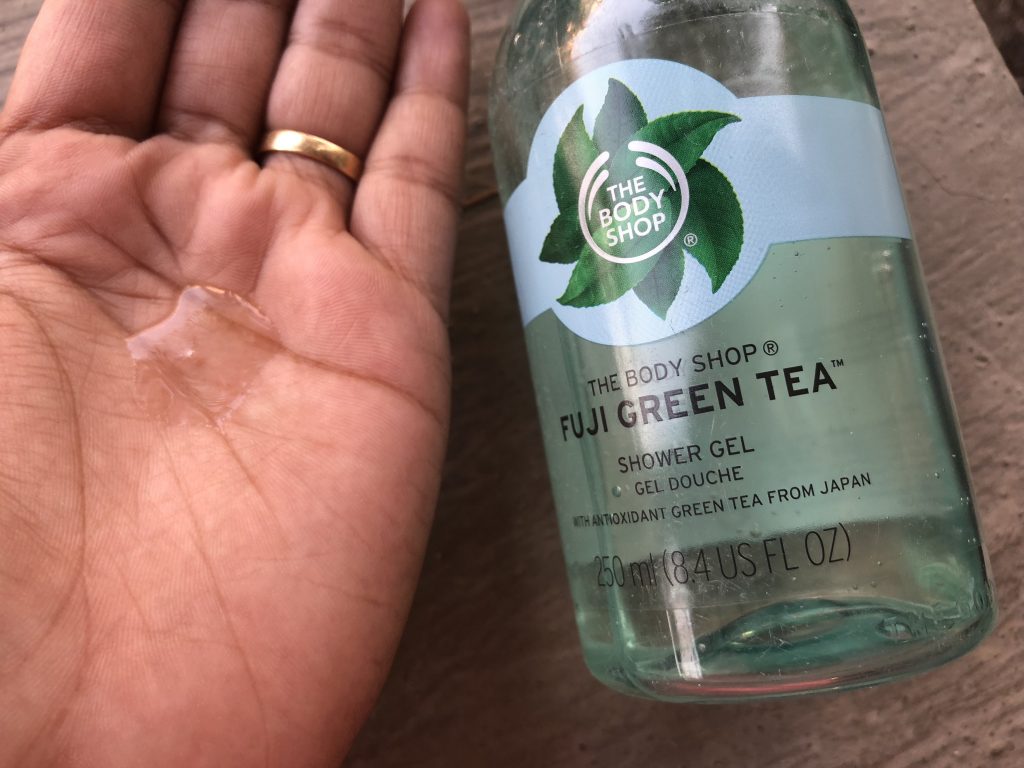 The shower gel comes is a transparent liquid with a runny consistency with refreshing green tea fragrance. It lingers for sometimes in shower cubicle after taking bath. The shower gel lathers well with loofah or bath lily, little goes a long way with this. TBS Fuji Green Tea Shower Gel does not leave any moisturization to my skin but It does not make it too dry or stretchy either. It makes my skin soft and supple.
After taking bath with TBS fuji green tea shower gel, I feel like being in a spa with a mild refreshing fragrance. Sencha green tea leaves are hand-picked from the foothills of Mount Fuji, Japan and It awakens my senses like never before. The bottle lasts for four months when used with a loofah! The fragrance is so refreshing that my brother has also started to take shower with The bodyshop Fuji Green Tea Shower Gel.
Pros of The Bodyshop Fuji Green Tea Shower Gel:
– Soap-Free Formula
– Perfect for Reviving Detox Ritual
– Lathers well with loofah or bath lily
– Cleanses the skin without making it dry
– Cruelty-free
– Vegan
– Refreshing and long-lasting fragrance
– Made from pure green tea from Japan
Cons of The Body Shop Fuji Green Tea Shower Gel:
– None
Frequently Asked Questions Related to Shower Gel :
1. What is shower gel used for?

The shower gel is used to clean the body. It is a liquid product that is more hygienic than soaps in the family.
2. Is Body Shop products paraben-free?

The companies don't use banned parabens and they are 90% paraben-free. They are working for being 100% paraben-free in the coming years.
3. Are body shop products vegan?

The body shop has launched a new range of shower gels in different flavors like British rose, fuji green tea, moringa, mango, strawberry and many more. they are all 100% vegan and cruelty-free.
4. How to use shower gel?

Firstly, dispense the little amount of shower gel on loofah or sponge and lather the soap. Now apply it on your body and rinse it with clean water. You can apply moisturizer after having a shower for more smooth and supple skin.
VooBeauty Rating: 5/5
Would you repurchase/ recommend?
Yaaay, I will surely recommend to the ladies and gents out there, It is worth investing shower gel that gives you a luxurious spa-like feel! I would repurchase it after experimenting with other flavors of TBS shower gels😉.