We are supported by readers. When you purchase through links on our site, we may earn an affiliate commission.
Hellllooo beauties, Wedding seasons will be coming to the door and we are ready to rock the floor with different party looks. I am so excited to review this ultra-fancy triple tone lipstick. Yes, girls, It's the Smashbox Be Legendary Triple Tone Lipstick – Red Ombré Shade.
Smashbox Be Legendary Triple Tone Lipstick Red Ombré Outer Look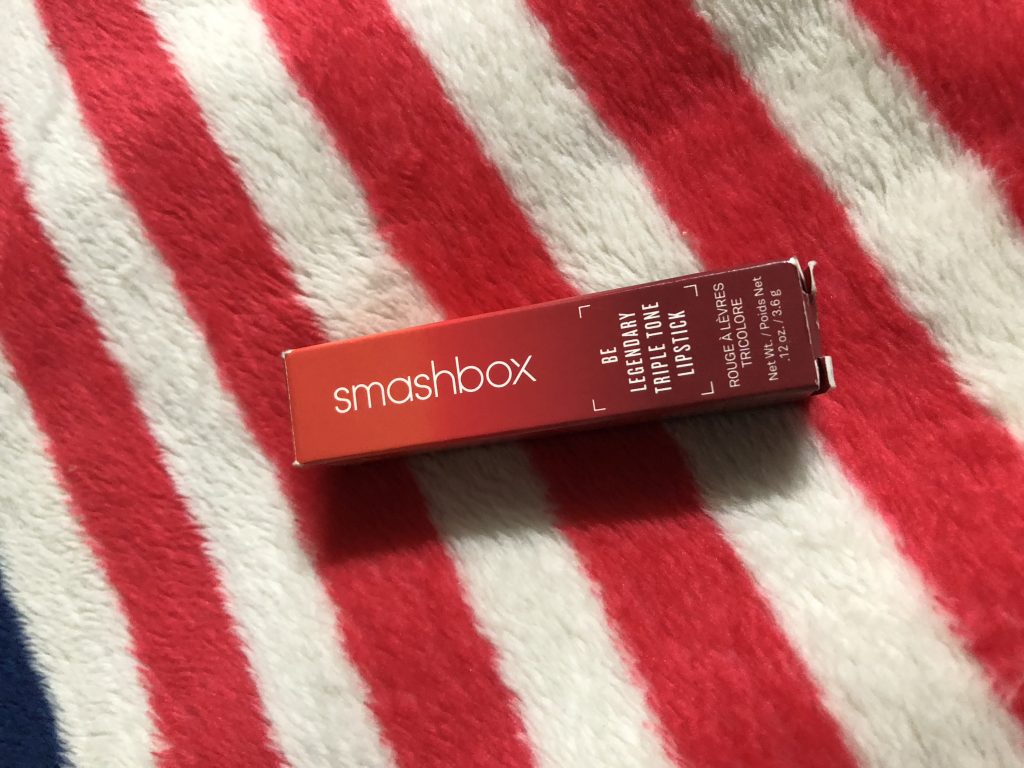 The Smash box always amuses me with their beautiful products. I bought this Trio Tone Lipstick from Sephora Store at Dubai Mall.
Smashbox Be Legendary Triple Tone Lipstick Red Ombré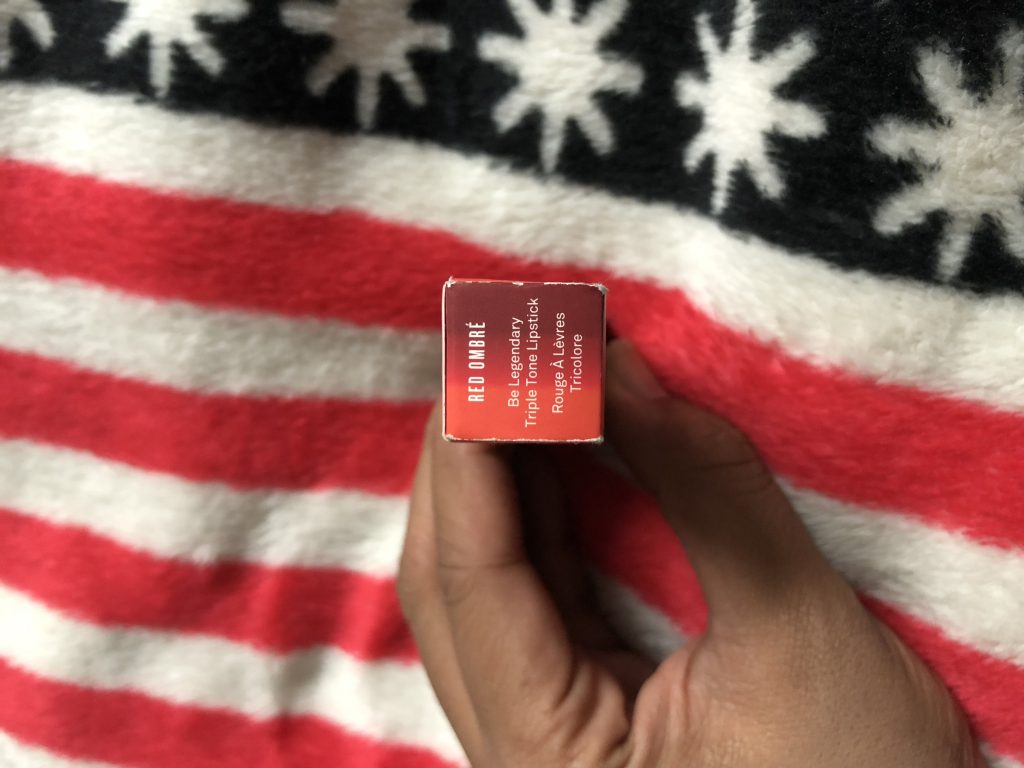 Product Description :
Price: 110 AED (1900 inr)
Content: 3.6 grams
As the name suggests, it is a lipstick that gets you an Ombré look with a fuller-looking pout. There are four shades available in this range. Red Ombré, Nude Ombré, Sunset Ombré, and Berry Ombré. Each bullet contains 3 shades from darker to a lighter shade. "Skip the crazy and complicated tutorials and get instant Ombré lips" is the fundamental behind Smashbox Be Legendary Triple Tone Lipstick range. I am sharing my experience down here.
My Experience on the Smashbox Triple Tone lipstick says,
When I visited the Smashbox counter at Sephora, the lady there just made me fall for this beautifully packed lipstick. She applied it to my lips and I was like wow, That's what I was searching for long, Ombré Lipstick. Then I tried another 3 shades but I was convinced to purchase this hot red-hued lipstick named 'Red Ombré'. The Smashbox never fails to attract ladies with their beautiful packaging tricks. As you can see in the picture, The lipstick outer carton has an actual red-hued shade of lipstick. It comes in a matte black bullet with Smashbox printed on it.
Smashbox Be Legendary Triple Tone Lipstick Red Ombré Close Look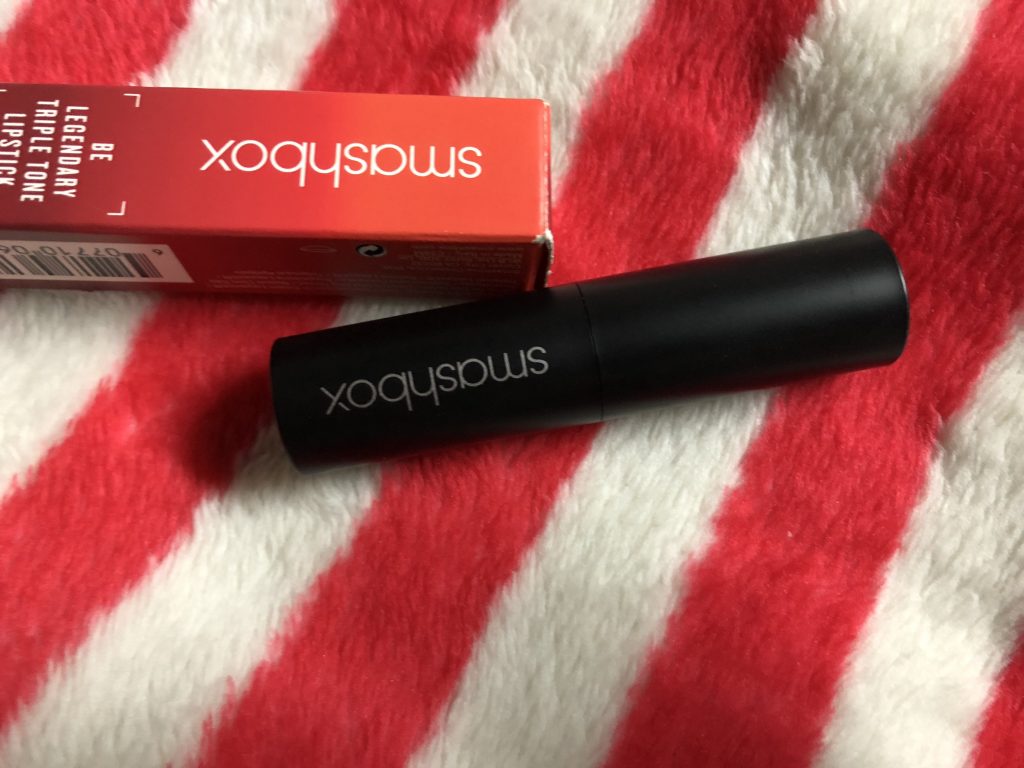 Usage of the lipstick :
This lipstick will give you easy ombré lips with three shades of dark red on the left, red on the middle and neon orange on the right. You can check out the picture for the clear idea of three different shades. There are four easy steps to apply this lipstick,
1) Starting from the cupid bow, Apply the lipstick on the top of your lip keeping darker side on the edge
2) Flip the lipstick and apply on the bottom of your lip
3) Lightly pad to blend the colors and create an ombré effect
4) Line edges with the darker shade
Smashbox Be Legendary Triple Tone Lipstick Red Ombré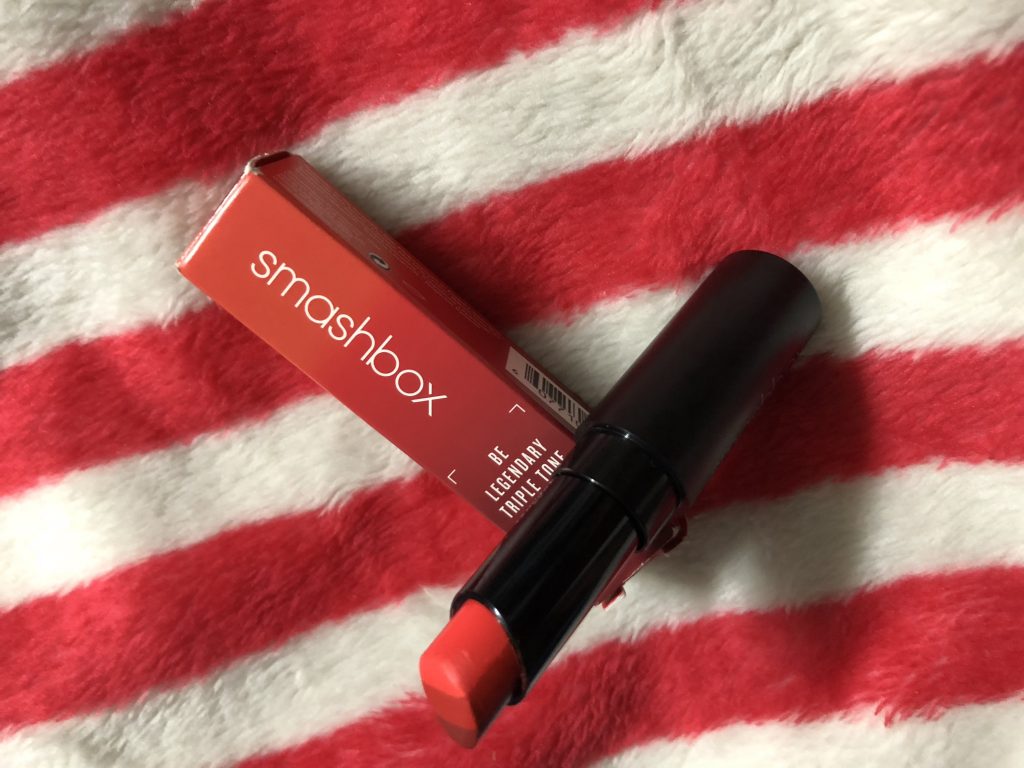 Trio Tone of Smashbox Lipstick
Woilllaaa, Rock like a boss with the ombré lips. I have followed these steps and you can see an amazing result in the picture. It has semi-matte finish on lips. It stays up to 4-5 hours without consuming food or drink. I was just blown away by this ombré look. When I wore this trio tone lipstick in the party, My friends were like, how much time you took to create the ombré lips? And my answer was ' Less than 5 minutes'. They were stunned and showered a bunch of compliments.
Smashbox Be Legendary Triple Tone Lipstick Red Ombré Swatch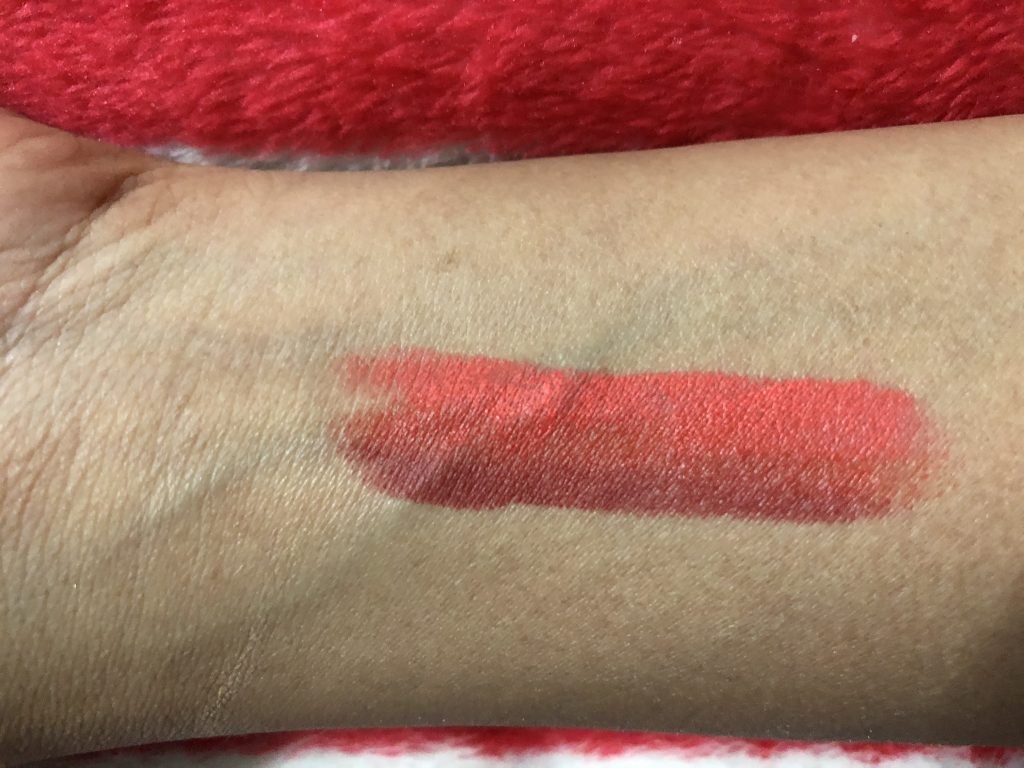 ( Insider Tip: If you have dry lips like me, then first apply lip primer or any moisturizing balm beneath the lipstick so that you don't get dry patches on the lips.)
Pros of Smash box Be Legendary Triple Tone Lipstick – Red Ombré:
– Pigment rich shade
– Demi-matte finish
– Instant Ombré Lips
– Pouty Poppy Lips
– velvety soft and cushiony formula
– three lipsticks for the price of one
Cons of Smash box Be Legendary Triple Tone Lipstick – Red Ombré:
– A bit difficult to apply on smaller lips (for beginners :P)
– Not transfer proof
– Need to exfoliate lips before applying the lipstick for better finishing
– Expected bit more long lasting
– May costlier if you are on a budget
Red ombre swatch of Smashbox lipstick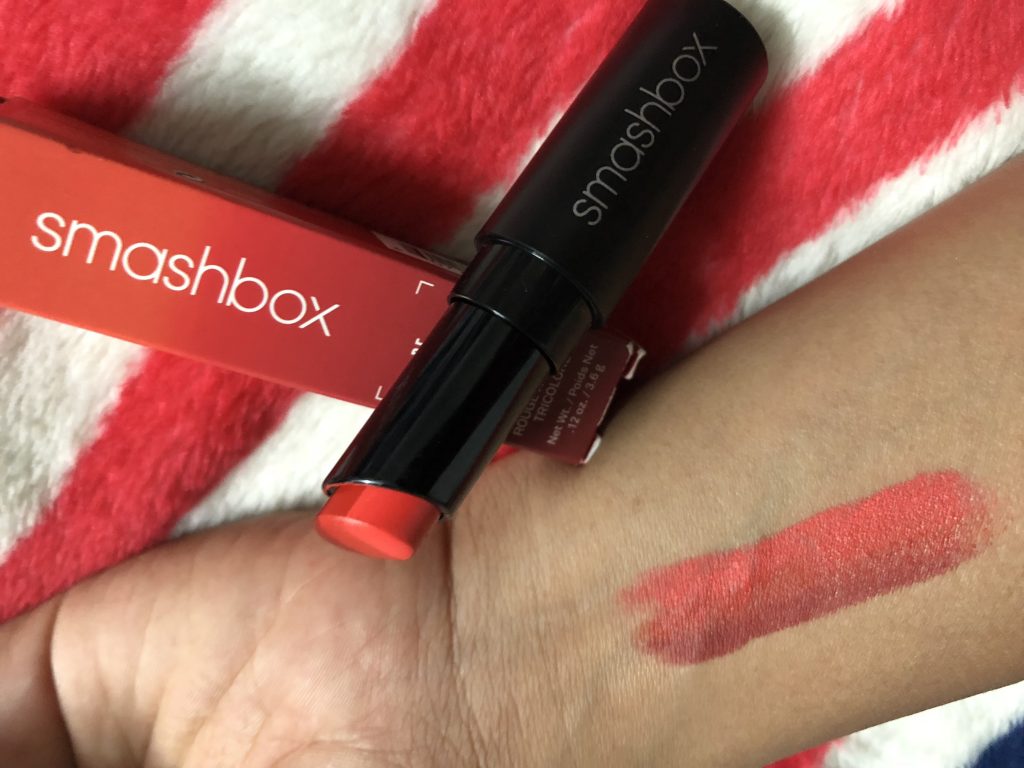 If you want to try an ombré lip, I will surely recommend the Smashbox Be Legendary Triple Tone Red Ombré. It is a win-win situation, as we get 3 shades in one lipstick. For ombré lovers, it's truly a blessing. whenever you find it in any offer, make it yours.
Frequently Asked Questions Related to Lipstick :
1. What is ombre lipstick?

Ombre lipstick means two, three or more shades are applied on the lips. Ombre lips are very trending these days.
2. How do you apply lipstick perfectly?

Apply lip balm to make your lips smooth.
Apply a lip liner contouring your lips and fill your lips lightly with it.
Now apply lipstick properly on the upper and lower lips by starting at the center and pulling towards one corner and same on the other side.
Blot your lips to remove excess lipstick.
3. How lipsticks are made?

Wax, alcohol, oil, and pigment are the main ingredients in the lipstick making procedure.
4. What does a lip primer do?

Lip primer makes your lips smoother and the lipstick will last long after the use of a primer.
5. Which are the other variants in Smashbox lipsticks?
There are four shades available in Smashbox ombre lipsticks'.
Red Ombre
Nude Ombre
Berry Ombre
Sunset Ombre
Voobeauty Rating: 4.5/5
Will I repurchase the Smashbox lipstick?
Yes, If this will finish it someday, I will buy the sunset ombré shade of this lipstick.