We are supported by readers. When you purchase through links on our site, we may earn an affiliate commission.
Bonjour, Ladies!
The new year is blooming and we are all set to accomplish our new year resolutions. one of our resolutions would be looking beautiful with fewer efforts. Today I am reviewing the Nuxe Creme Prodigieuse DD Creme Medium.
Nuxe Creme Prodigieuse DD Creme
Product Description:
Price: 125 AED(2169 inr)
Content: 30 ml(1 OZ)
Directions for use:
Apply Nuxe Creme in the morning with or without moisturizer on your face.
Nuxe is an organic brand from Paris which makes cosmetics from pure ingredients. Nuxe Creme Prodigieuse DD Creme is one of the tinted moisturizers available in 3 different shades, Light, medium, and dark. The founder says It is SPF 30 Creme with boosting radiance. DD Creme says it's daily defense cream, so you can use it on a daily basis with or without moisturizer.
Nuxe Creme Prodigieuse DD Creme -Medium
My experience with NUXE DD cream says,
DD cream is something different from CC and BB cream. It has a thicker texture than BB cream. I visited the Dubai Mall in November on my Dubai trip. After seeing Sephora, I can not stop myself from trying new cosmetics. I was not aimed to purchase some specific products. But the lady at the counter of Nuxe Paris about 50+ in the age made me by this superorganic and multi protector DD Cream with some exciting offers. I got two products of Nuxe Paris as complimentary with the Nuxe Creme Prodigieuse DD Creme.
-Nuxe Micellar Cleansing Water With Rose Petals (Price: 1200, Content: 200ml)
-Nuxe White Brightening Purifying Foam (10 g Sample tube)
You know what complimentary products are the most beautiful ones.
Nuxe Creme Prodigieuse DD Creme Medium Swatch Test
This was a superb deal that I got from Sephora. I will review both products after reviewing the dd creme. I had purchased a medium shade of Nuxe DD Creme. This DD Creme is made from natural ingredients like the Everlasting flower, shea butter, and white tea leaves. The packaging of Nuxe DD Creme is so ravishing, it is a powder blue tube. I have used this creme on a regular basis after applying a little moisturizer. It has light and creamy texture, It gives dewy look to my face. Nuxe Paris claims it to be a 'tinted moisturizer' but I would rather prefer to entitle it as 'Light foundation'. Even you would not feel any dryness on the skin without using moisturizer.
The medium shade of Nuxe DD Creme will look as shown in the image. The shade will look a bit darker in swatch when we dispense the product from the tube. but It blends magically in my skin and leaves it hydrated, plumpy and glowing. Hurray, mattifying effect with little bit glow is clearly visible. Additionally, Its SPF 30 so it protects from UVA and UVB rays too. Nuxe Paris has designed this DD Creme that suits all skin types.
Pros of Nuxe Paris DD Creme:
– Multi protector
– SPF 30 UVA UVB protection
– Anti-Oxidant
– Anti-pollutant
– 8 h hydration
– Paraben-free
– Suitable for all skin types
– Non-Comedogenic
Cons of Nuxe Paris DD Creme:
– bit costlier
– some people might find it heavy
Nuxe Micellar Cleansing Water With Rose Petals (Price: 1200, Content: 200ml):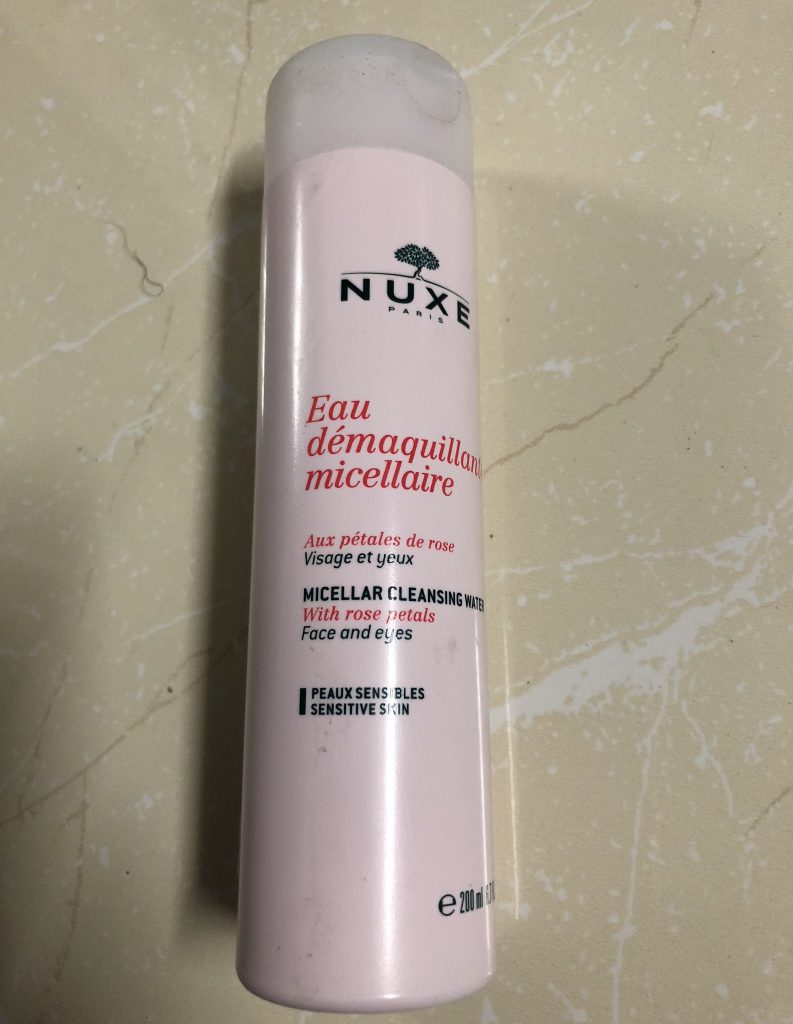 I have received this product complimentary with Nuxe Prodigieuse DD Creme. It is cleansing water which can be used as a mild makeup remover and as rosewater too for freshness. This cleansing water has a subtle fragrance of rose and a bit creamier texture. It is nourishing and hydrating water which can be used for sleep time and It leaves your skin soft and supple.
Nuxe White Brightening Purifying Foam (10 g Sample tube) :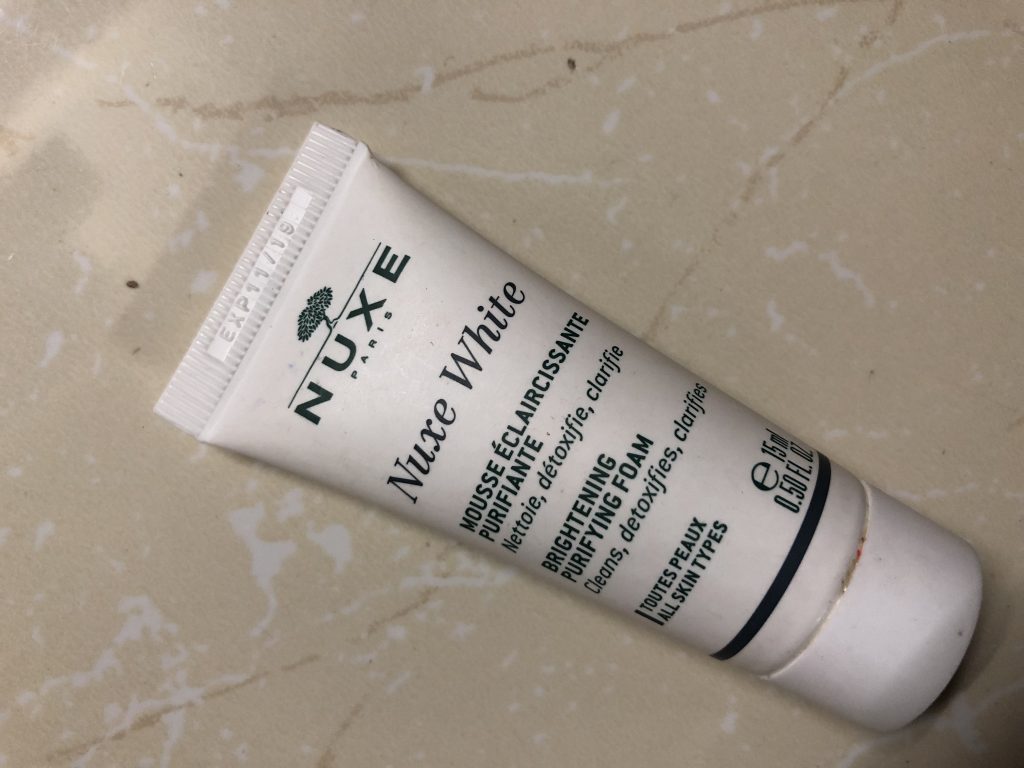 Purifying form by Nuxe is another product that I received free. It has a classy white tube packed with stargazer lily, white crocus, vitamin C and cherry blossom, which are so good for the skin. This product brightens the face with a flowery scent. It has a white jelly-like texture as shown in the picture. I have been using this product for 10 days, I felt little dryness on my skin after using it in heavy winters. I am using this foam after removing the makeup and in the early morning and then apply the moisturizer. It brightens my face and day too. 🙂
So all and all, Nuxe Creme is clearly a winner for me with these eye-catching offers.
Frequently Asked Questions Related to DD Creme:
1. What is DD cream?
DD cream stands for Daily defense. DD cream has the kinda same texture as bb creams but they provide more SPF protection.
2. How to use DD cream?
You need to apply dd cream just like any bb cream or cc creams, just take a tiny amount of product and apply it on your face.
3. Can I use DD cream alone or with primer?
You can use it, either way, if you want a no-makeup look, you can apply DD cream alone on your face. and if you are doing full face makeup or party makeup, you can go with primer first and then apply DD cream, it just works like a foundation.
4. Does DD cream provide moisturization to your skin?
Yes, It is just a tinted moisturizer but it gives you a nice coverage, even you can skip foundation sometimes.
VooBeauty Rating: 5/5
Would you recommend/repurchase Nuxe DD creme?
A big yes for all the gorgeous ladies out there, who want to have no-makeup look with some mattifying skin effect, this is the perfect product for you. Try your luck at Nuxe Paris and grab the deal to have the dreamy look every day! you can buy rose petal lotion here.
Thank you.