We are supported by readers. When you purchase through links on our site, we may earn an affiliate commission.
Ya-sas Ladies, I hope you all have been doing good. The Greek touch today is dedicated to the review for the day. I'll be reviewing one of Greece's famous organic brand "Korres" products. Korres Mint Tea Body Milk! I bought a couple of months ago on my trip to Europe. My research on this brand and their products led me to go on splurge mode. I, in fact, have bought their products as a souvenir for my girlfriends out here in India. Since most of them share an interest in skincare, I couldn't have thought of anything better than this. In the coming weeks, you guys will be reading up a lot of Greek skincare products. Keep reading to know if it lived up to my expectations…….!
Product Description :
Price: 7.50 Euros ( Approximately 614INR)
Content- 200ml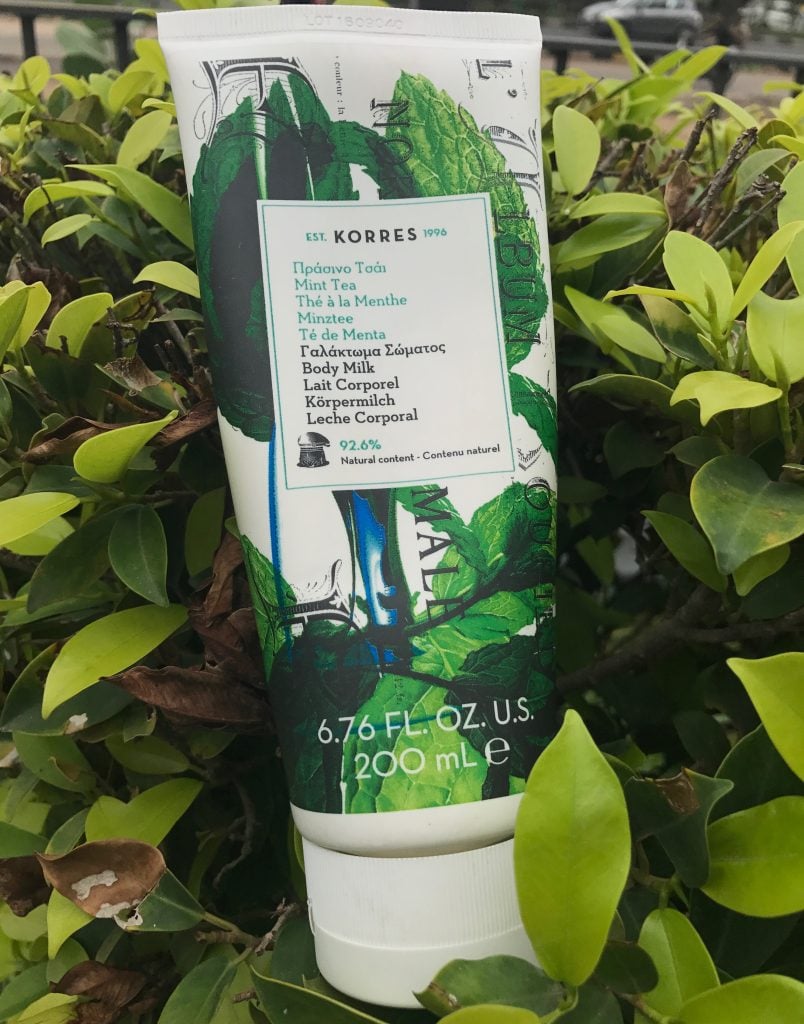 Ingredients:( Refer attached picture)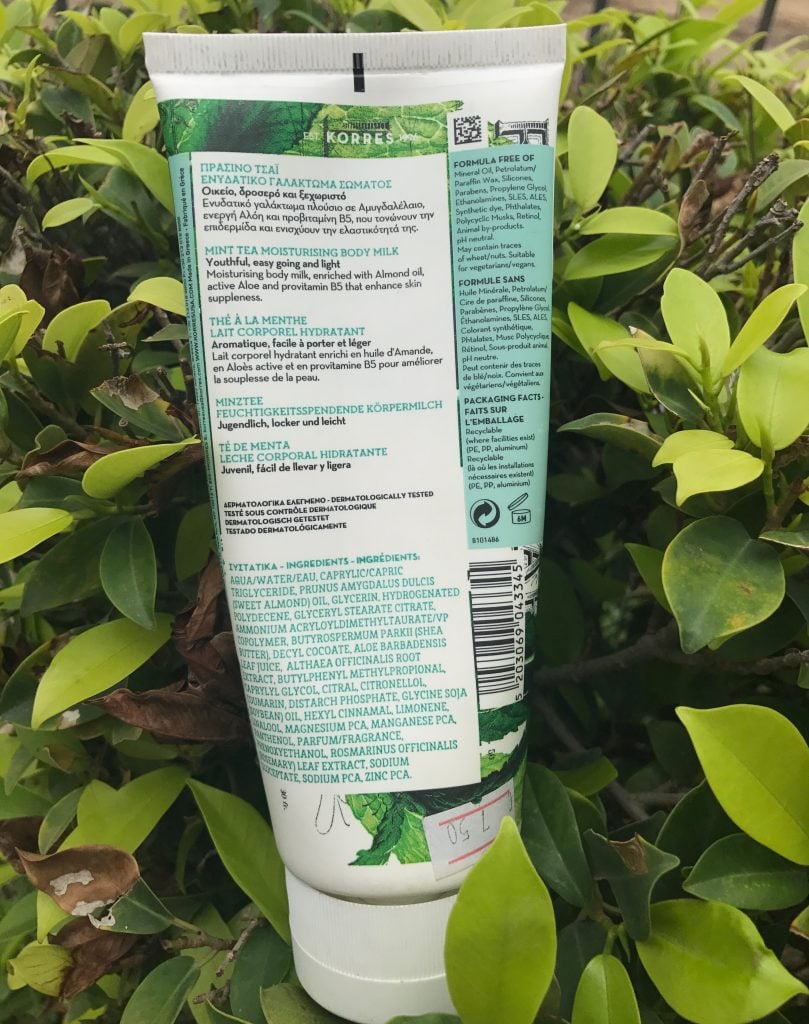 What Korres Mint Tea Body Milk claims:
– Moisturizing Body Milk
– Enriched with Almond Oil
– Active Aloe and provitamins B5
– Enhances skin suppleness
– Preservative-free
– Organically pure
How to use it?
Use it on moist skin after your daily shower. Spread evenly as required.
The Packaging of Korres Tea Body Milk says,
Korres products are famous internationally for their organic standards. I had done my research before my visit to Greece. Being pretty sure about what all I plan to purchase I was looking forward to this purchase. I bought this from one of their pharmacies in Athens. Since I needed to give it as souvenirs in my girl gang, I had filled 1/4th of my bag with it. In case you are new to Voobeauty's site, for your information, I and my skin are a sucker for moisturizers. I have tried and tested all possible lotions or moisturizers available. I still can't get enough of them.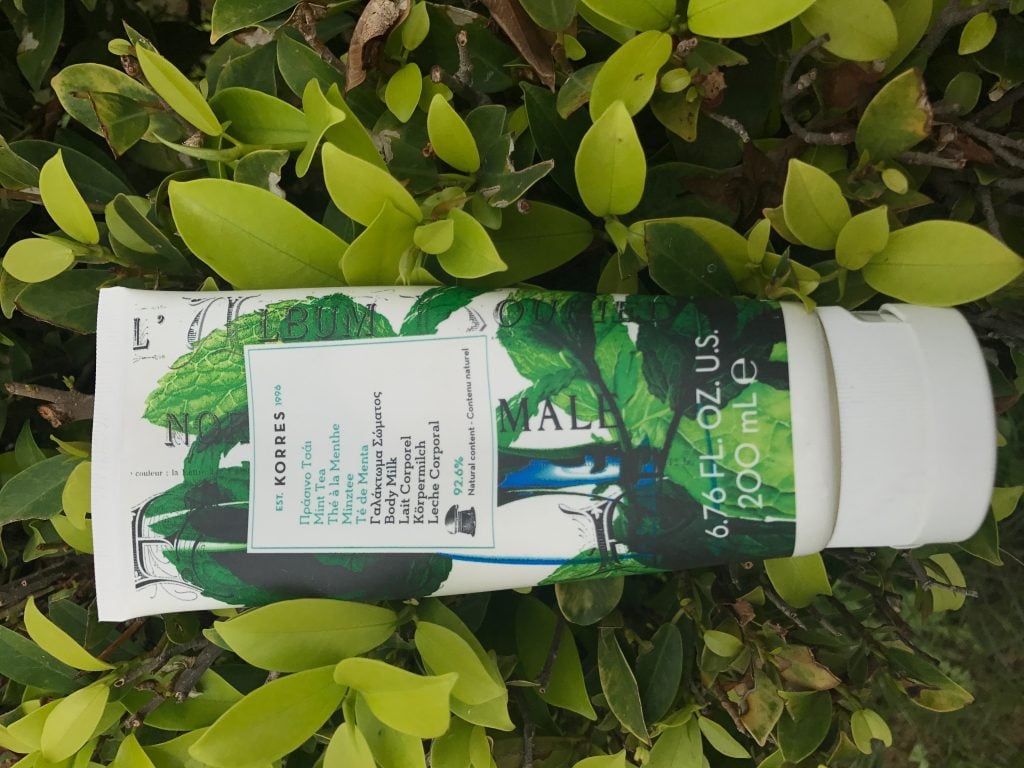 Let's start with the packaging for Korres Mint Tea Body Milk. The tube is designed with a practical approach. The color combination suits the ingredient list perfectly. The feel of this tube in, unlike a conventional moisturizing tube. It feels a lot more premium and of great quality. Also, the product details are mentioned in Greek as well as English ( Maybe a few more languages which I am unable to decode). Talking about the texture, though it reads as Body Milk. It's more like a body cream-white in texture (Refer attached swatch picture). The consistency of the body cream was just right for me. I am still not sure if it will feel the same for all. True to its ingredients list, the subtle and light fragrance justifies it. I use it right after my daily shower to lock in the moisture.
My experience with Korres Mint Tea Body Milk says,
Since I have been using it in late summer and monsoon, it seems to be working great for me. For dry weather conditions, this may not be too long-lasting. In my case, I will have to replace it with a heavier lotion for the coming winters. This has gradually improved the texture of the skin on my body. A subtle change is clearly visible and I believe if I continue using it, this can make a difference. Overall ladies, this one's a must-try if you can manage to get it shipped to your country. There are a few websites who ship it worldwide including Korres.
Pros of Korres Tea Body Milk :
– Organic and safe
– Moisturises without leaving an oily residue
– Soothing fragrance
– Skin gets supple on regular usage
Cons of Korres Tea Body Milk:
– Isn't moisturizing enough for winters
– Availability
– Expensive
VooBeauy Rating: 3.5/5
Will you repurchase/ recommend?
I would love to continue using this one for summers🌞 and monsoons..🙃.! For dry skinned Beauties like me, a heavier lotion is a must for winters.