We are supported by readers. When you purchase through links on our site, we may earn an affiliate commission.
Hi Ladies! The warrior in all of us braves our way to face the challenges of the day, odd working hours, commitments, stress and a lot of responsibilities. It could get a lot easier with a little bit of me-time that should be fitted into our busy schedules. Being the ayurvedic/organic lover that I am, oil massages are always a me-time in my schedule which I rarely indulge in, but whenever I do it feels heavenly. This time I had the various area of concern and what best than going back to Kama Ayurveda Organic Sweet Almond Oil.
Keep reading ladies…
Kama Ayurveda Organic Sweet Almond Oil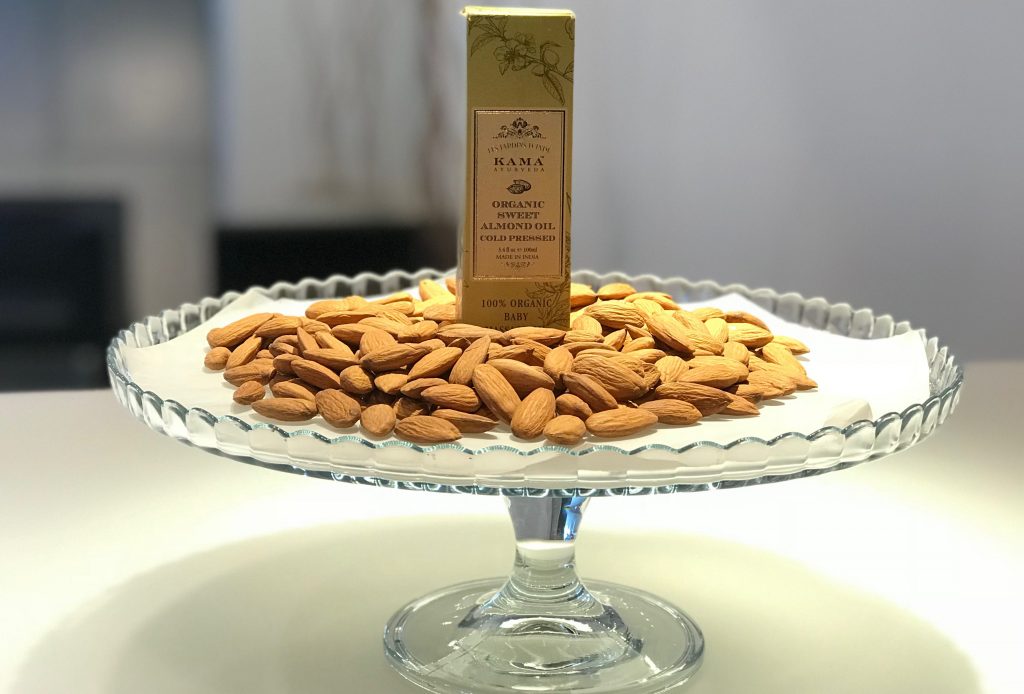 Product description:
A hundred percent pure head-to-toe treatment that is cold-pressed from organic. Almonds are grown in the Himalayas. Nutrient-rich with Vitamin A& E, it renews complexion and revives its natural glow. Kama Ayurveda Organic Almond Oil softens and nourishes the skin and also lightens dark circles. It reduces skin irritations & inflammations while using on the body. A head massage with this oil nourishes & soothes hair cuticles, helps control hair fall & adds luster to the hair.
Kama Ayurveda Organic Sweet Almond Oil Ingredients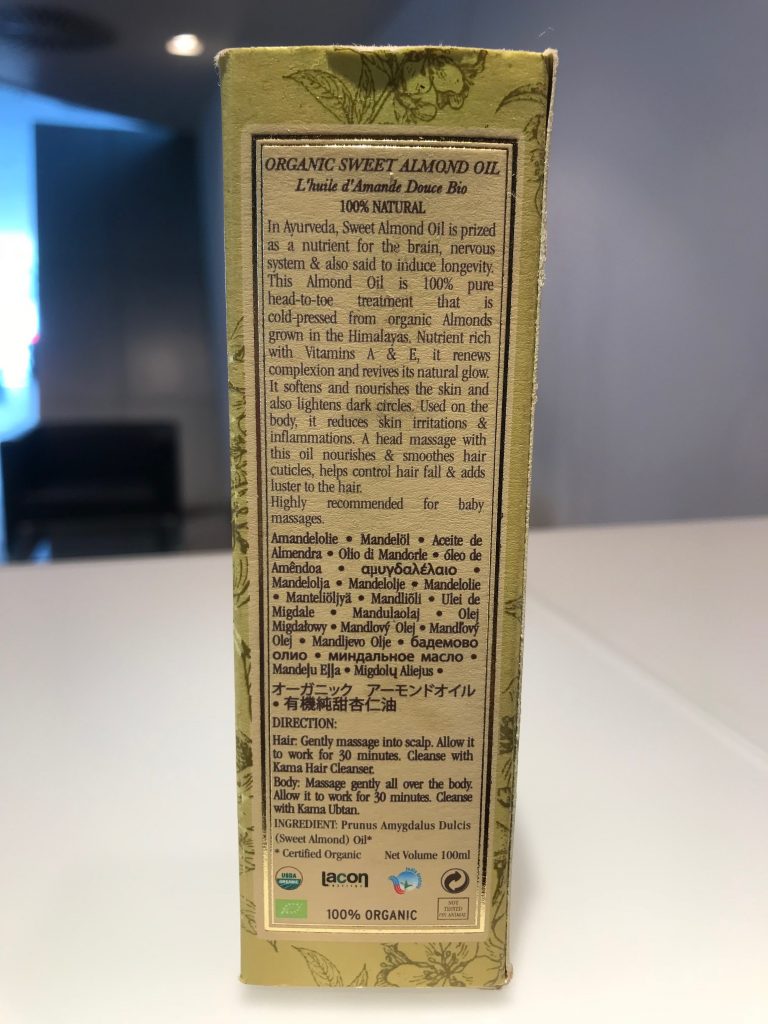 Highly recommended for baby massages.
Price: Rs.695 /-
Content: 100ml
My Experience with Kama Ayurveda Almond Oil Says,
I have always believed in the power of natural remedies or usage of organic /ayurvedic products against the chemical-laden products available in the market. This brand was introduced by one of my dearest friends who again loves to indulge and experiment in the skincare department. I had multiple areas of concern on my skin which had to be tackled gently. Dry skin, dark circles, chapped lips were my target areas. With my friends, I did a bit of research and knew I had to get my hands on a good almond oil (minus the cheap preservatives) to repair the damage. This was based on my past experience & knowledge of what magic soaked almonds did in saving my hair (Severe hair fall) after a serious bout of malaria in the year 2015. Like they say "Experience is your best teacher" 😇
Kama Ayurveda Organic Almond Oil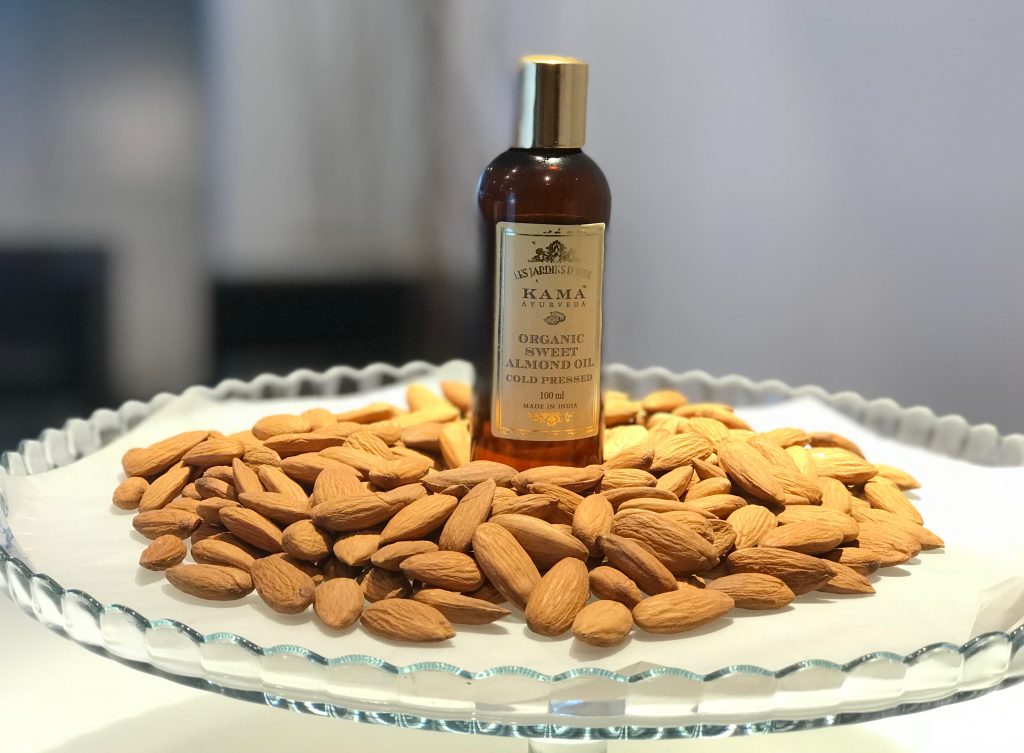 I got my bottle online through Nykaa and was clearly impressed by the luxurious design of the packaging. The design is quite simple and classic with a semi-clear plastic bottle(you obviously cannot think of glass bottle with those slippery hands during usage😜), however, yes there is a wee bit of ignorable spillage if you do not have an OCD. It's a clear light yellowish oil with minimum viscosity to give it a very feathery light feel on application.
The smell of almond oil is bittersweet which isn't a turn off for me. However, I have my friends who are bearing with it only for the sake of indulging in the goodness and also because I have been pestering them with results of regular usage. I have been using it for 4 months now, especially the last 2017 winters. It has done wonders to the dryness on my face, chapped lips, dark circles. I have to confess I wasn't very regular after 2 months but I can instantly see a difference after regular application. My ever thirsty skin on face developed a supple goldish glow, made the area around my eyes brighter and made my lips a lot more moisturized.
Kama Ayurveda Almond Oil Swatch Test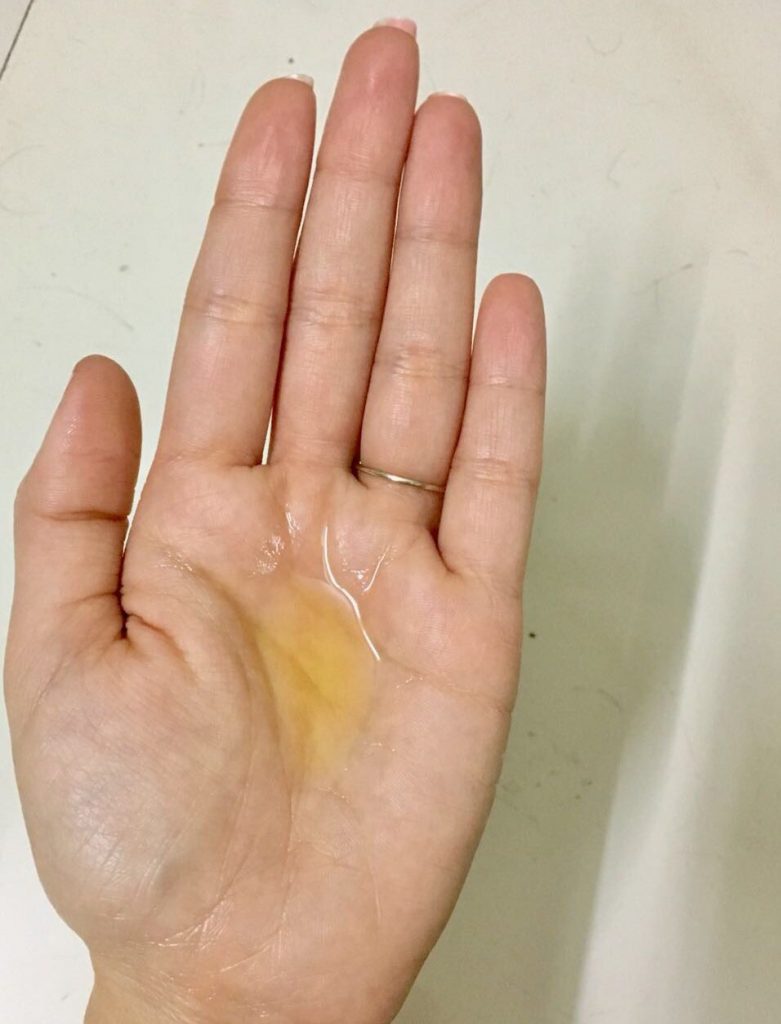 I have been using it multiple ways,
A) As a night facial oil
B) As an under eye cream for my dark circles
C) As a highlighter during winters
D) On my lips for nighttime routine, also at times prior to my lipstick application
E) Grandma's remedy of applying it to my belly button☺
F) For a dewy look, I mix it with my moisturizer
Ladies you can use Kama Ayurveda Almond Oil as a body massage oil or a hair oil as well, for me, I stick to my very old coconut oil because of my south Indian genes.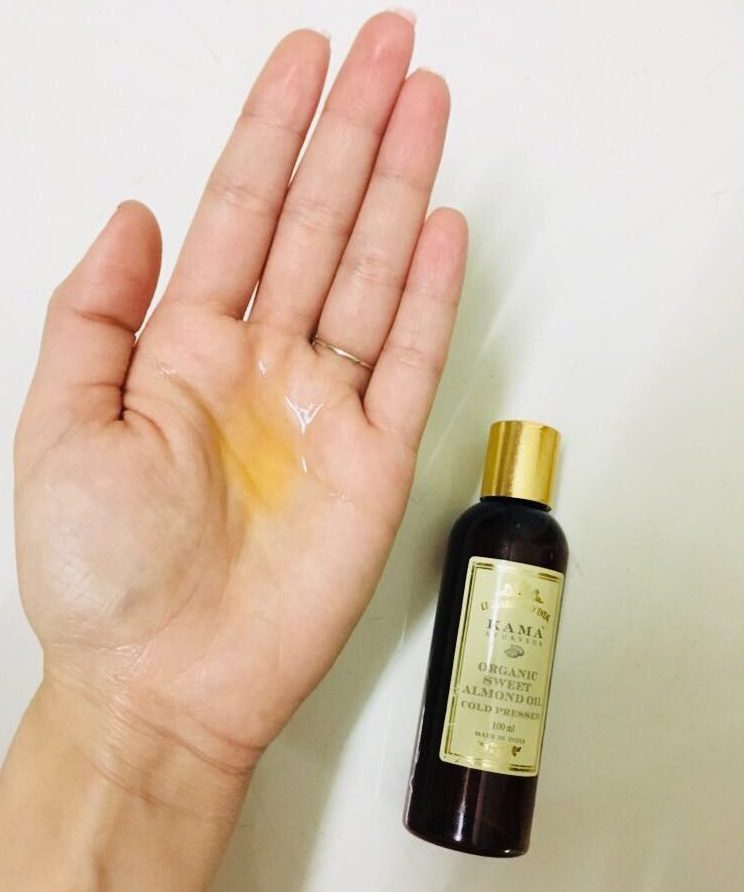 Pros of Kama Ayurveda Organic Sweet Almond Oil :
– Quality packaging
– No preservatives
– Reduces dark circles
– Moisturizing properties
– Lightweight, mild & non-sticky
– Prevents formation of fine lines
– Beneficial for dry/ combination and oily skin
– True to its claims
Cons of Kama Ayurveda Organic Sweet Almond Oil :
– Bottle packaging has a little spillage
– The smell could be a turn off for some
– Pricey
– Availability (Nykaa or selected Kama Ayurveda stores)
Frequently Asked Questions Related to Almond Oil :
1. Can we apply almond oil on the face overnight?
firstly clean your face and then apply the moisturizer or you can skip it. you can directly apply the almond oil on your face and massage in the circular motion for 2 minutes and let it soak down on your face the whole night. You will notice an amazing result using almond oil regularly.
2. Does almond oil reduce pigmentation?

It definitely reduces pigmentation and removes blemishes too.
3. What is almond oil good for?

Almond oil is good for skin, hair, under-eye dark circles and even you can use it on your belly button daily for good health.
4. Can you drink almond oil?

Ideally, Almond oil is not that popular for consuming. however, if you consume almond oil, it gives you many nutritional benefits.
5. Is almond oil safe around eyes?

Almond oil is good in vitamin E. It can be applied under your eyes and over the lids too, It will reduce the under eye dark circles by the time.
Voobeauty's rating: 4.5/5
Will I recommend /repurchase it?
It's a big YES, I have already recommended Kama Ayurveda Organic Sweet Almond Oil to 3 of my friends and they are loving it. It's worth every penny in spite of being pricey.