We are supported by readers. When you purchase through links on our site, we may earn an affiliate commission.
Wats up ladies, The temperatures are soaring high this summer…!!! We still can't get away with our favorite shade of lip colors/eye colors or even the no-makeup makeup. I can completely relate to this obsession as we ladies are always spoilt for choice. It's equally important for our skin to breathe by going squeaky clean. Garnier Skin Naturals Micellar Oil-Infused Cleansing Water is Gainer's venture in this category of cleansing water. There are two versions of Garnier micellar water. The pink bottle of Garnier Skin Naturals Micellar Cleansing Water that isn't infused with oil is a little less pricey than this bottle which is reviewed by my friend on our voobeauty's page. Let's see if this oil-infused cleansing micellar water helped my cleansing routine..!!!
Product Description :
Price: Rs 225/- ( Check Nykaa for deals)
Content: 125 ml
Garnier Skin Naturals Micellar Oil-Infused Cleansing Water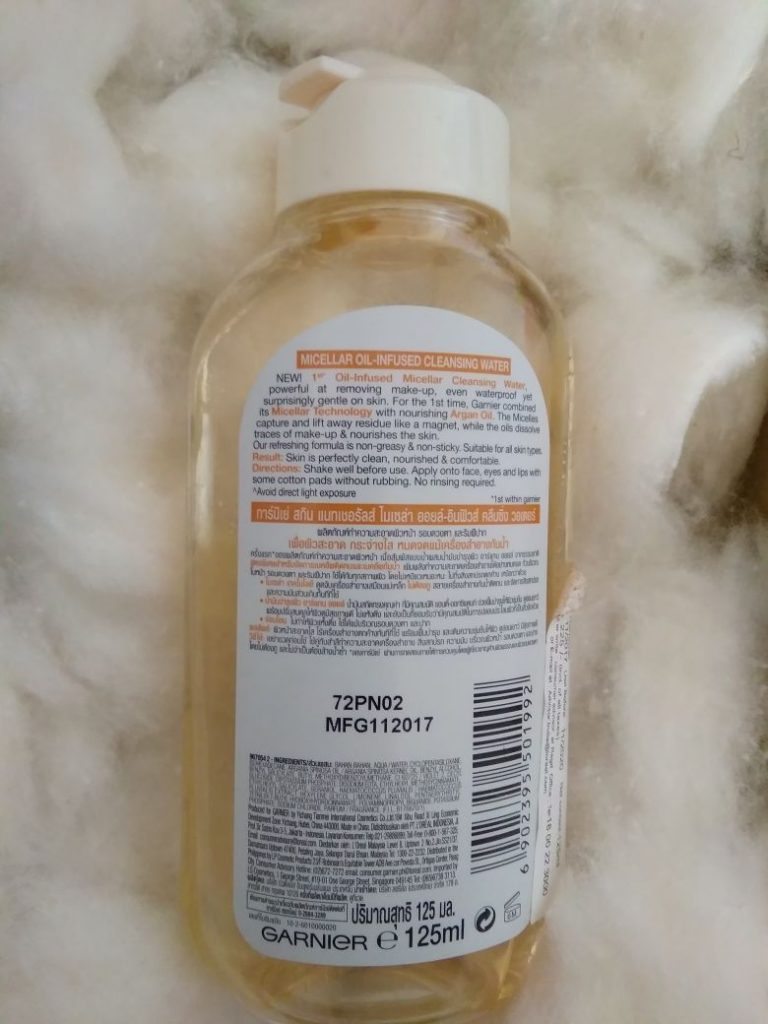 Ingredients:
Aqua/Water, Cyclopentasiloxane, Isohexadecane, Potassium Phosphate, Sodium Chloride, Hexylene Glycol, Dipotassium Phosphate, Disodium Edta, Decyl Glucoside, Polyaminopropyl Biguanide
What Garnier Skin Naturals Micellar Oil-Infused Cleansing Water claims:
The 1st oil infused Micellar Cleansing Water, powerful at removing makeup, even waterproof yet surprisingly gentle on skin. For the 1st time, Garnier combined its Micellar Technology with nourishing Argan Oil. The Micelles capture and lift away residue like a magnet, while the oils dissolve traces of makeup and nourish the skin. Result: Skin is perfectly clean, nourished and comfortable.
– All-in-1 Cleanser & Makeup Remover
– Cleanses + removes makeup + refreshes skin
– No rinse, no harsh rubbing
How to use it?
Grab a cotton pad or ball, soak it in this light golden water. Swipe away dirt, residue or heavy makeup.
The Packaging of Garnier Skin Naturals Micellar Oil-Infused Cleansing Water :
I have always believed in the use of minimal makeup. Allowing your skin to breathe is very important. Even if I have to use some, I need to get rid of it as soon as I am back. I have been seeing a lot of pop-up marketing advertisements for this one. My dearest friend recommended this bottle. As My Faces makeup remover was on the verge of completion, I thought of giving this one a try. At the store, I discovered there are two versions of Garnier micellar water. My moisture hungry skin pulls me towards anything with the benefit of oil. Argan Oil infusion came as a big bonus for this product. We all know ladies about how rare, beneficial and expensive Argan Oil is!!!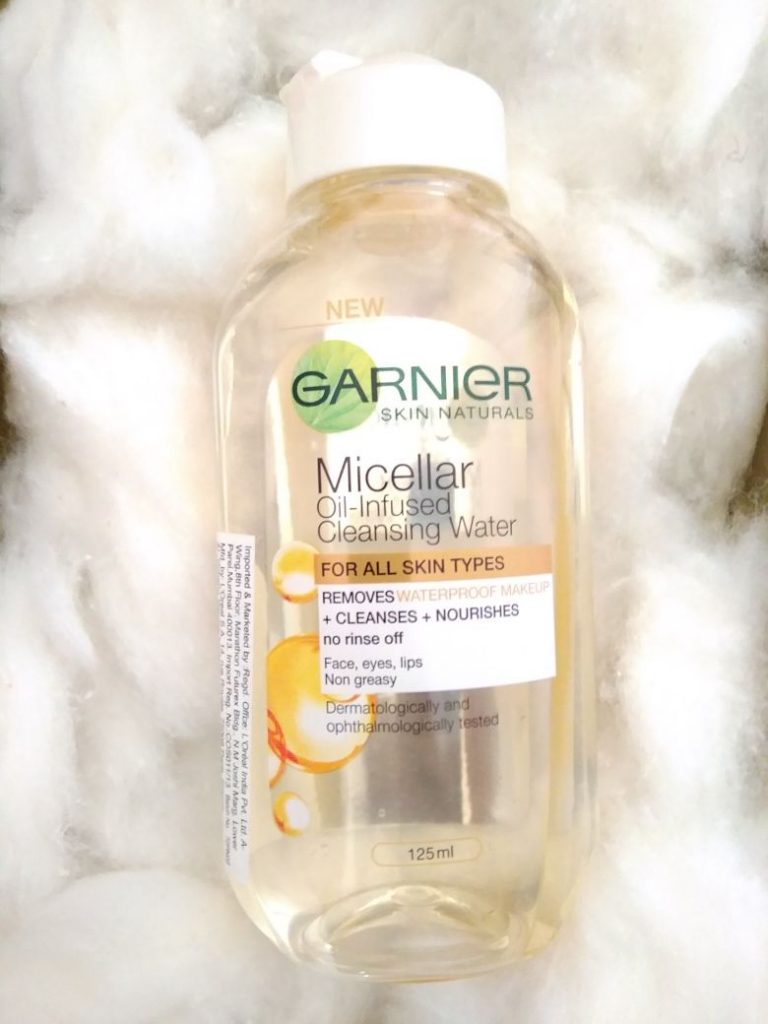 My experience with Garnier Skin Naturals Micellar Oil-Infused Cleansing Water says,
This oil-infused version works for medium to dry skinned Beauties. The light golden water in a smart transparent bottle demonstrates smart packaging. The cap that dispenses the product leads to a little spillage if not used carefully. The texture is more like plain water on the face. I use it to remove makeup and cleanse as well. I dab it on a cotton ball and place it accordingly. For the oil to work its magic of attracting the heavy makeup or residue, leave it for 2 minutes. It comes off quickly, mostly in 2-3 swipes. I am glad that I discovered this product in the best season. Summers are when you want to stay away from creamier removers. This one is gonna be my companion for a longer duration!!
Pros of Garnier Skin Naturals Micellar Oil-Infused Cleansing Water:
– Removes waterproof makeup
– Dermatologically tested
– Ophthalmologically tested
– Non-greasy
– Non-sticky
– Benefits of Argan Oil
– Gentle on the skin
– Suitable for all skin types
Cons of Garnier Skin Naturals Micellar Oil-Infused Cleansing Water:
– Expensive
– Availability ( The oil-infused usually gets out of stock )
– Requires multiple swipes
Frequently Asked Questions Related to Micellar Water :
1. What is in micellar water?
Micellar water is used to remove makeup. It is made of tiny balls (micelles) suspended in soft water.
2. How do you use micellar water?

you need to dispense micellar water on a cleansing pad and then wipe it on your face and your all makeup will be removed.
3. Should you use a toner after micellar water?

You can use the micellar water itself as a toner for your face.
4. Do you need to wash off micellar water?

The micellar water can be used on the face and you do not need to wash your face. because micellar water is a kind of toner so it has properties of toning and moisturizing the skin.
VooBeauy Rating: 4/5
Will you repurchase/ recommend?
Definitely, I am hunting for a bigger bottle of ladies. This should be a summer must-have👍👍👍