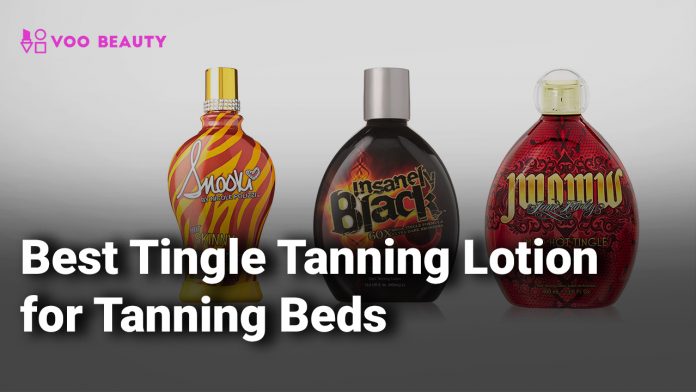 We are supported by readers. When you purchase through links on our site, we may earn an affiliate commission.
One may be attempting tanning with a slightly sun-kissed look in mind, while somebody else may want the deepest achievable tan. The process is a bit slow and frustrating for most people, especially when done without any helping aid. Worse, it can even harm your skin because of the UV rays to which skin gets exposed in the process of tanning.
If you are also trying something similar, it's time to find ways to accelerate it a bit. A slightly better professional approach will help you realize the dream of your tanned face and body reflected at you by the mirror. Several products are available to assist you in getting it in a better and speedier way.
The best tingle tanning lotion for tanning beds have been around for quite some time with very promising results. Upon their application, a slightly more intense tingling sensation results from the traditional tanning lotions. They are, sometimes, not recommended for those who are new to tanning because of this simple reason. Seasoned tanners, however, use tingle tanning lotions not just for getting the sheer kick out of that tingling sensation, but they vouch for their effectiveness as well.
Tingle tanning lotions should be kept away from children and pets as they may cause burning, redness, and irritation to sensitive skin.
Top 10 Best Tingle Tanning Lotions for Tanning Beds:
1. Jwoww Mad Hot Tingle Bronzer
The lotion is made by Jenny Farley (aka Jwoww) and smells red hot like cinnamon. 
It contains a yogurt base with black currant oil and pear for visibly smooth fresh-to-death skin. This lotion uses a super-hydrating formula to fight the dryness caused by tingle lotions, using Vitamin E and shea butter that keeps skin young and vibrant. It has natural bronzers like Tyrosine and melanin to help the darkest possible tan within a short time with no negative effects of synthetic ingredients. Despite the moisturizing properties, it is not greasy but it does not offer tattoo protection.
Having close to the hottest tingle, this lotion is not for beginners but experienced or tingle-familiar users. As it causes extreme tingle, burning, and redness, people with sensitive skin should avoid and should be stored away from children. Its tingling sensation lasts for around two hours before fading and letting new deep tan shine through.
2. Ultimate Inferno World's Strongest Tingle Lotion
It comes in a hot passion fragrance that contains Extreme Critical Intensity™ ultra-tingle and is meant for experienced professional tanners only. The lotion's blend of Unipertan, tyrosine, copper, and carrot seed oil work together to increase blood flow and tanning cell activity. This supplies the skin with the raw materials necessary to produce vibrant, dark pigment to get skin primed and ready to tan. The intense tingling experience results from the fully oxygenated skin. Its collagen protein base helps skin retain its tone and firmness during the tanning process. Caffeine, caviar extract, and oyster extract further enhance the effects of this protein. French virgin hemp seed oil and antioxidants like coenzyme Q10 in the formula help nourish and protect the skin tissue.
3. Supre Cherry Bomb Red Hot Dark Accelerator Tanning Lotion
This no bronzer accelerator lotion with a moderate tingling experience has a delicious cherry scent. While it doesn't possess extreme intensity, it's little above average tingling sensation makes it an excellent option for beginners as well as those that find their skin looking orange upon bronzers' usage. 
It contains a unique Color Burst Complex to amplify the natural melanin production for gently darker skin. It offers moisturizing and antioxidant properties that make skin firmer with anti-aging benefits. It's cherry extracts as well as Vitamins A, C, and E help the skin become glowing and smooth. 
It gives skin a glowing light or base tan while not making one feel like one is burning off one's skin. As it doesn't help one reach maximum darkness, once a person wants to go darker, one can easily switch to a maximizer.
4. Tanovations Ed Hardy Body Shots Double Shot
With a sparkling orange-citrus scent, this lotion acts as a tan enhancer, bronzer, and tingle all in one. As it causes extreme tingle and burning sensation, it is intended for advanced tanners only. High amounts of DHA, natural and cosmetic bronzers present in it help stimulate melanin production for a beautiful and seriously dark tan.
The special formulation of Quad Tyrosine Blend with MelanoBronze™ stimulates melanin formation for a quicker tanning process. Melactiva™ acts as a melanin booster to give a darker skin with lasting results. Advanced Matrixyl Synthe 6™ technology fights the wrinkles' formation for a toned and tightened skin appearance. Body Fit™ is another amazing technology that reduces the appearance of cellulite and promotes skin firmness.
It is a great tingle lotion for tattoo lovers as it helps preserve this work of art with Tattoo & Color Fade Protector to prolong the life of ink used for a non-faded, fresh and radiant look.
5. Supre Snooki Skinny Sizzling Maximizer (Hot & Super-Dark)
Mainly, it is a tingle tanning lotion with a Fresh Fusion aroma with active ingredients such as water, glycerin, and seed oil. It does not, however, feature bronzing agents and delivers a pretty powerful tingle, making it suitable for those who have used tingle lotions before.  An immediate rush of heat throughout the skin surface is experienced upon applying this lotion. 
For those who love their tattoos its advanced and proprietary Tattoo, Color-Shield Technology combines algae, aloe vera, and essential minerals, which are extremely effective at protecting the skin's vibrant tone. Besides, this lotion is specially designed to reduce cellulite appearance, hence tightening and toning the skin.
It has entirely gluten- and nut-free formulation for the benefit of users allergic to these factors. An innovation called fit and firm complex contained in it has anti-aging benefits to make the skin moisturized, soft, smooth, tighter and touchable.
6. Glamour Goddess 300X Tanning Lotion (Sizzle Complex)
With a tropical Camu Camu fruit scent and a strong tingle that is not painful, it delivers great results while being mild enough to avoid a burning sensation. As it has no bronzing agents, the resulting tan is natural. 
The formula contains antioxidant grape seed oil and Camu Camu fruit, and other natural ingredients with Sizzle Complex technology to help achieve a deep, darker color without having to use DHA.
It has one of the best anti-aging tingle formulations with ingredients like Hibiscus Flower, which is quite rich in the Vitamin C, and organic acids to help skin cells regeneration for an improved tone and overall youthful appearance.
This tanning lotion is pretty affordable and well worth its price.
7. Millennium Insanely Black 60X Hot Tingle Tanning Bed Lotion w/ Bronzer
This lotion by Millenium Tanning has a blackberry citrus fragrance. The users get an ultra-dark bronze tanning through its super luxurious silicone emulsion blend.
This 60X mega tingle formula increases microcirculation to skin cells to produce deeper and darker tanning. This is a seriously extreme, hardcore tingle lotion with ultra-dark bronzers that requires experienced users to enjoy it.
No sticky or greasy residue is left as it provides even coverage for a streak-free tan with supple, soft skin due to the glycerin and seed oil it contains. It uses Benzyl Nicotinate as the main ingredient to produce deep, dark tanning results. You will  
Its bronzing agents mask the skin to appear darker while the actual natural tan develops underneath.
8. Designer Skin Ruby Body Bronzer (Fresh Camu Camu Scent)
This tingle lotion has a fresh Camu Camu aroma and serves as both a cooling and tingle tanning lotion.
The formulation includes the spicy capsaicin fruit for the tingling sensation of the skin. However, the moment it tingles, a combination of licorice and emerald extracts (the incorporated cooling technology) helps refresh and soothe the skin. After its applying, the skin turns red for only 2-3 minutes instead of 1-2 hours and as redness fades away, it leaves a dark, yet cool bronze shaded skin.
It has 19X bronzing capacity with its MelanINK technology to help deliver an even darker tan. Its silicone emulsion helps hydrate skin for softness and coolness after each training session.
9. Brown Sugar Spicy Black Chocolate Tingle Bronzer
It is a great choice for experienced tanning lovers. Containing an advanced 200x black bronzers it helps provide a skin tone that lets the actual tanning process go unnoticed. 
To help achieve the darkest tan possible the formulation contains several promising ingredients for microcirculation stimulation for melanin production in the skin at a very fast pace very deeply. To add to the effect, it has double dark chocolate extract to supply those antioxidants that are critical for nourishing the skin to keep it firm, moisturized, fresh and wrinkle-free during the tanning process. The constant hydrating of skin is also helped by conditioning butter while making it softer at the same time.
10. Devoted Creations' Ignite Noir Hot Tingle Bronzer
It is a first of its kind tan enhancer, DHA bronzer, and tingle lotion with starfruit & Aloe fragrance to activate an intense skin inferno for the most experienced tan lovers.
Using a super-advanced oxygenated microcirculation it gives faster and darker results by intense tingling. It has very high levels of DHA with natural and cosmetic bronzers. TheSunXtend™ helps prevent color fading to prolong the effects of tanning.
Phytocelltec™ and Renovage™. PhyToCelltec™ helps the skin by combating signs of aging and preserving the youthful firmness of the skin. Renovage™ also helps by hydrating and keeping skin plump while potent collagen-producing peptides Kollaren™ repair the skin. 
Continuous hydration is provided by cashmere extracts leaving it silky and smooth for up to 24 hours. Intenslim™ helps skin stored fat breakdown while Body Fit™ reduces the cellulite to restore firmness. FreshTek™ helps keep the smell fresh and Tattoo & Color Fade Protection helps preserve tattoo appearance and sheen.
Highly Recommended: Best Tanning Lotion for Fair Skin
How to Choose the Best Tingle Tanning Lotion – Guide
A best tingle tanning lotion for tanning beds may contain Methyl Nicotinate or Benzyl Nicotinate or their combination that quite literally makes the skin tingle. Methyl Nicotinate increases blood circulation in the upper skin layers to bring more oxygen to melanocytes (the cells that produce melanin or the body factor controlling skin color). This increase in oxygen causes tingling and UV light exposure increases melanin production, rapidly darkening the skin.
Benzyl Nicotinate action is similar, but it opens up the capillaries, resulting in deep tan and a burning sensation. All tingle lotions contain moisturizing ingredients with anti-aging effects, but all are not created equal.
Listed below are the factors to help you make an informed choice for the best tingle tanning lotion for tanning beds:
1. The intensity of Tingle Tanning Lotions
The intensity of the tingling sensation differs with some tingling lotions designed for a mild tingle while others may offer extreme tingle. Beginners should go for the former ones while later types are for seasoned users.
2. Accelerator or Maximizer
Every tingle tanning lotion is either an accelerator or a maximizer. Accelerators are for beginners or those who don't want a deep tan while maximizers are for veterans who already possess a base tan and aim for deeper shades.
3. Bronzer
Bronzing agents in a tingle tanning lotion are meant for a fake tan for beginners whose actual tan isn't quite there yet.
4. Anti-Aging and Caffeine
Anti-aging agents in tingle tanning lotions contain lots of vitamins and minerals to offer good nourishment to the skin during the process of tanning. Caffeine helps reduce fine lines, wrinkles and even puffiness to help preserve skin's natural texture.
5. Tattoo Protection
UV rays' exposure through sunlight, tanning beds and booths may reduce the vibrant appearance of skin tattoos or even fade them. If you love your skin tattoos, then choose those tingle tanning lotions that offer additional protection to them.
Based on the above-mentioned guidelines, we present a review of some of the best tingle tanning lotions available in the market.
FAQs regarding best Tingle Tanning Lotion:
1. What is the best tingle tanning lotion for tanning beds?
As top 10 tingle tanning lotions have been reviewed above, some are best for beginners while others are for experienced tanners. Another factor is original skin color and desired final color and other textural skin attributes like dryness, tattoos, etc. One can choose the best as per one's target tan and skin condition.
2. Does tingle tanning lotion make you tan faster?
Yes, but one needs to understand how they work on outer layers of the skin. Upon application, the blood rushes to the skin increasing oxygen to activate melanin causing a warm, tingling sensation on the skin. One may get redness or blotchy looking spots on the skin surface but they fade away pretty soon. 
For difficult areas like the legs, underarms, etc these are very handy. Those having achieved their tanning plateau with accelerators and bronzers, particularly get quick and promising results.
3. Does a tingle tanning lotion work?
Yes, it does work due to certain proven ingredients like Methyl Nicotinate and/or Benzyl Nicotinate along with hydrating ingredients to help increase the skin oxygen supply for melanin production.
Methyl Nicotinate enhances skin oxygen supply to melanocytes by more microcirculation. Melanocytes are melanin (a dark/tan pigment) producing skin cells. Melanogenesis is a process triggered by UV rays making Melanocytes produce more melanin and make skin darker. This intense oxygen circulation, in turn, gives a tingling sensation.
Benzyl Nicotinate has a similar action and gets absorbed to open up skin capillaries to redden the skin with a burning sensation.
Moisturizing agents such as essential oils, black currant, and white tea extract help UV rays penetrate the skin and retain the tan.
4. What is the strongest tingle tanning lotion?
As the top ten tingle tanning lotions for tanning beds have been reviewed above, Ultimate Inferno is claimed to be the strongest tingle lotion. Its special ingredients result in critical intensity tingle and it is for experienced tanners only.
5. How do you get tingle tanning lotion off?
Simply washing it with mild skin moisturizing soap and cold water help ease the tingling sensation and baby wipes may also soothe it a bit. Stopping it altogether is not practicable as the open skin capillaries take their own sweet time to return to the original condition. Warm or hot water will, however, increase the tingle effect. 'Stop Action' products like aloe vera juice based gels or creams have been reported to alleviate the sensation. Use a tanning-friendly moisturizing lotion to assist the skin in cooling down.
6. What is the best indoor tingle tanning lotion?
All the tingle tanning lotions are essentially indoor tanning lotions. If used outdoors, they carry a considerable risk of chemical burns and related issues. All the tingle tanning lotions reviewed above are suitable or best as per the user and the use. Some are best for beginners while others are for experienced tanners. Another factor is original skin color and final color wanted and other textural skin attributes like dryness, tattoos, etc. One can use them indoors as per their goals combined with tanning beds and tanning booths.
Conclusion:
Tingle tanning lotions are essentially indoor lotions and require the users to have a base tan developed before starting their use.
One can enjoy the tingle tanning lotions to optimize time in the booth by accelerating tanning. As an experienced tanner one may love the hot invigorating sensation caused by the skin tingling or burning sensation. This sensation results from essential tingle tanning agents like Methyl Nicotinate and/or Benzyl Nicotinate. Their presence in these lotions helps increase blood and oxygen circulation to the skin surface for fast skin color (melanin) production and resulting tanning effect.
One can choose the best tingle tanning lotion for tanning beds from those reviewed above as per their goals and skin condition, combined with tanning beds and tanning booths.