We are supported by readers. When you purchase through links on our site, we may earn an affiliate commission.
Hola chicks, We are very happy to review the bestselling and award-winning product from benefit cosmetics. Everyone loves to have rosy cheeks and glamorous lips. I am a huge fan of roses either of drawing, flower petals, fragrances, lip shades or blush. So, Obsession of blush cum lip stain from benefit made me buy this sexy glass bottle. Believe me, you can't stop yourself using it after opening the cap of the bottle. The beautiful fragrance of fresh roses feels like we are in the garden of roses. Let's review Benefit Cosmetics Benetint Lip and cheek stain.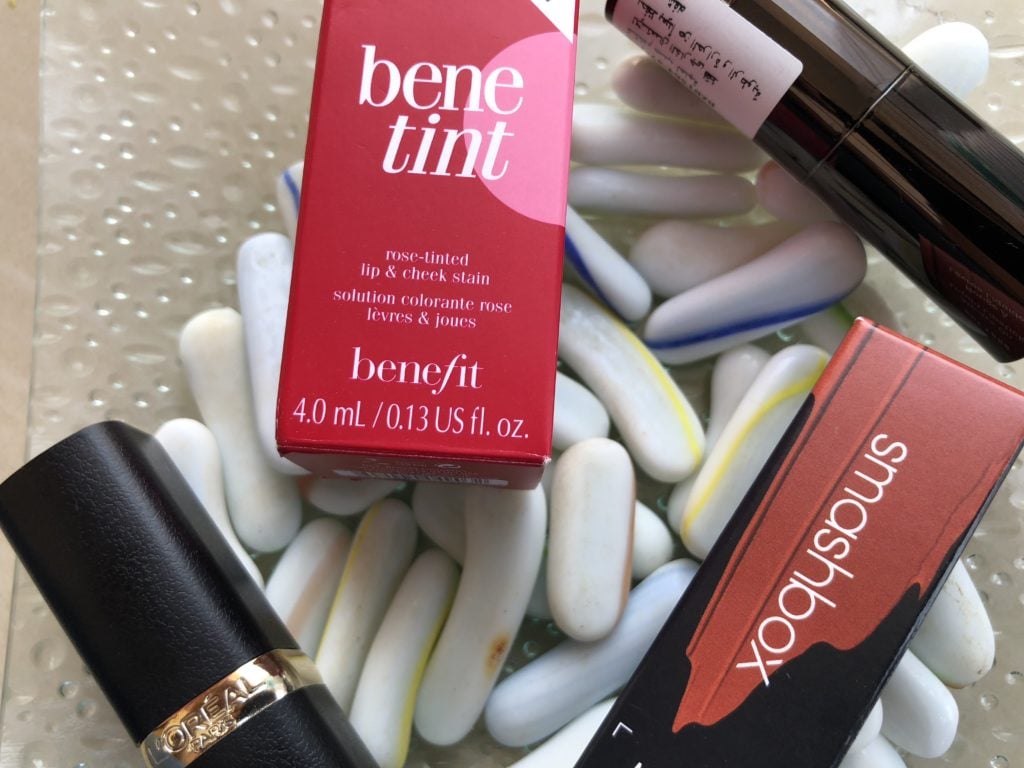 Product Description :
Price: 17 euro (1430 Inr)
Content: 4 ml
Ingredients: (Refer attached picture)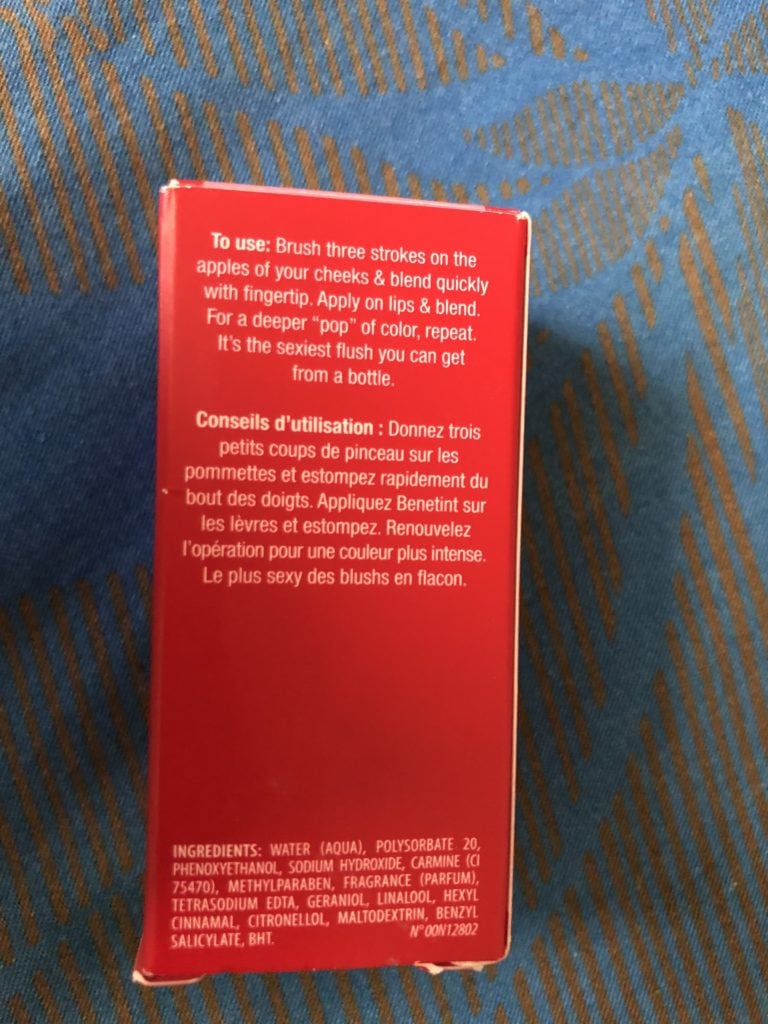 What Benefit Benetint Lip and cheek stain claims:
Our original rose-tinted stain is kiss-proof, see-through color for lips & cheeks that lasts for hours. Originally created for an exotic dancer in the 1970s, benetint has soared to cult fave status. It's loved by celebs, makeup artists and gals around the world.
– Sheer & sexy on all complexions
– Innocent yet provocative
– Long-lasting wear
How to use?
– Brush three strokes on the apples of your cheeks and quickly blend with a fingertip for the perfect rosy tint
– Apply on the lips, blend and pucker up
– When you're ready to remove, wipe off with an oil-based remover.
The Packaging of Benefit Benetint Lip and cheek stain :
Benetint comes in a cylindrical glass bottle with a fine bristles brush like a nail paint bottle. It is a transparent bottle with a white screw cap so you can track the amount of product in it. Benefit Cosmetics Benetint Lip and cheek stain is a multipurpose usage product. It can be used on cheeks and lips both. The nail paint like brush has nice fine and soft bristles that can be used to apply the product, however, one can't blend the tint with it. You need to blend the rosy tint with your fingers or sponge. The liquid inside the bottle is so watery and thin so there is a slight risk of spillage in this glass bottle. The bottle mouth is so wide and bit tilting can cause the entire product spilling.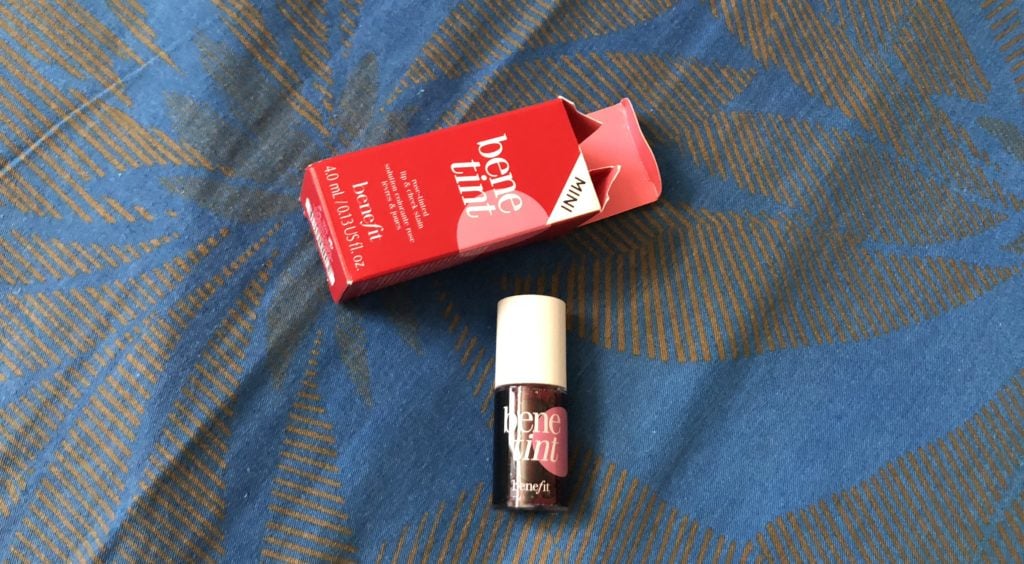 My Experience With Benefit Benetint Lip and cheek stain says,
I really never liked liquid blushes more, as it is a heavy risk of smudging in liquid one. I mostly prefer powder blushes, they can easily be dusted off if the look goes OTT. But after buying Benefit Cosmetics Benetint Lip and cheek stain, My opinion has been changed. This lip and cheek stain is amazing. When I opened the cap, I felt like a heaven of rose at my place. That was an amazing feeling. The fresh fragrance of rose petals takes me to the serene place.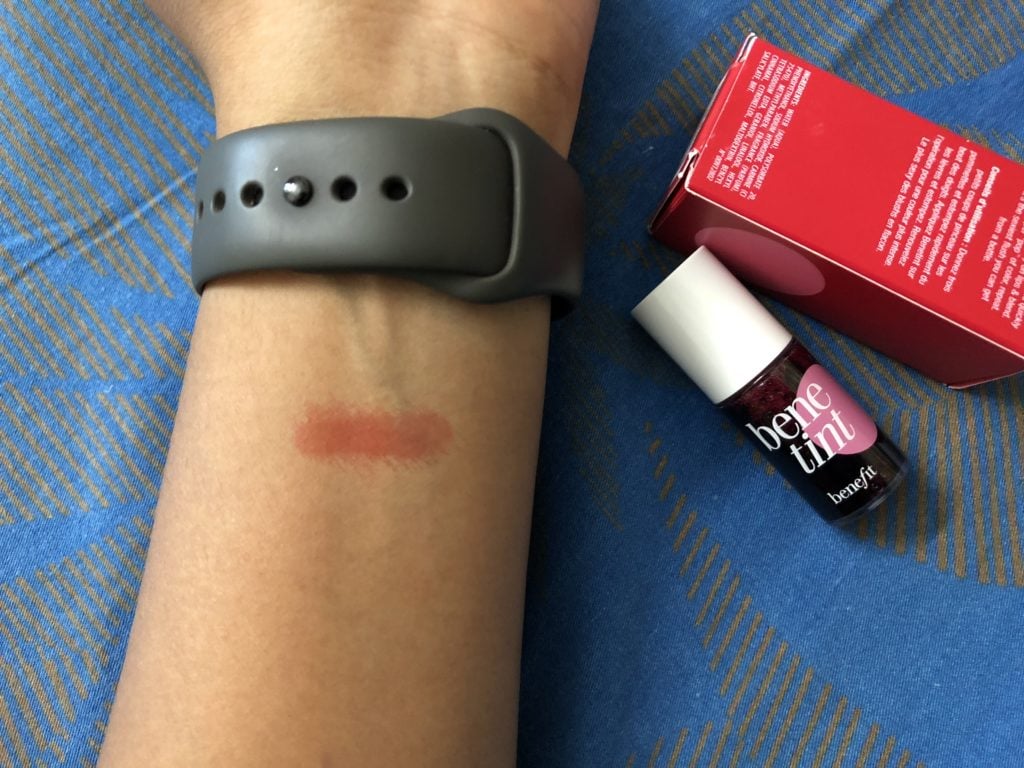 Benetint can be easily applied with the brush on the cheeks. But blending it quickly is the art. It took me 3-4 attempts for learning the right technic of using this lip and cheek stain. However, my lips are so pigmented, chapped and uneven, so It didn't work well on them. But for cheeks, It gives me a dewy and fresh look every time. It stays for 5-6 hours on cheeks and you need to have a good makeup remover to remove it. Talking about the shade, It is a soft gorgeous rosy tint that gives you a rosy and flushy amples. If you want to pop this shade more, you can build the layers on the lips.
Pros of Benefit Benetint Lip and cheek stain :
– Natural Rosy tint
– Can be used on lips and cheeks
– Adds a healthy flush
– Perfect no makeup product
– Suits on all skin tones
– Fresh rose petals fragrance
– Long lasting on cheeks
– Can be used underneath the lipstick or lipgloss for long-lasting lip color
– Easily blendable
Cons of Benefit Benetint Lip and cheek stain:
– Needs to blend within 10 seconds of applying for avoiding patches and can only be removed by makeup remover
– Expensive
– Availability issue
– The danger of Spilling the product
VooBeauy Rating: 4.7/5
Will you repurchase/ recommend Benefit Cosmetics Benetint Lip and cheek stain?
Yes, I would definitely pick it again. If you are looking for a nice liquid blush, you can surely give it a try. You will get natural rosy cheeks and lips. <3 This is my first lip cum cheek stain I have ever used but I am in love with benetint.
VooBeauty Tips :
– You can use it underneath lipstick or powder blush to extend the staying power of it
– Use your fingers to blend the tint is the best way to get perfect blushy cheeks
Have you tried any shade of benefit lip and cheek stain? do let me know in the comment. We would love to hear your experiences about this product.
You can buy Regular size of Benefit Benetint here and Travel size bottle here.
Thank you. XOXO