Hello Beautiful girls,
We are back with a long break due to some health issues. But bang on here we have got lots of exciting products for you girls. Today, we will start with the liquid lipstick from SMASHBOX, One of the most promising international brand in the market. You know my love for Smashbox, You can click on the link for the review of Smashbox Be Legendary Triple Tone Lipstick Red Ombré Review and Swatches. Liquid lipsticks are boon in the makeup world. I generally prefer liquid lipstick over regular ones. I got this lipstick all the way from Abudhabi Airport during the layover. Long layovers on the airports are just made for exploring the things out there. I have purchased so many products. Let's explore Smashbox Always On Liquid Lipstick Out Loud today.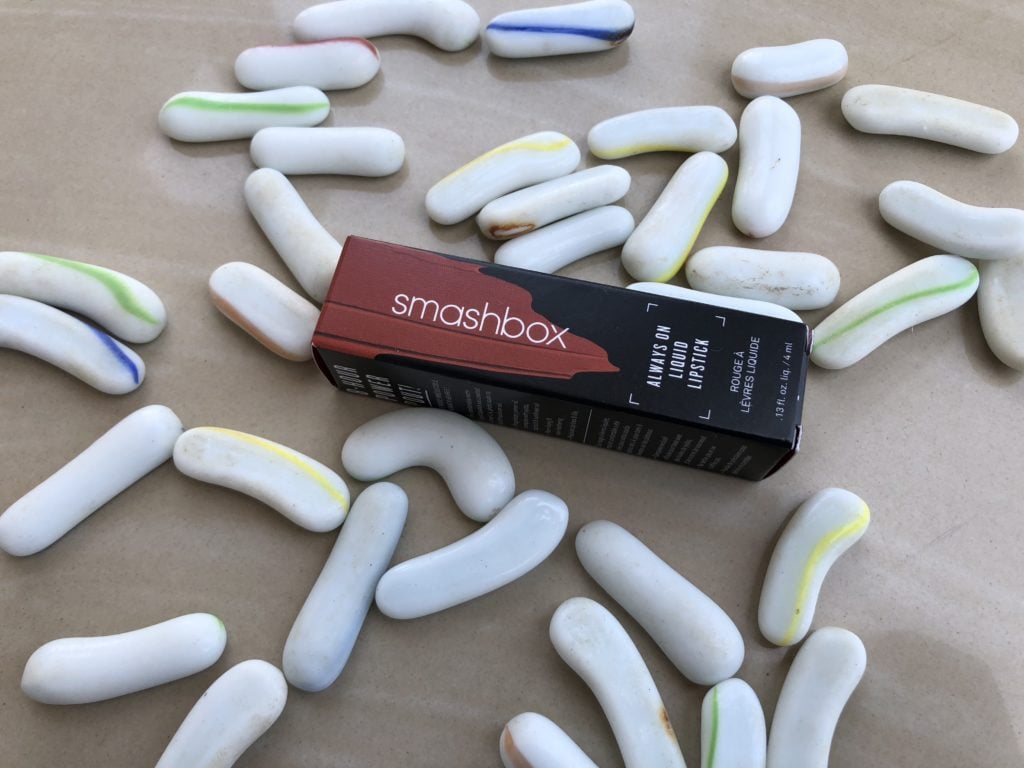 Product Description :
Price : 90 AED (1795 INR)
Content : 4 ml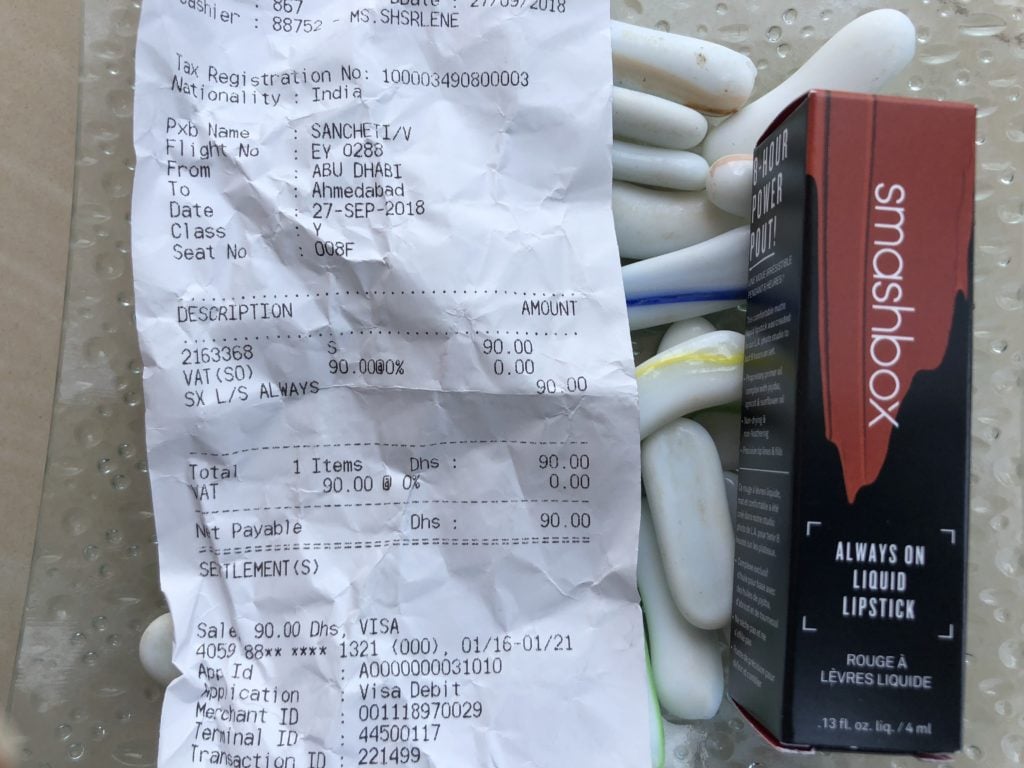 Ingredients : (Refer attached picture)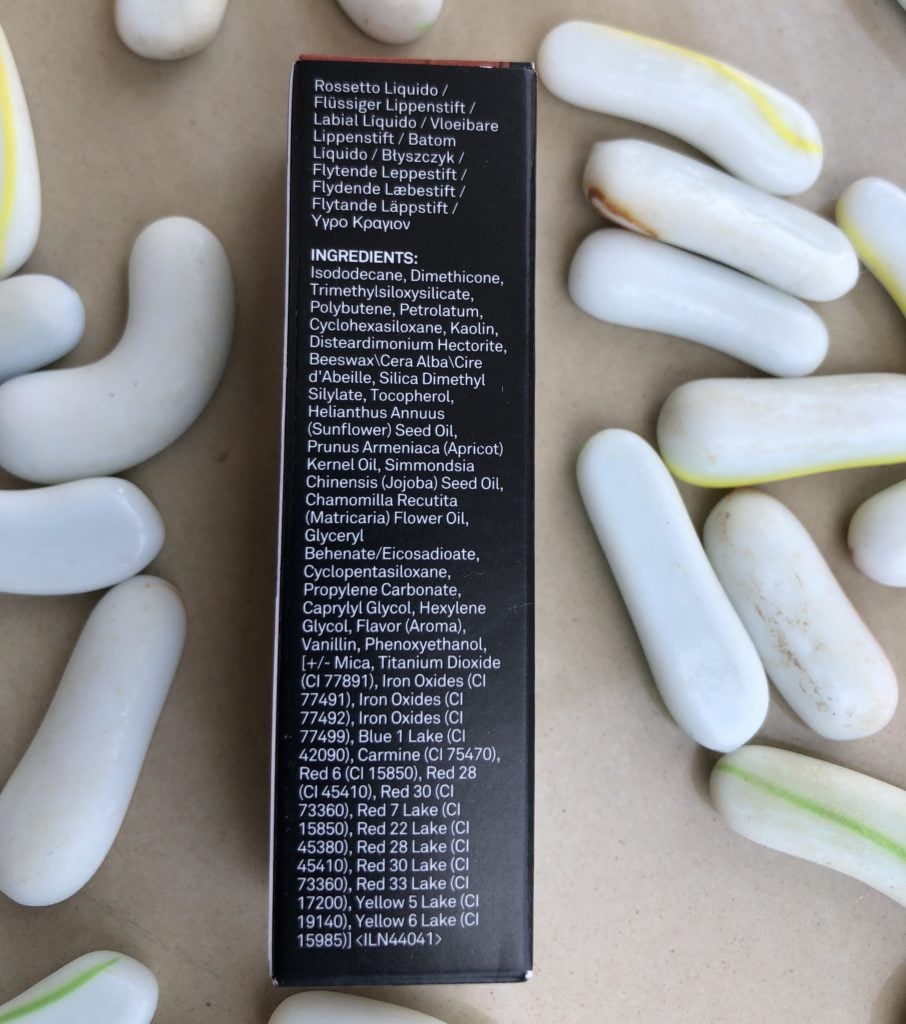 What Smashbox Always On Liquid Lipstick Out Loud claims:
Perfected on-set in our L.A. photo studio, our long-wear, water-resistant liquid lipstick features Advanced Polymer Technology that makes it stay put and look as fresh and flawless as your first swipe—for up to 8 hours. Featherweight but fierce, this liquid matte formula is infused with lip-smoothing Primer Oil complex for suede-soft lip color in 20 super-rad shades. It's smudge-proof, budge-proof and non-feathering. Because really, who has time for touch-ups?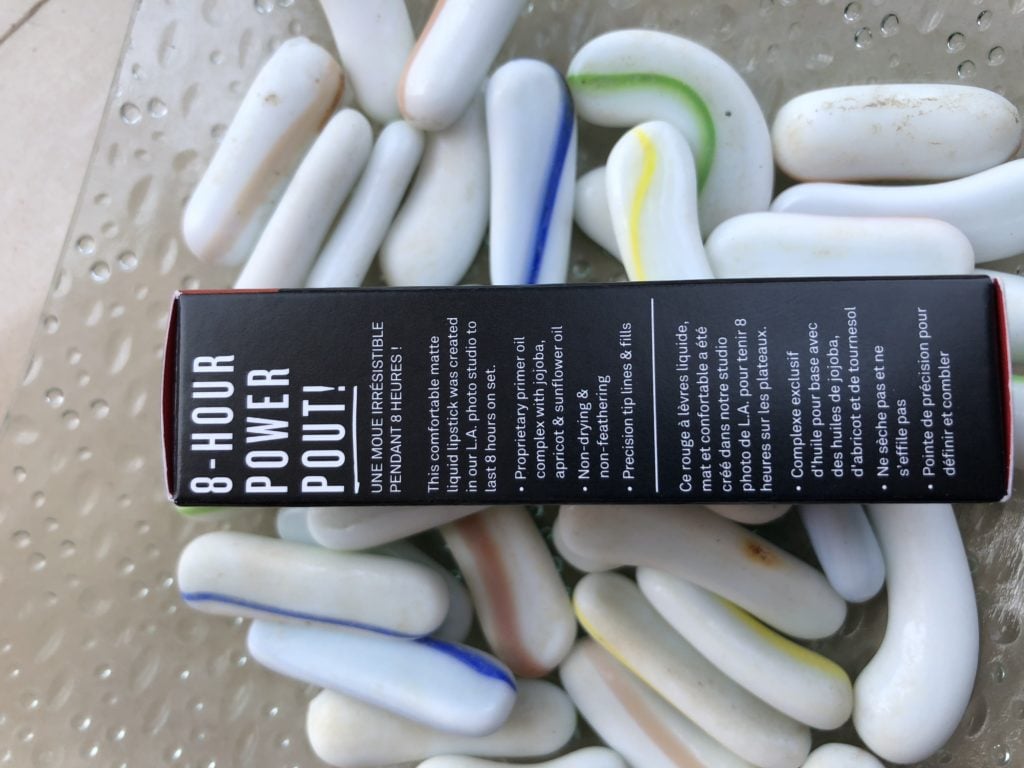 How to use?
– Define lip with easy-to-use precision tip.
– Use flat side to fill in with color.
– Allow to dry
– Layer with a lighter hue in the center to make lips look fuller.
– When you're ready to remove, wipe off with an oil-based remover.
The Packaging of Smashbox Always On Liquid Lipstick Out Loud :
Smashbox Always On Liquid lipstick has a quite sturdy and classy packaging. The lipstick comes in a black cardboard cover with a color-coded stripe on it. You will find a crystal clear tube with a black metal cap inside. One can easily identify the shade without looking on top or bottom of the lipstick. The shade name of the lipstick is written on the bottom of the lipstick as shown in the picture. Smashbox Always On Liquid Lipstick Out Loud has a scooped center in the applicator that holds the perfect product and you don't need to dip it again and again. The applicator has a pointed end that applies lipstick very precisely without the lip brush.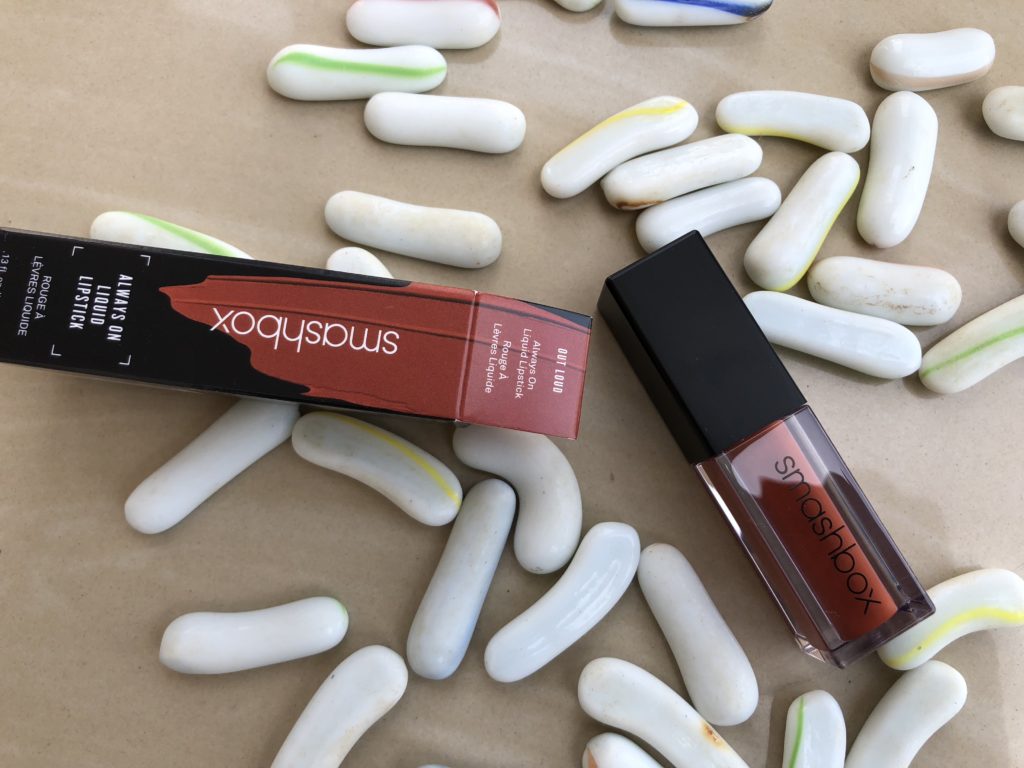 My Experience With Smashbox Always On Liquid Lipstick Out Loud says,
Sharing my experience with the most amazing and luxurious formula of Smashbox Always On Liquid lipstick, I am in love with the burnt orange shade from SMASHBOX liquid lipstick formula. It is lightly scented, thick and nourishing. The lipstick shade is amazingly beautiful, Its formula covers up the lips completely in just a single swipe. Smashbox Always On Liquid Lipstick Out Loud gets little darker after they get dry. Lips get matte finish after applying this creamy texture of the liquid lipstick. The pigmentation is great and budge-proof.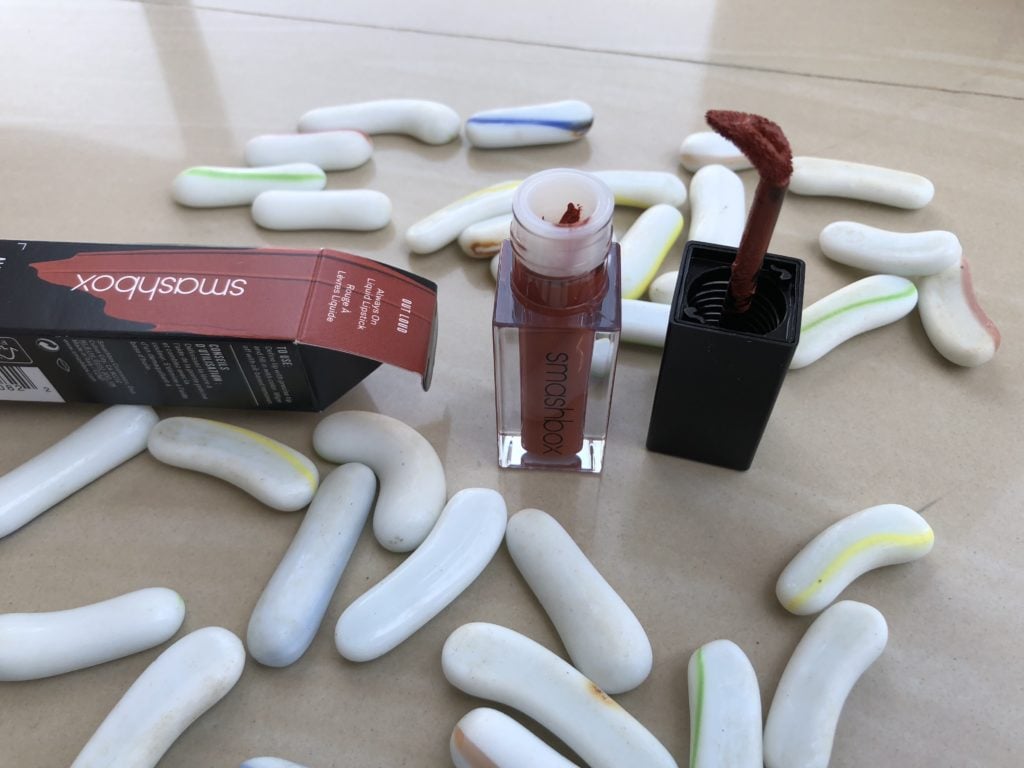 Smashbox Liquid Lipstick Out Loud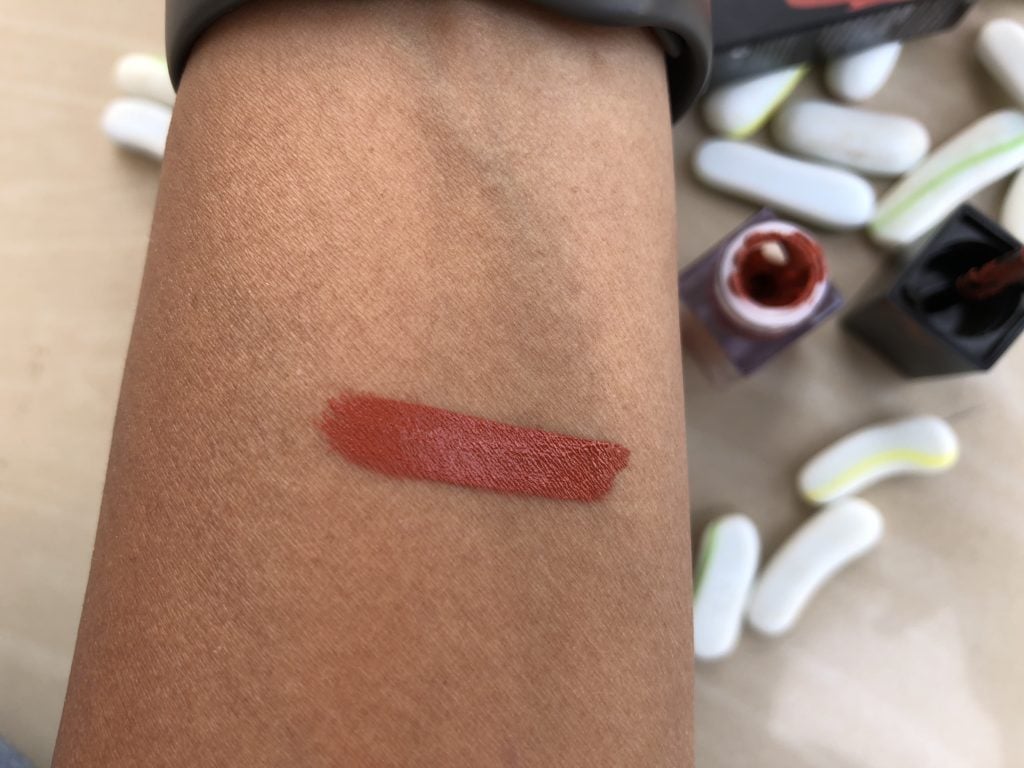 Smashbox Always On Liquid Lipstick Out Loud is long lasting, it claims what Smashbox says about the lipstick, It stayed completely well up to 9 hours without any touch-ups. The Lipstick Swatch is shown in the above picture. It is not completely transfer-proof, It transfers a little on a cup or mug of your coffee But This is the most comfortable lipstick I have ever come across. Even Smashbox liquid lipstick is waterproof, you can see in the picture below. It feels very lightweight on lips and does not feel flaky or dry out your lips, which is major issues with other liquid lipsticks.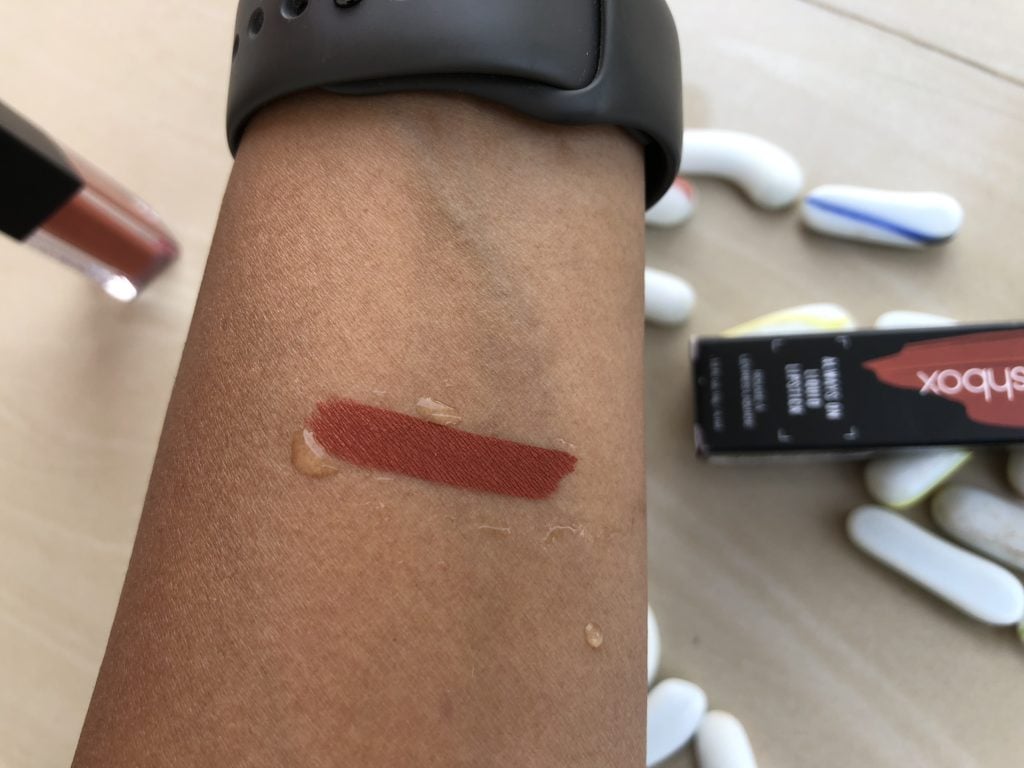 Pros of Smashbox Always On Liquid Lipstick Out Loud :
– Beautiful and best-selling shade (Out Loud- Burnt Orange)
– Buildable coverage
– Great pigmentation
– 8-9 hours staying power
– Suit on all skin tones from cool to warm dusky Indian skin tones
– Lightweight Texture
– Precision tip applicator
– Delivers bold color with a matte liquid finish
– Advanced polymer technology
– Smudgeproof and budge-proof
– Infused with primer oil to condition your lips
– Formulated without parabens and sodium lauryl sulfate
Cons of Smashbox Always On Liquid Lipstick Out Loud :
– Transfers a bit
– Less quantity and more price compare to other lipsticks (Huda beauty, Kat Von D, etc)
VooBeauy Rating: 4.5/5
Will you repurchase/ recommend?
Yes, I would love to repurchase this shade from Smashbox until I will find the same shade in another brand. I would have rated 5 out of 5 if it is transfer-proof. I would love to explore other shades from the same range.
Which are your favorite shades from Smashbox Always On Liquid Lipstick? Do let us know in the comments if you have tried any of them or want to try.
Till then Stay beautiful, Stay glamorous❤️